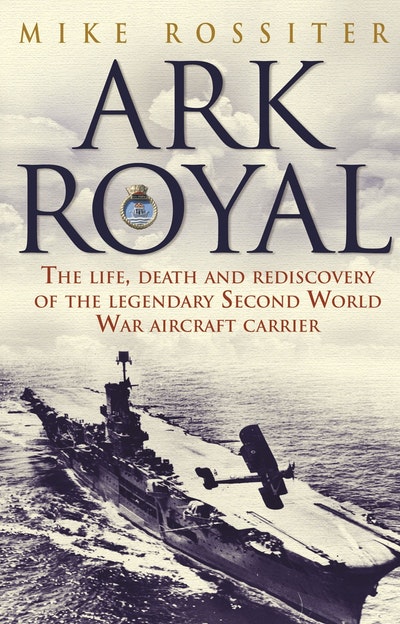 Published:

15 August 2017

ISBN:

9780552174541

Imprint:

Corgi

Format:

Paperback

Pages:

400

RRP:

$24.99
Ark Royal
Sailing Into Glory
---
---
---
The life, legend and rediscovery of a British naval icon.
In June 1941 the Ark Royal won one of Britain's most famous naval victories. The German destroyer, Bismarck, had been ravaging the British fleet in the Atlantic. Sailing through a ferocious storm the Ark Royal tracked the Bismarck. A dozen swordfish bombers took off from her deck and pounded shell after shell into the German battleship, sending her to the ocean floor. It was a signal victory that resonated around the world. Hitler, furious at the loss of the German fleet's flagship, demanded that the Ark Royal be destroyed at whatever cost.
HMS Ark Royal is one of the Royal Navy's most iconic ships. When she was launched in 1938 she was one of the most sophisticated weapons at the disposal of British military command. The aircraft carrier was the latest, and soon to be one of the most feared, developments in naval warfare. In her first two years of operation the Ark Royal survived countless attacks, and was considered one of the luckiest ships in the Navy.
But her air of invincibility was to prove wishful thinking. Within one month of sinking the Bismarck, the Ark Royal too was destroyed while sailing off the coast of Gibraltar. And there she has rested, one kilometre below the surface of the Mediterranean, until her wreck was discovered by Mike Rossiter in 2004.
In gripping detail, and using the testimony of survivors of the sinking and men who lived, flew and fought on the Ark Royal, Mike Rossiter tells the remarkable story of the life and legend of this most iconic of ships. Also, and for the first time, he reveals the story of the quest to discover the wreck of this naval legend.
Published:

15 August 2017

ISBN:

9780552174541

Imprint:

Corgi

Format:

Paperback

Pages:

400

RRP:

$24.99