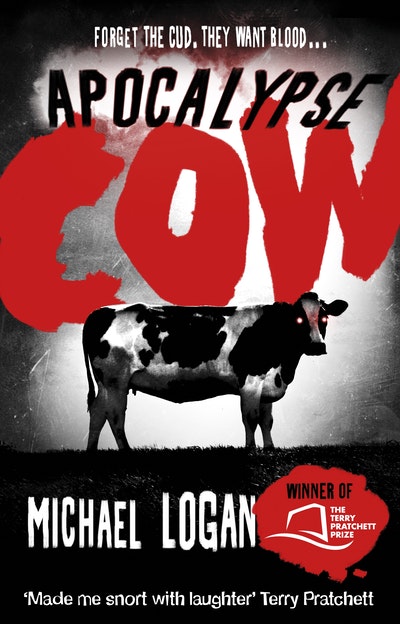 Published:

1 July 2013

ISBN:

9780552166690

Imprint:

Corgi

Format:

Paperback

Pages:

384

RRP:

$19.99
Apocalypse Cow
---
---
---
Forget the cud. They want blood...an outrageously entertaining and original take on the 'zombie apocalypse' - joint winner of the first Terry Pratchett 'Anywhere But Here, Anywhen But Now' Prize...
When scientists with warped imaginations accidentally unleash an experimental bioweapon that transforms Britain's animals into sneezing, bloodthirsty zombies with a penchant for pre-dinner sex with their victims, three misfits become the unlikely hope for salvation.
Abattoir worker Terry Borders' love life is crippled by the stench of death that clings to his skin from his days spent slaughtering cows; teenage vegan Geldof 'Scabby' Peters alternates between scratching furiously at his rash and baiting his overbearing New Age mother; and inept journalist Lesley McBrien struggles forlornly in the shadow of her famous war correspondent father.
As Britain begins a rapid descent into chaos and ministers blame international terrorists, Lesley stumbles upon evidence that the government is behind the outbreak. In her bumbling pursuit of the truth, she crosses paths with Terry and Geldof, and together they set out to escape a quarantined Britain with the evidence and vital data that could unlock a cure for the virus.
Standing in the way are rampaging hordes of animals, a ruthless security agent and an army ready to shoot anybody with a case of the sniffles...
Three losers. Overwhelming odds. A single outcome: the world is screwed.
Published:

1 July 2013

ISBN:

9780552166690

Imprint:

Corgi

Format:

Paperback

Pages:

384

RRP:

$19.99
Praise for Apocalypse Cow
Apocalypse Cow made me snort with laughter

TERRY PRATCHETT
A fast-paced dark comedy stuffed with violence, sprinkled with sex, reminiscent of Tom Sharpe, including witty lines and observations that are Pratchett-esque in their pointiness

SUNDAY EXPRESS
A comic, blood-soaked romp...at times a hilarious social satire, and at others an action-packed gore fest, sure to please fans of the traditional zombie story...an accomplished novel by a promising writer.

Press Association
Michael Logan's black comedy is an absurd yet utterly addictive read.

Stylist magazine
Some moments are very good indeed... Apocalypse Cow is a pacy, entertaining read

We Love This Book
Ploughs the same furrows as Shaun of the Dead, wonderfully parodying the zombie and survival horror genre, but at the same time paying homage to it...worthy of a place amongst the best apocalyptic fiction...eminently readable, brilliantly written and side-splitting funny.

Bookgeeks
350 pages of rotting, rutting, oozing and flaking

We Love This Book
This was a very good twist on the very much overdone zombie genre

She Loves Reading
Hilarious comic romp

The Journal (Newcastle)
A lot of fun.

SFX
This clever and very funny twist on the traditional zombie novel is exceedingly well executed . . . Great stuff for horror and fantasy fans

BOOKLIST(Starred Review)
Logan has a flair for unique description . . . an impressive start for an author who's going places

PUBLISHERS WEEKLY
Its unhinged, imaginative wit and respect for the genre deserve the attention of any self-respecting fan

FANGORIA
Apocalypse Cow treads that rare path between horrific and hilarious, which makes for a very fun read indeed. Give it a go.

CHRISTOPHER MOORE, author of Lamb, Fool, and A Dirty Job
Logan manages to find a great balance between the dark and disturbing and the quirky and hilarious, all the while intermingling plotlines like a seasoned pro

RUE MORGUE