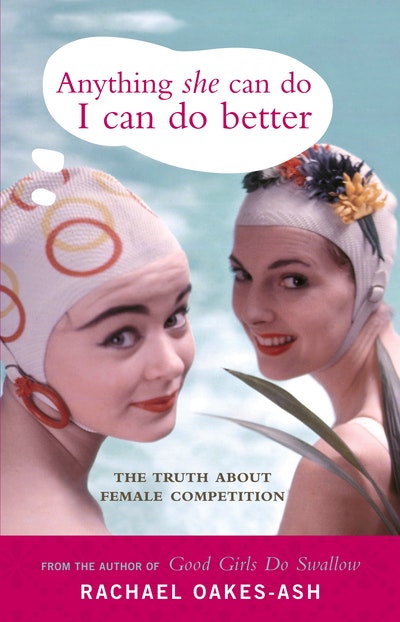 Published:

26 October 2011

ISBN:

9781742746999

Imprint:

Random House Australia

Format:

EBook

Pages:

272
Anything She Can Do I Can Do Better
---
---
---
'A man would stab you in the chest, a woman would stab you in the back.' Karen Moline, Belladonna
'A man would stab you in the chest, a woman would stab you in the back.' Karen Moline, BelladonnaThe truth about female competition! Have you coveted, envied, admired another woman's hair, shoes, bag, job, husband, figure or weight this morning? Have you ever breathed a sigh of relief when your ex's new girlfriend turns out to be fatter, uglier or poorer than you? Thought Anything She Can Do I Can Do Better?
Chances are, if you're a woman who engages in society (read, leaves the house), you're competitive - not that you'll admit it. Female competition is a taboo topic. It's covert, rarely spoken about in public, but it exists. We owe it to the future generations of women to encourage the way we compete with each other to be a positive experience in the game of life. This means acknowledging our competitive thoughts, not judging them. Speaking openly, looking at what triggers our own competitiveness, discovering why we compete in some situations and not in others and then working with what we know.
Rachael Oakes-Ash interviewed prominent women – including formidable US gossip columnist Liz Smith, Anita Roddick, Julie Burchill, Senator Natasha Stott Despoja, Nancy Friday, Cynthia Heimel, Tara Moss, Wendy McCarthy, Ann Sherry, Maggie Alderson, Fiona Horne, Deborah Lee Furness and Miss Australia – and in her inimitable style, shares their and her own experiences and theories on female competition.
Published:

26 October 2011

ISBN:

9781742746999

Imprint:

Random House Australia

Format:

EBook

Pages:

272
Praise for Anything She Can Do I Can Do Better
Good Girls Do Swallow is for any woman who's ever eaten chocolate and felt guilty about it, whether she is a size 8 or 16.

Marie Claire
A non-fiction Bridget Jones

Sydney Morning Herald
Oakes-Ash's honesty is bound to be appreciated by chicks who think they're the only ones who've ever devoured an unthawed cake straight from the freezer.

The Australian
If you have a friend who keeps moaning they are 'too thin or too fat' - buy them this to shut them up

The Daily News
A black, funny and touching story.

New Woman
It's the sort of book where you can curl up with a packet of chocolate biscuits, eat the whole lot and come away without guilt.

Amanda Keller
A dark yet comic account of her struggle for a figure to die for

Vogue
Thank you so much for sharing your story with us. Yours is the most insightful, honest and well-written book on the female diet psyche I've ever read.

Reader
Thank you for making me laugh and cry and rage and swallow! Reading your book was like reading my own diary, but you put into words things that I have never ever dared to admit, even to myself.

Reader
A book that's as harrowing as it is hilarious ... it's a damned good read.

Reader