Nicole Alexander reveals the inspiration behind Edwina: An Uncommon Woman.
An Uncommon Woman began with an idea based on an article in a 1933 Tasmanian newspaper. I had already decided to set the work in New South Wales in the late 1920s and was searching specifically on that pastoral period, at the NSW State Library, when I found the article. The headline in the Tasmanian Examiner read, 'Station Sold To Woman', and it briefly reported that a married woman, a Mrs Adelaide Walker, had purchased a Queensland pastoral property. The fact that the buying of land by a woman warranted a brief newspaper article in an island state far removed from the dusty interior of Australia signified the importance and the uniqueness of the event.
The article prompted me to think about Australia's position at that time in terms of world events. Much of the world had just staggered through the great stock market crash of 1929 and was in the grip of recession. The shadow of The Great War still loomed and the bush was being invaded by men seeking work, many of them returned soldiers. And yet here was a woman laying claim to a remote rural property. I was aware that husbands often used their wives and children as 'holding names' (a practice that continues today depending on business structure) in order to amass more country and meet the state regulatory guidelines of the period relating to land ownership. However, the article posed an interesting question: was Mrs Walker a purchaser in her own right or was she a holding name in the family business?
Although Australia gave women the right to vote in 1902, agriculture in Australia has historically been a male-dominated industry. The sweeping tides of feminism following the first and second world wars did little to change this. Secondly, this was a time when women's opinions were largely disregarded. Because of this. I found Mrs Walker's land purchase both intriguing and inspiring.
And so the premise for my lead character, Edwina, in An Uncommon Woman was born. She would follow in Mrs Walker's footsteps and the novel would be set in the Western Downs region of Queensland. I chose this location as I was aware of the great prickly pear infestation – a noxious plant that made hundreds of thousands of acres in southern QLD and northern NSW useless. My father had told me of the attempts to eradicate the prickly pear and the loss of income to land-holders caused by it. So now I had my lead character and the prickly pear, which would also affect the property where Edwina lived with her father and brother. I also had one of my themes, man versus nature.
While the newspaper article gave me a focal point, choosing the year 1929 in which to set the novel enabled me to research a period that was a time of great change in Australia. Writing Australian history, specifically our pastoral history in fictionalised terms, means that research is a major component of my work. Once I've decided on a time period and location I then read widely on the subject, both non-fiction and fiction. I utilise archives from state libraries and online resources. These may include newspaper articles, family and regional histories, physical and digital books and files. I also investigate my own family's pastoral records, if appropriate. This ensures I get a rounded view of both the period and setting that I'm writing about. It is easy to become immersed in research, so once I've begun writing I then only tend to research a specific area on a 'need-to' basis.
Great changes were occurring across the globe in the 1920s and 1930s. Automobiles were no longer the privilege of the few, hemlines were rising and women were embracing the many opportunities that the modern age offered. Indigenous Australians were essential to the running of many properties and the Chinese made a major contribution to bush life. The great pastoralists of the outback had carved up much of the inland. What a rich background in which to place a story.
Agriculture in Australia was particularly difficult for women and many found themselves as labourers on small family holdings. Women were viewed as dependants, with domestic service, or marriage their only options. I wanted Edwina to break free of the restrictions of her time and gender, and the society in which she lived. I wanted her to lay claim to her own life and to literally forge a place for herself beyond the dictates of men, regardless of whether they were father, brother or lover. In developing Edwina's character I wanted her to be strong, but also feisty and determined. She is a product of her environment. She is very much An Uncommon Woman.
---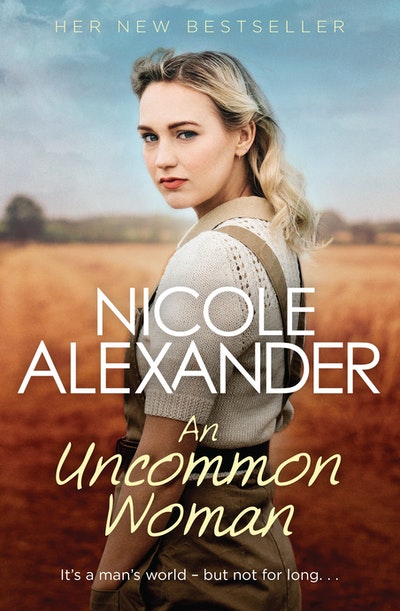 Set in rural Queensland in 1929, An Uncommon Woman is the captivating story of a very modern woman who refuses to be held down by the conventions of the past . . .
Buy now
Buy now
---