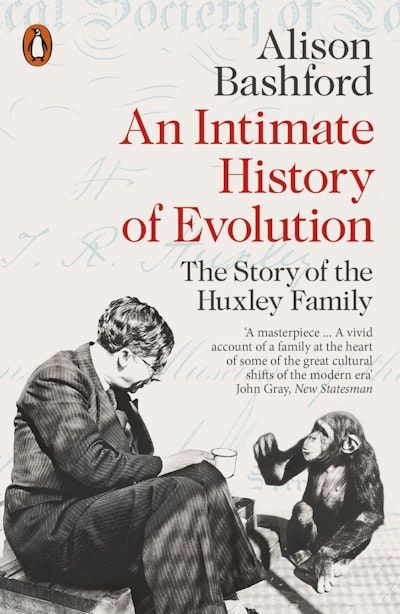 Published:

10 January 2023

ISBN:

9780241434321

Imprint:

Allen Lane

Format:

Hardback

Pages:

576

RRP:

$59.99
An Intimate History of Evolution
The Story of the Huxley Family
---
---
---
Two hundred years of modern science and culture, told through one family history
In his early twenties, poor, racked with depression, stranded in the Coral Sea on the seemingly endless survey mission of HMS Rattlesnake, hopelessly in love with the young Englishwoman Henrietta Heathorn, Thomas Henry Huxley was a nobody. And yet together he and Henrietta would return to London and go on to found one of the great intellectual and scientific dynasties of their age.
The Huxley family through four generations profoundly shaped how we all see ourselves. In innumerable fields observing both nature and culture, they worked as scientists, novelists, mystics, film-makers, poets and - perhaps above all - as public lecturers, educators and explainers.
Their speciality was evolution in all its forms - at the grandest level of species, deep time, the Earth, and at the most personal and intimate. They shaped great organizations - the Natural History Museum, Imperial College, the London Zoo, UNESCO, the World Wildlife Fund - and they shaped fundamentally how we see ourselves, as individuals and as a species, one among many.
But perhaps their greatest subject was themselves. Alison Bashford's marvellously engaging and original new book interweaves the Huxleys' momentous public achievements with their private triumphs and tragedies. The result is the history of a family, but also a history of humanity grappling with its place in nature. This book shows how much we owe - for better or worse - to the unceasing curiosity, self-absorption and enthusiasms of a small, strange group of men and women.
Published:

10 January 2023

ISBN:

9780241434321

Imprint:

Allen Lane

Format:

Hardback

Pages:

576

RRP:

$59.99