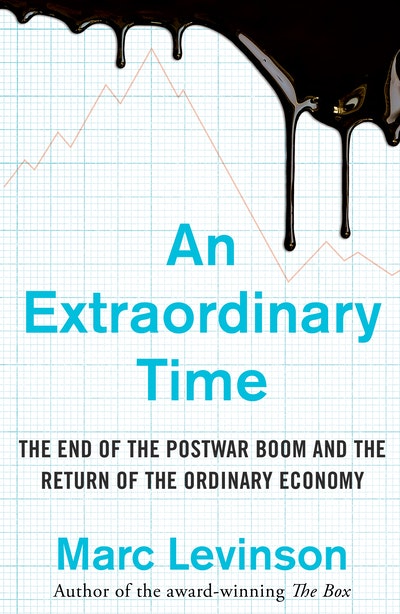 Published:

17 November 2016

ISBN:

9781473537903

Imprint:

Cornerstone Digital

Format:

EBook

Pages:

336
An Extraordinary Time
The End of the Postwar Boom and the Return of the Ordinary Economy
---
---
---
How the economic crisis of the 1970s transformed the course of global history
A Washington Post and Strategy+Business Book of the Year.
Stagnant wages. Feeble growth figures. An angry, disillusioned public. The early 1970s witnessed the arrival of the problems that define the twenty-first century.
In An Extraordinary Time, Marc Levinson investigates how the oil crisis of the 1970s marked a radical turning point in global economics: and paved the way for the political and financial troubles of the present. Tracing the remarkable transformation of the global economy in the years after World War II, Levinson explores how decades of spectacular economic growth ended almost overnight - giving way to an era of uncertainty and political extremism that we are still grappling with. Above all, Levinson shows that we must understand the economic disaster of the 1970s if we want to overcome the problems we face today. By focusing on a pivotal but often overlooked moment in the twentieth century, An Extraordinary Time offers a crucial and timely reappraisal of our age.
'A smoothly written account of the US and the world economy during the 1970s.' Wall Street Journal
'A valuable antidote to all passionately held economic ideologies.' Times Literary Supplement
'Provocative . . . Levinson reminds us how mesmerising the post-war boom really was.' Washington Post
'Lucid, well-paced, and entwined with vivid sketches of economists, central bankers, and politicians.' Publishers Weekly

Published:

17 November 2016

ISBN:

9781473537903

Imprint:

Cornerstone Digital

Format:

EBook

Pages:

336
Praise for An Extraordinary Time
A lively, well-researched tour of the transformation of the American economy in the decades after World War II - how it happened and why the pace didn't last. A great read for those who lived through those years and those who want to learn about them.

Alice M. Rivlin, Senior Fellow, Brookings Institution
In An Extraordinary Time, economist and journalist Marc Levinson says the good times are over for good, or at least for the foreseeable future . . . Levinson holds a doctorate in economics, but he has a journalist's appreciation for the power of on-the-ground observation.

Bloomberg Businessweek
Levinson's account of this vexed era is lucid, well-paced, and entwined with vivid sketches of economists, central bankers, and politicians who failed to restore the pre-1973 good times. He also succeeds at translating complex economic issues into understandable terms for lay readers. Levinson's admirably evenhanded treatment of recent economic history steers clear of dogmas on both left and right to explore knottier truths.

Publishers Weekly
[Levinson's] view is absolutely worth heeding in these days of unprecedented worldwide financial experimentation . . . A cogently argued account that lays bare the similarities and differences between the world today and earlier theoretical shortcomings.

Kirkus Reviews
I've heard it said that economic history is a dying art. Well, not in Marc Levinson's hands. This account of how the extraordinary economic times from 1948 to 1973 turned into the very ordinary (or worse) times that followed is comprehensive, artfully presented, and largely persuasive. That's quite an achievement.

Professor Alan Blinder, Princeton Univerity, author of AFTER THE MUSIC STOPPED
A provocative account of recent economic history which argues the good times have gone, and no government - neither left nor right - can bring them back. A sobering read.

Professor Eric Rauchway, University of California, Davis, author of THE MONEY MAKERS
Marc Levinson has given us a fascinating and perceptive account of the economic difficulties of the 1970s and the response of policymakers. As the United States and other countries struggled with the turbulent end of the post-World War II boom, seeking to cope with stagflation and higher unemployment, they often turned politically to the right - embracing tax cuts and deregulation. How did this process work its way out? This timely book of an important period is not just informative, but helps put our current economic difficulties in perspective.

Professor Douglas Irwin, Dartmouth College, author of FREE TRADE UNDER FIRE
A smoothly written account of the U.S. and the world economy during the 1970s and parts of the 1980s . . . Mr. Levinson is a smart enough author not to be tempted into some breathless mono-causal account of either the earlier "boom" or the later slowdown.

Wall Street Journal
Provocative . . . Levinson reminds us how mesmerizing the post-World War II boom was.

Washington Post
Levinson, an economist and ex-journalist . . . has the virtues of both - an eye for detail and an understanding of the broader picture.

Best Economics Books of 2016, Washington Post
A valuable antidote to all passionately held economic ideologies.

Paul Collier, Times Literary Supplement
The strength of Levinson's book is its readability . . . He knows how to tell a good story.

Financial World
Provides historical context to explain why Americans - and people across the globe - should expect slower economic growth in the years to come.

The Atlantic
Levinson has unmatchable understanding of economics and an extraordinary ability to explain intricate economics to laymen.

Washington Book Review
Marc Levinson provides a well written narrative of the descent from the golden age into what has become the new ordinary . . . [He offers] useful and balanced treatments of privatization, of job growth under Reagan and Clinton, of monetary experiments, and an excellent discussion of the barely avoided financial crisis of the early 1980s, which resulted from private sector bank loans to sovereigns in the developing world. If you are old enough to have lived through the golden age and the subsequent slowdown this will to some extent be a trip down memory lane. If you are younger, the book provides a welcome introduction to very important chapters in twentieth century economic history.

EH
An efficiently presented chronology of the global economy since the end of World War II . . . Weaving together data and narrative, [Levinson] shows how productivity growth foundered and the irritant of inflation appeared and would not leave.

Best Books of 2017, strategy+business
Helpful, clear, and highly-readable.

Fast Company