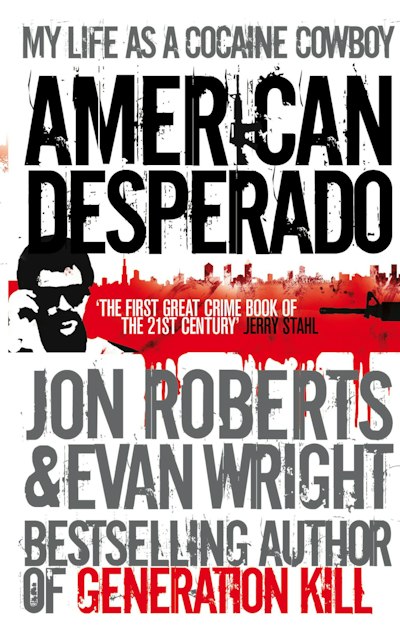 Published:

1 November 2011

ISBN:

9781448116010

Imprint:

Ebury Digital

Format:

EBook

Pages:

576
American Desperado
My life as a Cocaine Cowboy
---
---
---
The incredible memoirs of the man who became with Pablo Escobar the No.1 supplier of cocaine in the US, written with the bestselling author of Generation Kill
American Desperado is possibly the most jaw-dropping, event-filled, adrenaline-soaked criminal autobiography ever written.
Like a real-life Scarface Jon was born into the upper levels of the Gambino crime family and witnessed his first murder at age seven. He became a one-man juvenile crime wave before joining an assassination squad in Vietnam. He returned to New York at age 20 to become one of the city's top nightclub promoters, then journeyed to Miami where he became the de facto transportation chief of the Medellin Cartel, and along with a tech-wizard partner, created some of the most sophisticated smuggling technologies ever.
With a hulking 6'6" bodyguard always at his side, and a rural fortress protected by mortars, tear-gas cannons, and a gold-fanged attack dog, Roberts was brutally effective at what he did. To law enforcement, he was known as the "Bearded Gringo," a spectre they could never touch. To United States senators and CIA officials, he was "the guy who can get things done". He eventually formed a clandestine alliance with the US government and in the end found personal late-life redemption.
Published:

1 November 2011

ISBN:

9781448116010

Imprint:

Ebury Digital

Format:

EBook

Pages:

576
Praise for American Desperado
An American criminal mastermind

Ed Caesar, Sunday Times
A spellbinding narrative of drugs, death and debauchery as told by one of America's most notorious criminals... A savage, unrelenting tale

Kirkus Reviews
A tour de force. The best crime book since Wiseguy. Puts you in the middle of a world where it's wonderful to be a tourist, terrible to be a resident. I am filled with nothing but admiration and envy for Evan Wright

Rich Cohen, author of THE FISH THAT ATE THE WHALE
Imagine if Mister Kurtz from Heart of Darkness sat down with Dick Cavett for a little chat about the nature of good and evil, empathy, fatherhood, violence, drugs, power, self-knowledge, women, family, the hero versus the anti-hero, freedom, imprisonment...Try as you might, you can't really put this book down

Doug Stanton, author of HORSE SOLDIERS and IN HARM'S WAY
Seldom have I read an account of criminal enterprise that took me so deeply into the blackness of a man's soul - a scary read, pounding and relentless and irresistible

Bruce Porter, author of BLOW
American Desperado is the first great crime book of the 21st Century. Dangerous, darkly hilarious, hair-raising, and terrifically written, Wright's prose spills over with the kind of insane, brilliantly rendered detail and dialogue that make you want to call people at four in the morning and read out loud

Jerry Stahl, bestselling author of PERMANENT MIDNIGHT