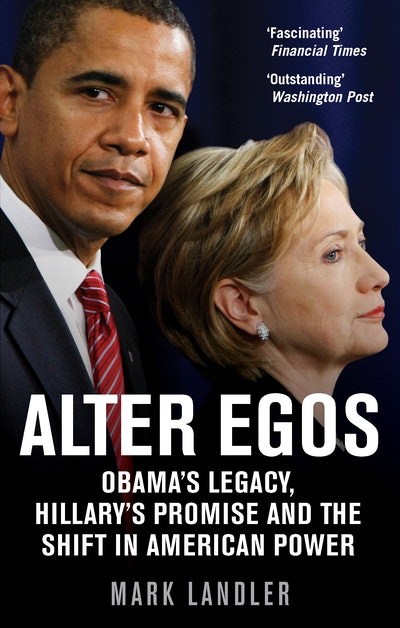 Published:

26 April 2016

ISBN:

9780753551721

Imprint:

Virgin Digital

Format:

EBook

Pages:

432
Alter Egos
Hillary Clinton, Barack Obama, and the twilight struggle over American Power
---
---
---
What created the foreign policy that Trump will inherit - and what it means for the rest of us
A Financial Times book of the year
'a first draft of the history of the Obama years' Financial Times
'full of compelling narrative and telling anecdotes' Sunday Times
'well-researched and engaging' The Financial Times
'outstanding' Washington Post
'one of the best reporters working in Washington today' Jane Mayer
'incredibly important. timely and deeply revelatory' Kai Bird
'vivid, page-turning' Michael Beschloss
As Donald Trump becomes the new American president, we are on the point of a major debate about America's role in the world.
Barack Obama and Hillary Clinton were rivals who became partners for a time, trailblazers who shared a common sense of their historic destiny but different instincts about how to project power. While Obama and Hillary tussled over foreign policy questions, their relationship has created the context that Trump will inherit.
Mark Landler, White House correspondent for the New York Times, offers a deeply reported, first-hand account of the Obama administration and gives us a different way to think about the relationship between Obama and Hillary that shaped the US over the last eight years. With all the sweep of a grand history, enlivened by an insider's access, dozens of interviews, and breaking news, ALTER EGOS is essential reading for anyone seeking to understand these two supremely ambitious figures, and the storm-tossed world of modern politics.
Published:

26 April 2016

ISBN:

9780753551721

Imprint:

Virgin Digital

Format:

EBook

Pages:

432
A superb journalist has brought us a vivid, page-turning, and revelatory account of the relationship between Barack Obama and Hillary Clinton, as well as of their statecraft. Alter Egos will make a signal contribution to the national debate over who should be the next American president.

Michael Beschloss, bestselling author of Presidential Courage
Mark Landler, one of the best reporters working in Washington today, delivers an inside account of Hillary Clinton's relationship with Barack Obama that brims with insight and high-level intrigue. It's both fun to read and eye-opening.

Jane Mayer, bestselling author of Dark Money: The Hidden History of the Billionaires Behind the Rise of the Radical Right
An incredibly important book, timely and deeply revelatory. Landler's brilliant reporting reveals a Barack Obama ever skeptical of establishment wisdom, and a Hillary Clinton driven by 'inner hawk' instincts. This is an extraordinary tale of two formidable personalities locked in an alliance who have competing visions of America's foreign policy.

Kai Bird, Pulitzer Prize-winning author of The Good Spy: The Life and Death of Robert Ames
An outstanding book on U.S. foreign policy over the past seven years, a work that is granular when it must be and overarching when it can, revealing how foreign relations are conducted and deliberated, and packed with fly-on-the-wall anecdotes . . . for a single work encompassing the Obama administration's engagement with the world, it is hard to imagine one better.

Washington Post
lively and informative study of the relationship between Obama and Clinton

The New York Times Book Review
Full of compelling narrative and telling anecdotes

James Rubin, The Sunday Times
Well-researched and engaging . fascinating

Gideon Rachman, The Financial Times
Landler expertly quarries her recently released emails from her secret web server ... lively and informative study of the relationship between Obama and Clinton...

Jacob Heilbrunn, The New York Times Book Review
an excellent book, the definitive examination to date of, among other things, a president who has tried to extract the U.S. from the Middle East....Alter Egos is also the most authoritative attempt to explain Obama's complicated relationship with his first-term secretary of state, a thwarted competitor-turned-staffer who, if she wins the presidency this year, will inherit a world that is in some ways as messy as the one Obama himself inherited from George W. Bush.

Jeffrey Goldberg, The Atlantic