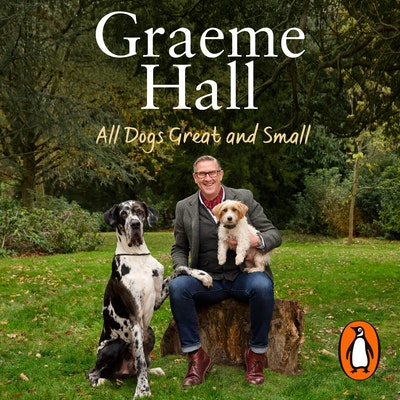 Published:

18 February 2021

ISBN:

9781473591042

Imprint:

Ebury Digital

Format:

Audio Download

RRP:

$26.99
All Dogs Great and Small
What I've learned training dogs
---
---
---
The star of Channel 5's Dogs Behaving (Very) Badly imparts his wisdom on how to have the best relationship with your dog, told through the stories of some of the special dogs he's loved and helped.
Have you ever wished you could get the dogs in your life to behave better?
Enter Graeme Hall: The Dogfather. Having worked with more than 5,000 dogs - from Great Danes to Chihuahuas, and everything in-between - he's seen pretty much every behavioural issue going and whether it's house-destruction, fear and anxiety, or aggression, he's fixed it.
Backed up by scientific research, Graeme has established a set of golden rules for dog training which he follows each and every time he works with dogs and their people. His simple, practical and effective rules will enable you to understand your dog and help you drive better behaviours. With chapters on communication, rewards, getting a puppy, kids and dogs, lead walking, and much more, Graeme has an answer for every dog-related worry imaginable. You will learn how to talk to dogs like he does - and understand what they're saying in return. You'll find out how to be a kind leader your dog will willingly follow and you'll get to see why excitement might be at the root of the problem.
A dog with behavioural issues is an unhappy dog. And likely has an unhappy owner. But the good news is, at heart, every dog wants to be a good dog. Through sharing entertaining and sometimes hilarious stories of some of the very special dogs Graeme has loved or helped, All Dogs Great and Small will give you the tools to help your beloved pooch practise perfect manners, and bring much-needed harmony to your home.
Published:

18 February 2021

ISBN:

9781473591042

Imprint:

Ebury Digital

Format:

Audio Download

RRP:

$26.99
Praise for All Dogs Great and Small
Funny, enlightening and incredibly moving at times, this absolute joy of a book tells you everything you ever wanted to know about our relationship with dogs. Every four-legged home should have a copy

Emily Dean