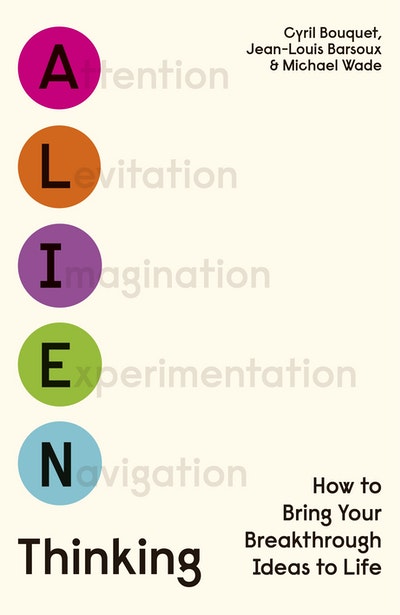 Published:

16 June 2021

ISBN:

9780241481974

Imprint:

Penguin General UK

Format:

Hardback

Pages:

304

RRP:

$43.99
Alien Thinking
How to Bring Your Breakthrough Ideas to Life
---
---
---
Unleash your imagination, catalyse original thinking and find counter-intuitive solutions
How did a balloonist orbit the earth without fuel? How did an inventor create electrical power from human footsteps? How did the WHO figure out how to treat and reduce the transmission of Ebola? They all used alien thinking.
For over a decade, innovation experts Cyril Bouquet, Jean-Louis Barsoux and Michael Wade have studied individuals around the world who have made leaps of creative genius. Their research shows five patterns of thinking that distinguish true innovators - Attention, Levitation, Imagination, Experimentation and Navigation. Marked by a flexibility and freshness that transcends conventional problem-solving, alien thinkers know how to free their imagination, detect hard-to-observe patterns, systematically prototype ideas and see the big picture.
Alien Thinking will help you innovate better and develop world changing-ideas of your own.
Published:

16 June 2021

ISBN:

9780241481974

Imprint:

Penguin General UK

Format:

Hardback

Pages:

304

RRP:

$43.99
Praise for Alien Thinking
A sharp critique of the conventional wisdom around innovation with thought-provoking advice for how to do it better

Jake Knaap, inventor of the Design Sprint and New York Times-bestselling author
Apply ALIEN Thinking to go from early opportunity recognition to impactful innovation. I really enjoyed how this book offers compelling insights and powerful illustrations to enhance the innovation process

Alex Osterwalder, author of the two-million copy bestseller Business Model Generation
Stuck in innovation stagnation? Read this brilliant book, and you'll break free from it

Rolf Dobelli, author of the million-copy bestseller The Art of Thinking Clearly
ALIEN Thinking is an accessible approach to finding and implementing breakthrough ideas. The authors offer illuminating examples to introduce and illustrate the real-world efficacy of each of the major concepts. I recommend this book to anyone willing to do the hard work of generating and implementing breakthrough ideas

Bernard Roth, academic director of the Stanford School and author of The Achievement Habit
Compared to many innovation books, this one is unique in that it emphasizes the emotional side of innovation. Practicing innovators will find a sympathetic companion in this fascinating book

Keith Sawyer, author of Zig Zag and Group Genius
In today's fast-changing world, innovation is essential for success. The authors of ALIEN Thinking have drawn upon their extensive experience to provide a powerful new framework to dramatically improve the odds for innovative thinking and breakthroughs

Robert Rosenberg, retired CEO of Dunkin' Donuts and author of Around the Corner to Around the Worldv
I wish I had read this book years ago. A very pragmatic and eye-opening framework to help make innovation a game-changing reality, whether you are in a small start-up or a big multi-national corporation

Chris Johnson, executive vice president of Nestlé, chief executive officer of Zone Asia, Oceania, and sub-Saharan Africa
ALIEN Thinking offers a business-oriented, applicable framework to innovate. It is a must-read for corporate innovators and intrapreneurs, to create true value for their customers and organizations

Esther Seidl-Nussbaumer, head of corporate innovation, SIGVARIS
A powerful formula for transforming businesses and shaking up industries

Michael Watkins, author of The First 90 Days
A sharp critique of the conventional wisdom around innovation with thought-provoking advice for how to do it better

Jake Knaap, inventor of the Design Sprint and New York Times-bestselling author
Apply ALIEN Thinking to go from early opportunity recognition to impactful innovation. I really enjoyed how this book offers compelling insights and powerful illustrations to enhance the innovation process

Alex Osterwalder, author of the two-million copy bestseller Business Model Generation
Stuck in innovation stagnation? Read this brilliant book, and you'll break free from it

Rolf Dobelli, author of the million-copy bestseller The Art of Thinking Clearly
ALIEN Thinking is an accessible approach to finding and implementing breakthrough ideas. The authors offer illuminating examples to introduce and illustrate the real-world efficacy of each of the major concepts. I recommend this book to anyone willing to do the hard work of generating and implementing breakthrough ideas

Bernard Roth, academic director of the Stanford School and author of The Achievement Habit
Compared to many innovation books, this one is unique in that it emphasizes the emotional side of innovation. Practicing innovators will find a sympathetic companion in this fascinating book

Keith Sawyer, author of Zig Zag and Group Genius
In today's fast-changing world, innovation is essential for success. The authors of ALIEN Thinking have drawn upon their extensive experience to provide a powerful new framework to dramatically improve the odds for innovative thinking and breakthroughs

Robert Rosenberg, retired CEO of Dunkin' Donuts and author of Around the Corner to Around the Worldv
I wish I had read this book years ago. A very pragmatic and eye-opening framework to help make innovation a game-changing reality, whether you are in a small start-up or a big multi-national corporation

Chris Johnson, executive vice president of Nestlé, chief executive officer of Zone Asia, Oceania, and sub-Saharan Africa
ALIEN Thinking offers a business-oriented, applicable framework to innovate. It is a must-read for corporate innovators and intrapreneurs, to create true value for their customers and organizations

Esther Seidl-Nussbaumer, head of corporate innovation, SIGVARIS
A powerful formula for transforming businesses and shaking up industries

Michael Watkins, author of The First 90 Days