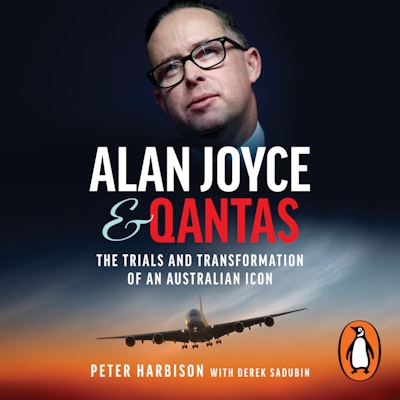 Published:

10 October 2023

ISBN:

9781761345319

Imprint:

Penguin Random House Australia Audio

Format:

Audio Download

Length:

12 hr 54 min

Narrator:

Laurence Brewer

RRP:

$34.99
Alan Joyce and Qantas
The Trials and Transformation of an Australian Icon
---
---
---
Alan Joyce & Qantas: The Trials and Transformation of an Australian Icon is the fascinating, unauthorised story of Alan Joyce's meteoric rise and turbulent 15-year tenure as the CEO of Qantas.
The twists and turns of the last 15 years of the Qantas story contain all the ingredients of a corporate thriller, with constant shocks to the system, and boardroom dramas and disasters narrowly avoided. During this tumultuous period, as CEO of Australia's iconic airline, Alan Joyce became one of the best-known corporate figures in Australia, and one of the most polarising.
He's had to steer the company through cyclones and bushfires, volcanic ash clouds and a tsunami, a pandemic, two fleet groundings, intense union battles and a bitter turf-war. He's been through mass sackings, defections from his inner circle, calls for his resignation, personal bust-ups and betrayals, and question-marks over the survival of the company.
He's been vilified in the media and lauded in the corporate world, copped a pie in the face, battled homophobia, fought for diversity, endured death threats, Senate grillings, a cancer scare, record-high oil prices, record-low customer ratings, wildly fluctuating interest rates and share prices, huge profits and crippling losses, and a horrific period of post-COVID recovery.
By any standard, it's been a remarkable ride. Through it all, Qantas has emerged a transformed airline, wearing some scars but more fit for purpose than ever, primed for the future. Throughout, the Aussie-Irishman Joyce has been unerringly true to his principles – personal and professional. But what will his legacy be when the contrails of his tenure fade?
Global aviation expert Peter Harbison tells the full and unvarnished story of this fascinating period of the Qantas journey, through the insights and anecdotes of business leaders, politicians, union bosses, analysts, media critics, rivals and insiders – and the man at the helm through it all: Alan Joyce.
Published:

10 October 2023

ISBN:

9781761345319

Imprint:

Penguin Random House Australia Audio

Format:

Audio Download

Length:

12 hr 54 min

Narrator:

Laurence Brewer

RRP:

$34.99