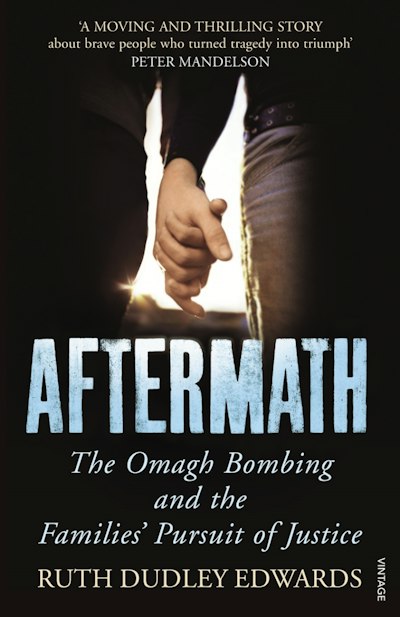 Published:

30 September 2013

ISBN:

9781446485781

Imprint:

Vintage Digital

Format:

EBook

Pages:

400
Aftermath
The Omagh Bombing and the Families' Pursuit of Justice
---
---
---
A remarkable human, political and legal story: an insider's account of the landmark attempt to bring the Omagh bombers to justice.
On Saturday 15th August, 1998, a massive bomb placed by the so-called Real IRA ripped through the town of Omagh, killing twenty-nine people, including eleven children, and injuring over two hundred. It was the worst massacre in Northern Ireland's modern history- yet from it came a most extraordinary tale of human resilience, as the families of ten of the dead channelled their grief into action.
Taking for their motto, 'For evil to triumph, all that is necessary is for good men to do nothing', they decided to pursue the men whom the police believed responsible for the atrocity through the civil courts, where the burden of proof is lower. This is the remarkable account of how these families- who had no knowledge of the law and no money- became internationally recognised, formiddable campaigners and surmounted countless daunting obstacles to win a famous victory.
Longlisted for the Orwell Prize 2010
Published:

30 September 2013

ISBN:

9781446485781

Imprint:

Vintage Digital

Format:

EBook

Pages:

400
This vital, powerful book tells a story of loss, resilience and terrorism... Distinguished historian and journalist Ruth Dudley Edwards was centrally involved in the bringing of this Omagh civil case. In her impressive and vivid book, Aftermath, she becomes the families' crusading chronicler... this book...recounts a remarkable story of victims' resilience and vindication, and deserves to be very widely read

Richard English, Irish Times
A remarkable and moving story, told in masterly fashion by Ruth Dudley Edwards. Her narrative grips from the start. It is as compelling as a thriller and displays the sympathetic imagination of a great novel... This is an extraordinary and uplifting story of how a group of ordinary people managed to get the justice they sought. It is beautifully told

Allan Massie, Scotsman
The Omagh families have not only held terrorists to account for the death of their loved ones; their legacy is a new legal remedy for victims of violence everywhere

Liam Clark, Sunday Times
A moving and thrilling story about brave people who turned tragedy into triumph

Peter Mandelson
The merit of Ruth Dudley Edwards's valuable book about the Omagh families' "pursuit of justice" is that it meticulously chronicles how they did so, charting the enormous efforts involved in raising large amounts of money and getting the case under way

Independent
Ruth Dudley Edwards' account of the Omagh bomb is all the more heartbreaking for her mastery of the small human details... Its portrayal of cruelty and suffering is relevant far beyond Ireland. It should be compulsory reading for everyone - terrorists and state forces - contemplating planting, or dropping, a bomb in conflict

Tribune
Dudley Edwards expertly weaves human interest, politics and the legal realm together to tell the remarkable tale of determination which saw the families stay the course to see those they felt responsible held accountable for the worst massacre in the recent history of Northern Ireland. Essential reading

Metro
Ruth Dudley Edwards' account of the Omagh bomb is all the more heartbreaking for her mastery of the small human details... Its portrayal of cruelty and suffering is relevant far beyond Ireland. It should be compulsory reading for everyone - terrorists and state forces - contemplating planting, or dropping, a bomb in conflict.

Sunday Tribune
Dudley Edwards was also central in helping the Omagh families to bring their civil case. In this vivid account of events she tells how the main aim of the families was primarily "to name and shame at least some of those they believed were liable" for the bomb

Frank Murphy, Irish World
Harrowing and upsetting, it is also inspiring. Reading it gave me the first glimmer of a way out of the horrible failure of our political class

Douglas Murray, Standpoint
This is not only an admirable book, packed with information: it is also a necessary book. It puts everything and everyone associated with the Omagh bombing on the record, in context, and with humanity

Mary Kenny, TLS
Ruth Dudley Edwards provides a heart-warming, tear-jerking and at times shocking account of how these families - taking as their motto "For evil to triumph, all that is necessary is for good men to do nothing" - decided to pursue the Real IRA through the civil courts... Much has been written about Omagh, but Edwards skillfully captures the emotion and persistence of these mothers, fathers, brothers and sisters who became the scourge of the hard men of the Real IRA. Once you begin reading, you become gripped by what they did - it is an inspiration to ordinary people anywhere devastated by terrorism.

John Coulter, Tribune
It is an extraordinary story

Stephen Robinson, Sunday Times Culture, Books of the Year
Her book is a portrait of and a tribute to the victims' families

Stephen Robinson, The Sunday Times
Meticulous and horrifying

William Leith, Scotsman
This incredibly powerful read, about ordinary people who do something extraordinary, is gripping.

Natasha Harding, The Sun