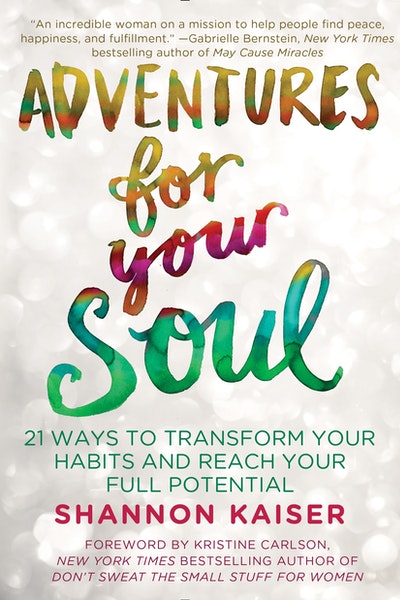 Published:

15 January 2017

ISBN:

9780425278239

Imprint:

Berkley

Format:

Trade Paperback

Pages:

320

RRP:

$26.99
Adventures For Your Soul
---
---
"An incredible woman on a mission to help people find peace,happiness, and fulfillment." Gabrielle Bernstein, author of Miracles Now
Have you ever felt like there's something holding you back?
Maybe that something is you . . .
Sometimes the one thing you need to make a change is to see things from a fresh perspective. Discover twenty-one innovative emotional explorations to boldly confront the habits that are holding you back in this breakthrough guide that provides the tools you need to fearlessly embrace your innermost desires.
Drawing from her own transformational experiences, Shannon Kaiser's program utilizes an empowering process that encourages you to go on adventures for your soul so you can:
• Achieve your goals
• Remove limiting beliefs and self-sabotaging patterns
• Feel freedom from fear and live with purpose and passion
• Be unapologetic about your innermost desires
• And make happiness your natural way of life
By focusing on how your life feels instead of how it looks on the outside, you can passionately experience your own life adventures. By changing the way you see yourself, you can ultimately live life to the fullest.
Published:

15 January 2017

ISBN:

9780425278239

Imprint:

Berkley

Format:

Trade Paperback

Pages:

320

RRP:

$26.99
Praise for Adventures For Your Soul
"I love this!  Shannon's perspective is sunny and bright and will light your day with heart and bliss!"—Kristine Carlson, New York Times Bestselling Author of Don't Sweat the Small Stuff for Women and Moms "Shannon is a modern thought leader on the rise."—Cafe Truth "Shannon Kaiser not only believes in the message of happiness, she lives it and breathes it. Every time I talk to Shannon, happiness finds a way in. Pick up this book and breathe in some happiness for yourself!"—Christine Arylo, self-love author of Madly in Love with ME, the Daring Adventure to Becoming Your Own Best Friend "Adventures for Your Soul gives anyone desiring change the tools to create an extraordinary life.  Shannon shows us what is possible when we remove the mental blocks that keep us from our goals. She delivers an easy to digest guide that can inspire action immediately. If you are ready to change your life for the best, grab this book now."—Healing Lifestyles & Spas "For many of us, feeling excited and fulfilled on a day-to-day basis can seem impossible. If you are in search for lasting happiness, then let this truly remarkable woman guide you. She reminds us all that life is supposed to be exciting, fun and fulfilling."—IDEAL Magazine "Shannon's book is a therapeutic adventure that will reignite your passion for life. Your soul and heart will beat in harmony again, for the wisdom and inspiration within each page will help you fall in love with life."—Claire Charters founder of Zenspiration