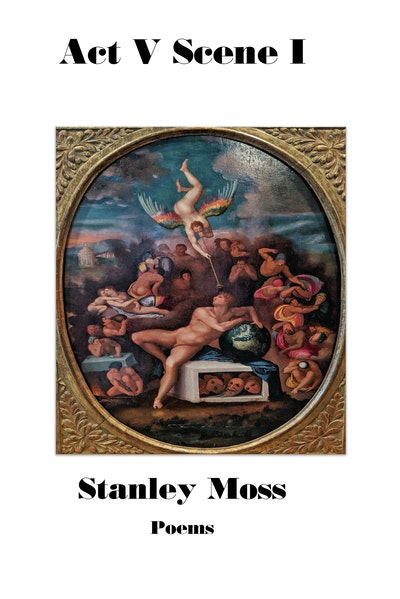 Published:

8 December 2020

ISBN:

9781644210307

Imprint:

Seven Stories Press

Format:

Paperback

Pages:

144

RRP:

$42.00
Act V Scene I
Poems
---
---
Vibrant new poems from the award-winning nonagenarian poet who Rosanna Warren calls "Undaunted, outrageously alive..."
"Open Act V, Scene I or any of Stanley Moss's books anywhere, and you will come shockingly upon wisdom and beauty, a diversity of styles—a unity of voice, a voice that was there since the beginning. I love Stanley Moss's work. The pace, the strategy, the wit, the knowledge are astonishing. Of the generation that is gradually leaving us, those born in the mid- and late-1920s, he has a prominent place. He loves donkeys. He owns Ted Roethke's raccoon coat. He is an original."—Gerald Stern 
"Magisterial. . . this book is magnificent. I've read it several times with greater and greater pleasure. Its verbal generosity and bravura, its humanity, the quality and quantity of information which it generates into poetry of the highest order make it a continuing delight."—Marilyn Hacker 
". . . In our epoch of turmoil, crisis, and grief, I find that Moss's poetry still, always, brings me a little closer to happiness." —Forrest Gander  
"I've loved Stanley's poems since I first encountered a poem of his in Poetry magazine in John Berryman's office when I was nineteen." —W.S. Merwin 
". . . This is a book to hold onto for dear life." —Rosanna Warren 

I Choose to Write a Poem
I choose to write a poem
when my left ankle's broken, purple, and my right ankle's swollen blue,
both knees banged, twice their usual size, both my long legs "killing me,"
while a famous angel is really killing me.
I separate physical pain from the real thing— the real thing, the soul usually dies
before the body. My soul is dancing, welcoming spring in the garden
on a beautiful June morning, ready to live forever.
Published:

8 December 2020

ISBN:

9781644210307

Imprint:

Seven Stories Press

Format:

Paperback

Pages:

144

RRP:

$42.00