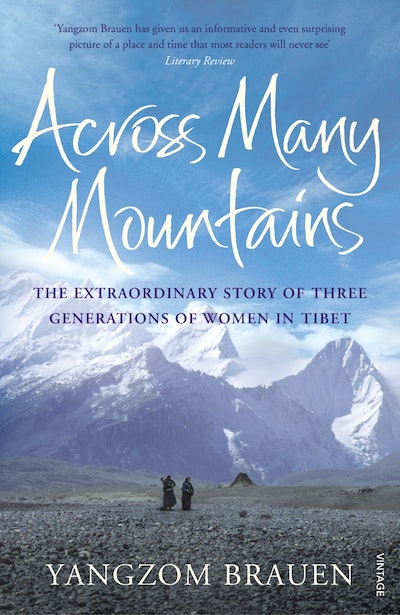 Published:

1 April 2011

ISBN:

9781409029847

Imprint:

Vintage Digital

Format:

EBook

Pages:

352
Across Many Mountains
The Extraordinary Story of Three Generations of Women in Tibet
---
---
---
A Tibetan Wild Swans. The story of a grandmother, mother and daughter who have loved and lost one of the most extraordinary countries in the world.
At a Free Tibet demonstration in Moscow in 2001, a Swiss actress is captured on film being arrested. She catches people's attention for her passion and her striking, Tibetan beauty. A German publisher suggests she tells the world her story. The result is this breathtaking book about Yangzom Brauen's Tibetan heritage, and most particularly her extraordinary grandmother and mother, who fled Tibet in the early 1950s when the Chinese came to take their country away. Yangzom's grandmother Mola was born in a remote village high in the mountains of Tibet. Her mother died when she was little, and from then on she was responsible for running the household. But she always had a deep spirtuality, and as a teenager became a nun. She married a monk, had her daughter Sonam and another child and lived a pious, tranquil life in the precincts of their monastery, but then the Chinese invaders came. Soon it became clear that the family's only option was follow the example of so many other Tibetans and flee over the Himalayas to safety in India.
It was a hair-raising journey. They chose to leave in winter because, at that time of year, the Chinese soldiers patrolling the border were lazier, preferring the warmth of their huts to the snow outside. There was no real path; the icy conditions were extreme. Sonam's four-year-old sister was carried on her mother's back but six-year-old Sonam had to keep up with the group on foot. At one point she slipped into a ravine and no one noticed; if she hadn't managed to scramble out by herself, she would have been left behind. Extraorinarily the family made it to India. But their ordeal wasn't over. Conditions were grim in the crowded camps of Tibetan refugees. Sonam's little sister died and her father became gravely ill, later dying too. But Mola was a determined mother. She managed to find a job for herself and her daugher in an orphanage run by Save the Children. It was here that the now sixteen-year-old Sonam was spotted by Martin Brauen, a young Swiss man from an aristocratic family fascinated by Tibet. He fell in love with Sonam and eventually managed to take both her and her mother to Switzerland where they began a life among the Swiss bourgoisie that couldn't have been more different from what they knew.
This book is Yangzom's tribute to her grandmother and mother, as well as to her lost homeland. It paints a beautifully vivid picture of what daily life was like in Tibet before the arrival of the Chinese, showing how religion informed every aspect of people's lives. But as well as being a portrait of a now-lost society, the book is also an adventure story: the terrifying adventure of crossing the Himalayas, but also the adventure of migration, of trying to survive among a crowd of other refugees and build a new life. And finally it is a love story: there is the love between Yangzom and her extraordinary grandmother, the love between Sonam and her Swiss rescuer and most importantly the love for a country that no longer exists.
Published:

1 April 2011

ISBN:

9781409029847

Imprint:

Vintage Digital

Format:

EBook

Pages:

352
Praise for Across Many Mountains
The experience of this family is enough for more than three lives.

Abendzeitung
A perfect book with which to impress people on the subway - or just a perfect book. Read it!

Speigel Bestseller List