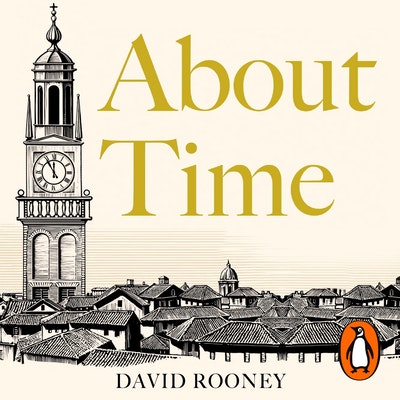 Published:

10 June 2021

ISBN:

9780241992890

Imprint:

Penguin Audio

Format:

Audio Download

RRP:

$26.00
About Time
A History of Civilization in Twelve Clocks
---
---
---
A horological history of human civilisation, told through twelve world-changing clocks
Since the dawn of civilization, we have kept time. But time has always been against us. From the city sundials of ancient Rome to the era of the smartwatch, clocks have been used throughout history to wield power, make money, govern citizens and keep control.
In About Time, time expert David Rooney tells the story of timekeeping, and how it continues to shape our modern world. Over twelve chapters we discover how clocks have helped us navigate the world, build empires and even taken us to the brink of destruction.
This is the story of timing. And the story of timing is the story of us.
Published:

10 June 2021

ISBN:

9780241992890

Imprint:

Penguin Audio

Format:

Audio Download

RRP:

$26.00
'Enthralling and important, About Time takes us deep into the past and far into the future. With David Rooney as personable guide, we peer inside clocks from Kyoto to Cape Town, discovering what they meant to the diverse people who made them, used them, whose lives were ruled by them. . . . This is a gripping and revealing account of time, and humanity's changing relationship with it'

Seb Falk, author of <i>The Light Ages: The Surprising Story of Medieval Science</i>
The measurement of time is a convenience, a jailor, a tyrannical device. David Rooney's delightful and discursive work anatomises that tyranny. Page after page offers up instances of time's ubiquity and its mercurial power to get into the interstices of the everyday

Jonathan Meades
'Not merely an horologist's delight, but an ingenious meditation on the nature and symbolism of time-keeping itself. From the medieval hourglass to the Doomsday Clock, from Jaipur to Jodrell Bank, from GMT to GPS, Rooney ticks off time in a highly entertaining series of historical tales and parables which also give pause for thought and sometimes alarming reflections. I will never hear the pips, or ask 'what's the time?' in quite the same way again. A striking success'

Richard Holmes
'About Time is an utterly dazzling book, the best piece of history I have read for a long time. From sundials in ancient Rome to astronomical, water-driven, mechanical and atomic timepieces used throughout history and across cultures, Rooney has written the definitive book on these remarkable objects that give order to everyday life. It is a moving and beautifully written book that even takes us 5,000 years into the future with plutonium clocks ticking away beneath our feet. There will be many puns about this as a timely book; in fact, it is timeless'

Jerry Brotton, author of <i>A History of the World in Twelve Maps</i>
'David Rooney's passionate enthusiasm for everything clock-related leaps off every page. The vivid writing, engaging stories and autobiographical details combine to offer a rich and generous picture of the history of clocks, from China and Japan to Central Europe, the Middle East and outer space. In clear, pacey and evocative prose, Rooney's volume takes in ancient wonders and modern marvels, leaving us at once enlightened and moved'

Ludmilla Jordanova, author of <i>History in Practice</i>
People say time is money, but David Rooney knows better. In this information-packed swoop through history and into the future, he exposes time's many identities along with the hidden agendas of clocks. Time is knowledge. Time is power. Time is faith. Time is destiny

Dava Sobel, author of <i>Longitude</i>
'Fascinating... it's to Rooney's credit that although he clearly knows a colossal amount about clocks, he wears his learning very lightly'

Dominic Sandbrook, Sunday Times
'A fascinating and sometimes frightening story. Rooney weaves a convincing tale of the evil uses to which clocks have been put'

Daily Express
'About Time provides a fascinating look at timekeeping devices throughout history and the societal roles they've filled. A quick but thoughtful read ensuring you will never look at your alarm clock or smartphone the same way again'

Booklist
'About Time is startlingly original. Rooney is immensely knowledgeable and passionate about his subject. His engaging style should make this book, which carries valuable warnings about the future of humanity, a popular-science classic'

Patricia Fara, Literary Review
'Abundantly clever ... [Rooney's] notion is that time-noting instruments of one kind or another have been central to human endeavor, and he illustrates the power of such influence by scores of well-curated examples ... lovely and engaging, with myriad fascinations on every page'

Simon Winchester, New York Times
'A fascinating volume on what clocks say both to us and about us ... full of riches ... a valuable intellectual journey at a moment ripe for contemplation'

Wall Street Journal
'Captivating ... a diverting way to spend a few hours of precious time'

The Economist
'Fascinating ... exposes the tyranny of clocks ... with [Rooney's] book in hand, and an eye on the world that sustains us, we might just save ourselves'

Forbes
'I've spent a lot of my life trying to reconnect with my experience of time before I learned to read a clock's three hands. Clock-time has always oppressed me, and Rooney's explorations of its use as a tool of power affirmed my unease about it in a spectacular fashion. His book is a great read, full of fascinating stories, histories and agendas'

Jem Finer
'The author knows his subject intimately ... a fascinating story about how clocks have not only kept the time for us but also defined the times we've lived in'

Washington Examiner