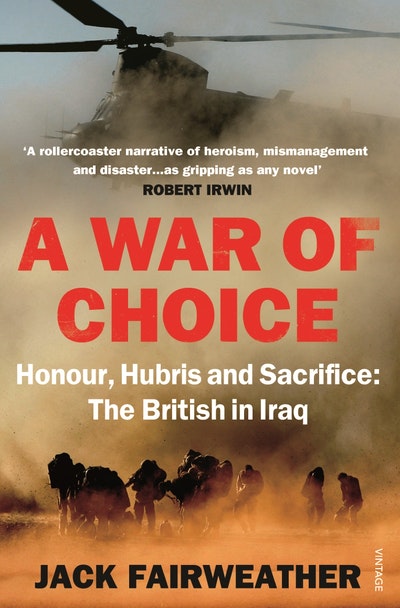 Published:

15 October 2012

ISBN:

9780099542339

Imprint:

Vintage

Format:

Paperback

Pages:

448

RRP:

$22.99
A War of Choice: Honour, Hubris and Sacrifice
The British in Iraq
---
---
---
The remarkable, true story of Britain's role in the wars in Iraq and Afghanistan, by an award-winning journalist.
When Tony Blair plunged Britain into war he thought that, shortly thereafter, Iraq would emerge as a peaceful democracy. Instead the invasion sparked the worst foreign policy disaster since the Suez crisis in 1956.
A War of Choice is a compelling and authoritative portrayal of Britain's war in Iraq. At the outset, Blair insisted that Britain went to war to influence American decision-making. Based on over three hundred interviews, A War of Choice gives the inside story of Blair's war cabinet, Whitehall power struggles and intrigue at the White House, and traces the evolution of the special relationship, from the secret deals struck by Blair, to Brown's desperate bid to save his premiership, which brought already-strained relations with America to the verge of collapse.
The occupation of Iraq also marked an extraordinary attempt to introduce democracy into the heart of the Muslim world. Fairweather takes us inside the doomed effort in Basra, where civil servants and trigger-happy contractors lived in a holiday camp atmosphere in Saddam's former palace, while British troops struggled against a raging insurgency and Iranian agents and Iraqi tribesmen plotted the occupation's downfall. Tony Blair compounded the blunders in Iraq when he launched a peacekeeping mission in Afghanistan in 2006. Fairweather follows a small group of officers and diplomats as they try to learn the lessons of liberal intervention in time to avert a disaster in Helmand and a humiliating surrender in Basra.
A story of hubris and honour, betrayal and the ultimate sacrifice, A War of Choice is a gripping account of the moral and political challenges posed by the last ten years of war. Posing the question 'can nation-building defeat terrorism?' the new government would do well to take heed.
Tony Blair always claimed that history would judge his decision to invade Iraq. This is it.
Published:

15 October 2012

ISBN:

9780099542339

Imprint:

Vintage

Format:

Paperback

Pages:

448

RRP:

$22.99
Praise for A War of Choice: Honour, Hubris and Sacrifice
Sound, vivid and enhanced by his modesty - there is no "as the bullets flew around my head" here. He simply describes in cool prose how Britain's share in the western allies' initial 2003 success in deposing Saddam Hussein and occupying Iraq tuned into a nightmare struggle against insurgency

Max Hastings, Sunday Times
It makes for one of the best histories of the aftermath of war, and a staggering story of the betrayal of everything it was fought for

Good Book Guide
A rollercoaster narrative of heroism, mismanagement and disaster... as gripping as any novel

Robert Irwin
It does what the Chilcot Inquiry should do, but probably won't

Robert Fox, Evening Standard, Books of the Year
A compelling history of the seamy realities of war in both Iraq and Afghanistan, it combines the vivideness of front-line reporting with detached and incisive analysis. A War of Choice should become the definitive account of this era

Alistair Horne
The calamitous decision-making process that sent Britain into the "perfect storm" of fighting two wars on two fronts is brilliantly catalogued in Jack Fairweather's excellent book, A War of Choice

Sean Rayment, Daily Telegraph
An interesting and worthwhile book

Adrian Weale, Literary Review
Fairweather deftly combines history, analysis and reportage to give a rational and dispassionate account of Britain's war... While A War of Choice is by no means the first book about the war in Iraq, nor even about Britain in Iraq, it is surely one of the finest. It is a compelling and sober exploration of Britain's controversial foreign policy in the Middle East, and, most importantly, it is fantastically readable.

Tom Begg, Sugar Street Review
We have needed to have a detailed and dispassionate book on Britain's bitterly controversial war in Iraq. At last we have it with this powerful, sweeping account.

Anthony Seldon
A compelling history of the seamy realities of war in both Iraq & Afghanistan, it combines the vividness of front-line reporting with detached and incisive analysis. A War of Choice should become a definitive account of this era, setting out the case against Tony Blair's shifty manipulations in Iraq more forcefully than any number of official enquiries will do.

Alistair Horne
Britain's campaigns in Iraq and Afghanistan have spawned a new generation of war correspondents as brave and fluent as any that went before, many of whom go on to write books. Jack Fairweather, who reported from Baghdad for The Daily Telegraph, has compiled his own account, which is sound, vivid and [...] simply describes in cool prose how Britain's share in the western allies' initial 2003 success in deposing Saddam Hussein and occupying Iraq turned into a nightmare struggle against insurgency.

Max Hastings, The Sunday Times
Jack Fairweather, the accomplished correspondent of the Daily Telegraph for much of the Iraq venture, gives a brilliant summary of the British entanglement for the fourth time in that country in A War of Choice... It should provide an ideal introduction to the forthcoming, and much delayed, report about British involvement in Iraq by the Chilcot committee. That inquiry should finally lay bare who took the decisions for what, who knew what and at what time, and who should take responsibility. It won't do all that, we know already, because Sir John Chilcot himself has said he won't apportion blame. He should, and the fact he won't means we will have to rely on Jack Fairweather's pithy analysis for a long time ahead.

Robert Fox, Evening Standard
The calamitous decision-making process that sent Britain into the "perfect storm" of fighting two wars on two fronts is brilliantly catalogued in Jack Fairweather's excellent book A War of Choice. Through more than 300 interviews, Fairweather, a former Daily Telegraph correspondent in Iraq, expertly dissects the lies, spin and appalling decision-making which led to the biggest British foreign policy disaster since the Suez Crisis.

Sean Rayment, Daily Telegraph