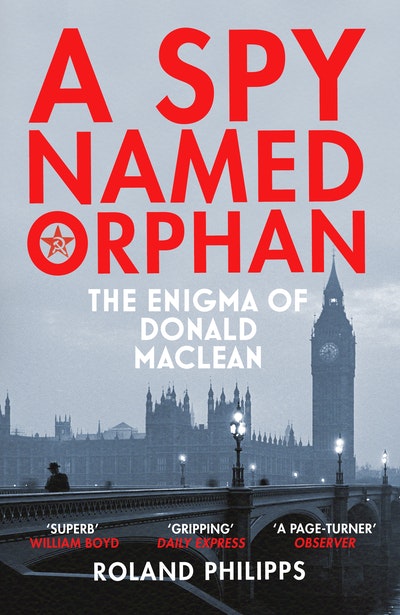 Published:

5 April 2018

ISBN:

9781473545106

Imprint:

Vintage Digital

Format:

EBook

Pages:

464
A Spy Named Orphan
The Enigma of Donald Maclean
---
---
---
A gripping tale of betrayal and counter-betrayal that tells the story of the most enigmatic member of the Cambridge spy ring - Donald Maclean.
Donald Maclean was a star diplomat, an establishment insider and a keeper of some of the West's greatest secrets. He was also a Russian spy.
Codenamed 'Orphan' by his Russian recruiter, Maclean was Britain's most gifted traitor. But as he leaked huge amounts of top-secret intelligence, an international code-breaking operation was rapidly closing in on him. Moments before he was unmasked, Maclean escaped to Moscow.
Drawing on a wealth of previously classified material, A Spy Named Orphan now tells this story for the first time in full, revealing the character and devastating impact of perhaps the most dangerous Soviet agent of the twentieth century.
'Superb'
William Boyd
'Fascinating. An exceptional story of espionage and betrayal, thrillingly told'
Philippe Sands
'A cracking story. Impressively researched'
Sunday Times
'Philipps makes the story and the slow uncovering of [Maclean's] treachery a gripping narrative'
Alan Bennett

Published:

5 April 2018

ISBN:

9781473545106

Imprint:

Vintage Digital

Format:

EBook

Pages:

464
Praise for A Spy Named Orphan
Brilliantly fluent...fascinating...[Philipps] writes so cleanly, and at such a clip, handling the big scenes with aplomb...This biography first grips and then lingers long in the mind. It is a page-turner of the most empathetic kind.

Rachel Cooke, Guardian
Superb…full of contemporary relevance… Philipps relates the complex narrative of Maclean's treason…with tremendous aplomb, limpidity and acuity

WILLIAM BOYD, New Statesman
With A Spy Named Orphan, the last piece of this bizarre jigsaw falls into place. The outline story is familiar, but the amount of new detail here — on Maclean's personal, professional, and secret lives – exceeds all expectations. Roland Philipps has managed to make the new material come alive by relating it intimately to its historical context, of which he has a deep and sympathetic understanding.

Sebastian Faulks, author of BIRDSONG
The definitive account of the life of a "gifted" traitor… Impressive… By drawing on a wealth of previously classified material, Philipps weaves a gripping tale of misplaced loyalty, intrigue and betrayal that is unlikely to be bettered

Dominic Midgley, Daily Express
Fascinating and page-turning. An exceptional story of espionage and betrayal, thrillingly told. I devoured it.

Philippe Sands, winner of the Baillie Gifford Prize for EAST WEST STREET
A lively and beautifully engineered biography

John Banville
Philipps… is punchy and hard-nosed in his handling of facts, but pliant, imaginative and humane in his understanding of motives and emotions

Richard Davenport-Hines, Guardian
Fresh and thought-provoking throughout... rich in archive material

Giles Udy, The Times
A cracking story... An impressively researched and smoothly polished debut... persuasive.. [an] excellent book

Dominic Sandbrook, Sunday Times
A masterpiece. The rich renderings of secret assignations, smuggled documents, damning intelligence and brilliant code-breaking will delight lovers of fiction and non-fiction alike. Picture Erik Larson meets John le Carré and you have only begun to scratch the surface of this absolutely gripping book.

Brad Thor, author of international bestseller SPYMASTER
An adroit, deeply researched and richly embroidered portrait of Maclean

Ferdinand Mount, Prospect
Hugely impressive – by an historian who is a master of storytelling and empathy. A rare combination.

Dame Carmen Callil
What great storytelling. Maclean may have been a traitor but his slow slide to self-destruction has all the elements of tragedy. I couldn't put it down.

Peter Snow
Donald Maclean was arguably the most valuable, and certainly the most troubled, of the Cambridge spies. Roland Philipps knows the world that formed him and has given us the fullest account we've yet had not only of his treason but of the conflicted man who committed it.

Joseph Kanon, author of DEFECTORS
Gripping from start to finish

Sara Wheeler, author of O MY AMERICA!
Magisterial. The biography of Maclean we have all been waiting for

Charles Cumming, author of the Thomas Kell series
Admirable… [a] compassionate, absorbing book

Miranda Carter, The Oldie
[A] persuasive and polished biography

Sunday Times
Roland Philipps illuminates, in both broad and subtle strokes

John Lloyd, Financial Times
Philipps does an admirable job of piecing together the spy's tale

Mary Jo Murphy, Washington Post Sunday
Philipps's telling of the tale is masterly. He weaves a complex web of professional, psychological and marital themes into a wonderful fluent, coherent and compelling narrative

Xan Smiley, Standpoint
Elegant, thorough and surprisingly exciting

Marcus Berkman, Daily Mail
[A] superbly told tale

Daily Mail, Daily Mail, **Books of the Year**
In A Spy Named Orphan Roland Philipps's description of Donald Maclean's psychological make-up chimes with what I have always felt about the Cambridge spies (Philby excepted) – namely, that their romance with the Soviet Union partook of patriotism as much as it did of espionage… Philipps makes the story and the slow uncovering of his treachery a gripping narrative and an overwhelmingly sad one

Alan Bennett, London Review of Books