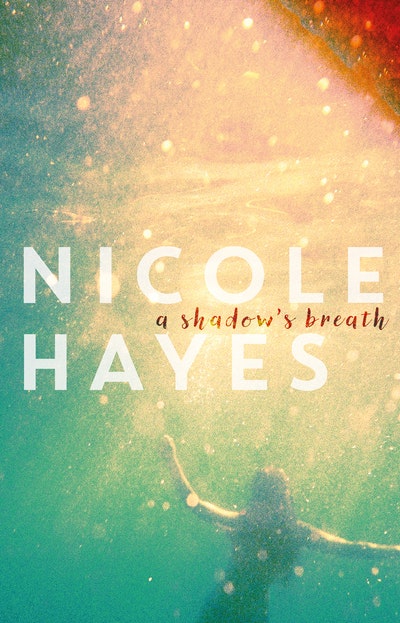 Published:

30 January 2017

ISBN:

9780143781097

Imprint:

Random House Australia Children's

Format:

Paperback

Pages:

336

RRP:

$22.99
A Shadow's Breath
---
---
---
A compelling story of heartbreak, courage and forgiveness from the award-winning author of The Whole of My World and One True Thing.
Then, things were looking up for Tessa. Her mum was finally getting back on track. Tessa had started seeing Nick. She was making new friends. She'd even begun to paint again.

Now, Tessa and Nick are trapped in the car after a corner taken too fast. Injured, stranded in the wilderness, at the mercy of the elements, the question becomes one of survival. But Tessa isn't sure if she wants to be found. Not after what she saw. Not after what she remembered.
Published:

30 January 2017

ISBN:

9780143781097

Imprint:

Random House Australia Children's

Format:

Paperback

Pages:

336

RRP:

$22.99
Praise for A Shadow's Breath
Congratulations Nicole Hayes – it's another beautiful, true, heartfelt and heartbreaking story to add to the amazing OzYA lexicon.

Sue Osborne, https://worthreadingworthsharing.wordpress.com/
It is a compelling and heart-wrenching story, and the writing is spot-on ... From the first page I was sucked into the claustrophobic, despairing and tense predicament that Tessa finds herself in. Hayes deftly weaves the past and present together in chapters named 'Then' and 'Now', slowly revealing Tessa's life in all its gritty, difficult, messy, shameful detail. This is reality fiction at its finest ... I recommend this to all readers teenaged and above. All the feels.

Miffy Farquharson, miffyreviews.wordpress.com
Hayes skilfully alternates her time frames, tracing her Now path through a series of physical hazards and Then flashbacks until, with a shattering little plot twist, the two inevitably meet and everything becomes a painful Now to be faced with the help of a patient best friend and a newly sober mother: an intriguing, dramatic structure supported by convincing teen characters.

Katharine England, Adelaide Advertiser
A Shadow's Breath is a compelling and beautifully-written novel about finding your place in the world when everything seems to be crumbling around you. The undertones of sadness and despair are coupled with hope and love in such a way that will warm your heart and fill you with the knowledge that you have so many people that care about you, even when it might not seem like it. A Shadow's Breath truly left me breathless.

Sarah Robinson-Hatch, writtenwordworlds.wordpress.com
A Shadow's Breath will haunt you long after the tale is complete. With themes including addiction, abuse, survival and the path to forgiveness, A Shadow's Breath is not for the faint-hearted, but it's so filled with heart that it's hard to resist. If you enjoyed The Whole of My World and One True Thing, you are sure to love A Shadow's Breath. But be warned: this is Nicole Hayes' most powerful novel yet. She takes you deeper and into far more dangerous territory than she ever has before.

Jo Burnell, kids-bookreview.com
The book is cleverly structured . . . 'Then' and 'Now' come safely together at the crash itself, after which 'Then' becomes 'Now' with a sharp and largely unexpected twist in the plot – a twist subtly presaged by the novel's title. Unlike several similar but rather idealised teenage scenarios I have read recently, Hayes's novel realistically, if fleetingly, considers the stresses on the supportive best friend . . . All in all, this is a novel full of engaging and believable characters caught up in suspenseful and thought-provoking situations.

Katharine England, Magpies
A Shadow's Breath actually took my breath away. In this poignant and emotional gem of a read, Nicole Hayes has struck the perfect balance between the gripping suspense of a survival situation and a sensitivity in perceiving her protagonist's life in the past and present ... What is special about A Shadow's Breath is the tender exploration of a perilous situation. There is more than one shocking twist to be found within these pages for sure, but the real triumph here is where Hayes has demonstrated our capacity to mend relationships with those who are closest to us.

genie-inabook.blogspot.com.au
Inky Awards
Longlisted • 2018 • Gold Inky Award for an Australian Book
NSW Premier's Literary Awards
Shortlisted • 2018 • Ethel Turner Prize for Young People's Literature
CBCA Book of the Year Awards
Notable Book • 2018 • Older Readers