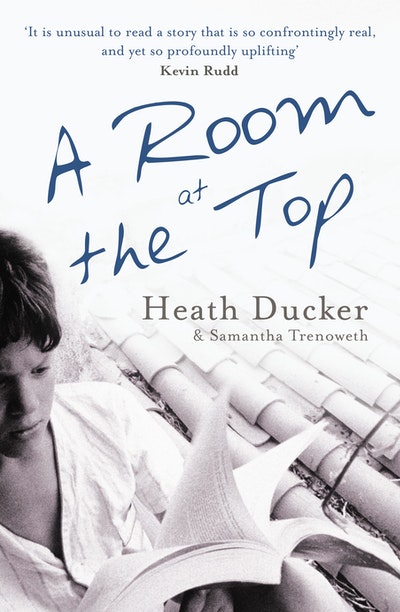 Published:

2 May 2011

ISBN:

9781742744940

Imprint:

Random House Australia

Format:

EBook

Pages:

390
A Room At The Top
---
---
---
'It is unusual to read a story that is so confrontingly real, and yet so profoundly uplifting' Prime Minister Kevin Rudd
'It is unusual to read a story that is so confrontingly real, and yet so profoundly uplifting' Prime Minister Kevin Rudd
Heath Ducker grew up on the wrong side of the tracks. He couldn't even see the tracks from where he lived, in dilapidated government housing, with shattered windows and holes in the floor that let the weeds climb through. He lived with his emotionally fragile, single mother and nine siblings, conceived with half a dozen different fathers, none of whom ever moved in. Most days, there was nothing to eat but breakfast cereal. Just when it seemed things couldn't get any worse, soon after Heath's twelfth birthday, he was sexually abused by the father of his only real friend.
However, Heath was determined, from the outset, that he would not let his circumstances beat him. As a teenager, he was so committed to passing his final exams that he lugged his books up a mulberry tree and onto the roof of his house to study in the only quiet spot he could find.
As a result of extraordinary courage and resilience, Heath Ducker is a lawyer with a passionate commitment to improving the lot of underprivileged kids. He lobbies politicians on their behalf, gives his weekends over to voluntary work at camps for teenagers in trouble and he leads treks for young people along the notorious Kokoda Track in the highlands of New Guinea. In 2008 the then Prime Minister of Australia, The Hon Kevin Rudd MP, presented him with ADC's Leadership Award 2008, presented to only 26 people from across Australia.
When Heath appeared on ABC television's AUSTRALIAN STORY in 2006, he provided inspiration for thousands of viewers. His life story has continued to inspire as one of the most frequently viewed episodes on the ABC TV website. Now, in A Room at the Top, Heath Ducker, for the first time, tells his story in his own words.
Published:

2 May 2011

ISBN:

9781742744940

Imprint:

Random House Australia

Format:

EBook

Pages:

390
Praise for A Room At The Top
Heath Ducker has overcome enormous obstacles and challenges to become a leader and role model for young people

JOHN HOWARD
What makes us human is our ability to spark a burning desire for a better life, as Heath Ducker did.

Jeff McMullen
This is a story of hope and inspiration ... It is a beautiful read and by the time you have finished, you will want to rush out and support every child in the land to help them realise what is rightfully due to them.

Sarah Ferguson, the Duchess of York