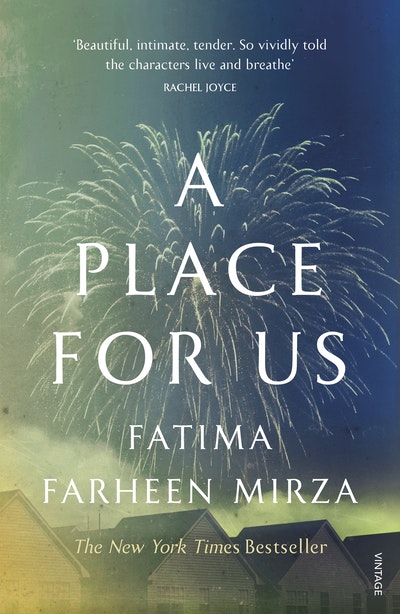 Published:

18 June 2019

ISBN:

9781784707668

Imprint:

Vintage

Format:

Paperback

Pages:

400

RRP:

$19.99
A Place for Us
---
---
A wayward son, a dutiful daughter, a family caught between two cultures -- the first novel from Sarah Jessica Parker for Hogarth
** The New York Times bestseller **
'To be taken hostage by Fatima Mirza's heartrending and timely story is a gutting pleasure... She captures your mind and heart with an urgency that defies you to stop reading. I guarantee you will be different when you close the book' Sarah Jessica Parker'I loved this book' Anne Tyler
'The depth of the storytelling and the beauty of the language makes this debut something to treasure' John Boyne
An Indian–Muslim family is preparing for their eldest daughter's wedding. But as Hadia's marriage – one chosen of love, not tradition – gathers the family back together, there is only one thing on their minds: can Amar, the estranged younger brother of the bride, be trusted to behave himself after three years away?
A Place for Us tells the story of one family and all family life: of coming to terms with the choices we make, of reconciingly past and present and of how the smallest decisions can lead to the deepest betrayals.
Published:

18 June 2019

ISBN:

9781784707668

Imprint:

Vintage

Format:

Paperback

Pages:

400

RRP:

$19.99
Praise for A Place for Us
I'm particularly interested in stories of immigrants and I loved Fatima Farheen Mirza's A Place for Us, about an Indian family living in America

Anne Tyler, Observer
Deeply moving... The story comes together gradually, through the perspective of various family members, as it weaves through different points in time. Mirza's writing is poignantly beautiful

Daily Mail
I loved every minute of this novel; Mirza's prose and her story squeezed my heart, and I had to take a very long, deep breath upon finishing the book. This is a writer to watch out for

Stylist
The depth of the storytelling and the beauty of the language makes this debut something to treasure. Highly recommended

John Boyne
Telling the story via multiple perspectives, the author paints an incredibly textured and compassionate portrait of the characters' lives. Their love for one another is undeniable, yet their inability to communicate it is devastating. As they collectively and individually struggle with the expectations of their heritage as well as contemporary life, A Place For Us is a timeless, yet also timely, family epic

Aisling O'Leary, Irish Times
Absolutely gorgeous... Mirza writes with the wisdom, insight and patience you would expect from a mature novelist adding a final masterpiece to her canon, but this is, fortunately, just the start of an extraordinary career... As Marilynne Robinson has done with Protestants and Alice McDermott has done with Catholics Mirza finds in the intensity of a faithful Muslim family a universal language of love and anguish that speaks to us all... among the most poignant things I have ever read... a privilege

Ron Charles, Washington Post
In polished prose that zeroes in on domestic detail and, at its loveliest, recalls Jhumpa Lahiri, Mirza delivers a portrait of a family straining to hold its center amid rebellions both quiet and explosive

Time Magazine
Textured and keenly felt... profound... stuck with me long after I finished the book's final page

Lauren Christiansen, New York Times
A modern family saga, it follows the conflict between duty, tradition and temptation... bold in its subject matter and moving

Patricia Nicol, Sunday Times
This powerful, intricate debut is essential reading

NoViolet Bulawayo, Man Booker-shortlisted author of We Need New Names
Told with tender delicacy, A Place for Us is a moving and joyful portrait of a modern family, about growing up between two cultures, reconciling with the past, and identity as a lived experience

Independent
Moving, thought-provoking and ultimately positive, this is a story about family, tradition and culture in a modern world

Red
A brilliant, highly readable contemporary tale of identity and belonging

Elle
Mirza is a gifted storyteller and this moving novel was one of the highlights of my reading year

John Boyne, Irish Independent
This is a richly detailed, immersive saga that hooks you from the jump and keeps you absorbed even as you spend decades with its character

Marie Claire
The best book I've read this year

Jen Campbell, vlogger & booktuber
In this stunning, generous novel, Mirza looks at the crucial events in an Indian-American Muslim family from many perspectives

Refinery29
Mirza's writing is like poetry as she examines just how far the bonds of family can bend

Glamour (US)
The great achievement of this novel – as of Vikram Seth's witty and bounteous classic, A Suitable Boy – is that it traces family troubles that could happen to anybody... touching and unsettling... If this is the standard of Sarah Jessica Parker's list, we can look forward to a feast from Hogarth

Bookoxygen
Fatima Mirza is brilliant and this novel will break your heart and make it new again

Garth Greenwell
Beautiful, intimate, tender. So vividly told the characters live and breathe

Rachel Joyce
A radiant debut novel about the cultural forces that bind and divide members of one close-knit Muslim-American family

People, Books of the Year
A Place for Us is a triumph and an inspiration. I wish everyone would read this novel. A chronicle of the shattered expectations and irreconcilable desires within an American-Muslim family, A Place for Us hums with a deep faith in an unknown future, reminding its readers that when we are lost, love gives us a map home

Karen Russell, author of Swamplandia!
'Fatima Farheen Mirza's A Place For Us is a work of extraordinary and enthralling beauty. It is so deeply imagined, so intimately attentive to and solicitous of the lives it follows, so artful in describing the inseparable human experiences of pride and resentment, humility and loyalty -- and, most of all, love – that it feels not as if we are reading a novel about this Indian Muslim family struggling with tradition and a new culture, but as if we become actual members of the family. It is that immersive, that brilliant, that true'

Paul Harding, Pulizer Prize-winning author of Tinkers
[I]t's groundbreaking to read… That we become so invested in a testament to Mirza's talent

Mail Online
Throughout the course of the novel a complex dynamic of emotion emerges, and the novel unspools with striking maturity

Erica Wagner, Harper's Bazaar
With unwavering compassion, this [is a] beautiful heartbreaker

People Magazine
Fatima Farheen Mirza's A Place For Us is a radiant debut. It accretes its power, beauty, and insight through its tender witnessing of private and family life. With her deeply compassionate view, Mirza dignifies terrain often desecrated by contemporary culture: maternity, faith, the bonds of community, the yearning for goodness, and our duty to others. She shows us the destructiveness of our doubt in those we love, and the mercy of forgiveness. Most wondrously, with this felt and moving novel, Mirza creates a place in which rebellion and reverence seem to embrace

Charmaine Craig, author of Miss Burma
A Place for Us is a radiantly envisioned, beautifully achieved epic about nearly everything that matters: love, family, faith, freedom, betrayal, contrition, absolution. Fatima Farheen Mirza is a magnificent new voice

Anthony Marra, author of A Constellation of Vital Phenomena and The Tsar of Love and Techno
The title of the book echoes a song from West Side Story, itself a retelling of Romeo and Juliet. Here the warring forces are not two families but one, split by the tension between reverence and rebellion. The author's passion for her subject shines like the moon in the night sky, a recurrent image in this ardent and powerful novel

Kirkus
Extraordinary in its depth... slow-brewing, affecting

Booklist