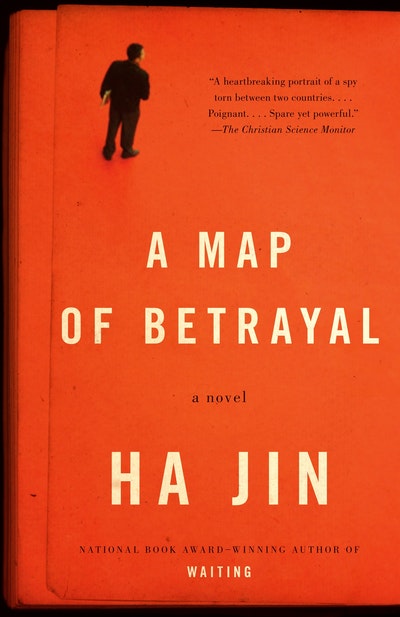 Published:

15 July 2015

ISBN:

9780804170369

Imprint:

Knopf US

Format:

Trade Paperback

Pages:

304

RRP:

$26.99
A Map Of Betrayal
---
---
From the award-winning author of Waiting and War Trash: a riveting tale of espionage and conflicted loyalties that spans half a century in the entwined histories of two countries—China and the United States—and two families.
When Lilian Shang, born and raised in America, discovers her father's diary after the death of her parents, she is shocked by the secrets it contains. She knew that her father, Gary, convicted decades ago of being a mole in the CIA, was the most important Chinese spy ever caught. But his diary, an astonishing chronicle of his journey as a Communist intelligence agent, reveals the pain and longing that his double life entailed—and point to a hidden second family that he'd left behind in China. As Lilian follows her father's trail back into the Chinese provinces, she begins to grasp the extent of his dilemma: he is a man torn between loyalty to his motherland and the love he came to feel for his adopted country. She sees how his sense of duty distorted his life, and as she starts to understand that Gary too had been betrayed, Lilian finds that it is up to her to prevent his tragedy from endangering yet another generation of Shangs.
A stunning portrait of a multinational family and an unflinching inquiry into the meaning of citizenship, patriotism, and home, A Map of Betrayal is a spy novel that only Ha Jin could write.

From the Hardcover edition.
Published:

15 July 2015

ISBN:

9780804170369

Imprint:

Knopf US

Format:

Trade Paperback

Pages:

304

RRP:

$26.99
Praise for A Map Of Betrayal
"With a National Book Award, two PEN/Faulkners and a Pulitzer nomination under his belt, Ha Jin is one of America's most decorated living novelists. He's made a name for himself writing beautiful stories centered in China, where he was born and raised. . . . In a way, A Map of Betrayal is an innovative twist on an immigrant novel, exploring themes of identity, assimilation and confused loyalties through the high-stakes narrative of a spy novel. . . . A poignant novel that portrays the emotional drama of an immigrant torn apart by conflicting loyalties and 'bone-deep loneliness.' 'If only he could become a citizen of both countries, a man of the world,' comes Gary's lament. He may be a traitor and a superspy, but his tragedy is relatable, almost simple. It should strike many close to home." —Steph Cha, Los Angeles Times "A lonely Chinese spy is forced to leave his young wife and remarry in the U.S. in this compassionate study of a man caught between two wives and two countries. . . . Jin quietly piles up facts, creating an impossible situation in which a good, patriotic man becomes emotionally entangled with two nations intent on deceiving each other. A confident and knowledgeable explicator of China, Jin probes the failure of the Great Leap Forward, the inequity between country Chinese and city Chinese, Internet censorship, the national problems of food contamination and the illiteracy of more than half the population, while placing historical touches throughout (such as the Russian astronaut dog Laika and the Kennedy assassination). . . . Written without the slightest whiff of melodrama, in a cool, factual, unadorned style, A Map of Betrayal is a quietly humane, painstakingly detailed portrait of an idealistic man who tries to set himself morally apart. Ever present in this dense, compelling tale are provocative questions about the nature of patriotism: When do you betray your country? When does your country betray you?" —Nick DiMartino, Shelf Awareness "Ha Jin has captured the painful, often humdrum essence of the hidden agent. . . . In chapters alternating with Gary's chronological story, Ha Jin follows the journey of Gary's half-American daughter, Lilian, as she searches for the truth about her father by reading his diaries and by traveling to modern-day China. We see America through the eyes of a Chinese émigré, torn between an old loyalty and growing affection for the adopted land he is betraying. Simultaneously, we see China through the eyes of his daughter, discovering whatever she can about the family her father left behind. . . . [Ha Jin] is a voice at once outside and inside the culture." —Ben Macintyre, front cover, The New York Times Book Review   "A Map of Betrayal is the gripping story of a daughter coming to terms with her family history, set against a backdrop of political change. . . . A haunting tale of two families and two countries that are linked together by the life of a single spy. . . . Poignant . . . . The novel closes with a delicate, ironic twist that one associates with the best of Jin's fiction." —Lauren Bufferd, BookPage   "Jin doesn't lead you, blindfolded and sweating, around countless corners to deliver cheap surprises. His writing—clean, simple, and engaging—instead focuses on the risks that Gary and his American daughter, Lilian, have taken to find continuity in their homes and families. . . . Jin bridges the gap between character and reader. I've never been a spy and am not from an immigrant family, but I felt Gary's isolation and Lilian's desperation as my own. By transferring these emotions to the reader, Jin has created more than a novel; he has crafted an experience. A Map of Betrayal is not just something that entertains but something that teaches." —Jared Shaffer, Everyday eBook "Beautifully written. . . . Brilliant fiction, a story of shifting personal loyalties across broad swaths of territory, that can only be done by one with a deep knowledge of two cultures: in [Jin's] case, China and America." —Michael D. Langan, Buffalo News   "Ha Jin presents a chillingly matter-of-fact tale of espionage and treachery told in alternating narratives. . . . [As this] brooding, many-layered story of delusion and betrayal suspensefully unfolds, Ha Jin offers startlingly redefining views of the strategic evolution of U.S.-Chinese relations during the nuclear arms race, the Korean and Vietnam Wars, and Ping-Pong diplomacy. A sharply ironic, stealthily devastating tale of the tragic cost of 'blind' patriotism, told by a master of clarifying fiction, uniting the personal and the geopolitical." —Booklist (starred)   "Like his exquisite National Book Award-winning Waiting, Jin's latest is a meticulous observation of a manipulated life only partially lived. . . . [Jin] deftly plots a family history caught between uncompromising attachments and inevitable betrayals. Spy story it may be, but what lingers is the immeasurable human toil." —Library Journal (starred) "From the National Book Award– and PEN/Faulkner-winning author Jin (Waiting) comes a woman's inquisition into the limits of her father's loyalty to his nation and family. . . . Jin's subtle prose entrances. . . . A captivating tale that probes the Chinese political state over the past half century."—Publishers Weekly (boxed, starred) "Masterful and bittersweet storytelling that operates on a number of different levels . . . Satisfies like the best of John le Carré, similarly demystifying and deglamorizing the process of gathering information and the ambiguous morality that operates in shades of gray . . . The issues of love and loyalty that permeate the novel aren't merely political, but deeply personal." —Kirkus Reviews (starred) From the Hardcover edition.