Charlie Veron unlocks the thrill of diving our Great Barrier Reef.
Charlie Veron has dived most of the world's coral reefs, identifying more coral species than anyone in history – in the process, earning the nickname of the 'Godfather of Coral'. It was fossicking among rock pools as a child that Veron first made connections with the natural world. And through his love of scuba diving as a risk-taking university student in the 1960s and '70s, his eyes and heart were opened to the immense wonders of marine biology – a passion that consumes him to this day.
In his exhilarating, eye-opening, provocative, funny and warm memoir, A Life Underwater, Veron explains what reefs say about our planet's past and future, and why it's critical they be protected. Here he illuminates the thrill experienced by those lucky enough to dive the Great Barrier Reef.
Like the Amazon rainforest, the Great Barrier Reef is known throughout the world as one of the greatest natural ecosystems on our planet. It is the largest and most spectacular structure built by living organisms on Earth, its size virtually impossible to compre­hend. The first astronauts saw The Reef from outer space, the only living thing on Earth they could see. I've not had that pleasure, but I have seen it many times from the air. One of those times, thirty years ago, I had a bird's-eye view from the nose cone of a Neptune bomber, sitting beside the then minister for science. As the plane flew on, hour after hour, one reef region after another came and went in what, for the minister, must have seemed like an endless progression of more and more of the same: he kept fall­ing asleep. Poor man, he was frequently woken by my outbursts of enthusiasm as one favourite dive site after another came into view, yet when I retraced our flight path on a map after landing, we were both reminded that we'd covered but a fraction of the whole. Even from the air the Great Barrier Reef is too big to take in.
Diving on The Reef is a different matter. Only the best movie photographers can capture the ambience of a pristine coral gar­den, which contains a profusion of life: corals, soft corals, fish, anemones, urchins, starfish, shellfish, and little creatures every­where. It's a diversity never seen on land, not even in rainforests. Then there are the underwater cliff faces and ceilings of caverns ablaze with the colours of filter feeders: ascidians, sponges, sea-fans, crinoids and more soft corals, most beyond the knowledge of science.
Reefs in poor condition feel like graveyards, because divers only hear the bubbles from their own breathing. Between breaths such reefs are morbidly silent. Healthy reefs are the opposite; the healthier they are, the noisier they are, because they're full of little animals all with something to say. This is especially so at night, when even a torch beam can start a cacophony of crackles, chirps and croaks. Some come from fish and are identifiable, but most come from unseen little critters, of which there are thousands of different kinds.
Diving at night is to enter a spectacular world, for the diver's torch reveals these tiny animals by the thousand: iridescent clouds of plankton of all shapes and sizes, swimming frantically, lured by the light. At night corals open their tentacles to catch these frenetic little animals, transforming themselves into anemone-like creatures with long sinuous tentacles, quite unlike their daytime guises. At night, too, large predators of every description move through the distant darkness. Sharks roam unceasingly, sensing the presence of anything moving in the dark.
Photographers sometimes capture these scenes, by day and night, but they can never convey the emotions of those of us fortunate enough to have looked upon this world. The greatest reefs of the Great Barrier Reef seldom fail to instil awe and won­der. The sight of large animals – whale sharks, manta rays, giant groupers, a dozen kinds of big, ocean-going silver fish, sharks and the occasional whale – never fails to thrill. But there's also fear, especially on the lesser-known outer reefs of the far north. The threat of depth is ever-present, for clear-water reefs that plunge down into deep ocean can be deceptive, a fatal attraction for a tourist wanting to get just a little more out of a trip of a lifetime. Sadly, a spectacular reef face is the last thing some ever see.
Electronic navigation and satellite imagery have virtually put an end to The Reef's reputation for being one of the world's most dangerous places for ships. Today, tropical cyclones are more feared than reefs, but there was a time when the Great Barrier Reef had more shipwrecks than the rest of Australia's coast com­bined. A glance at any chart shows why, for it has thousands upon thousands of reefs of all shapes and sizes hidden just below the surface and enveloped by strong tidal currents. These form com­plex mazes from which, in a storm, there is little chance of escape without modern navigation and powerful engines. I have come across dozens of ghostly wrecks, usually unexpectedly and always making me wonder what happened to the crew.
Although I've worked in almost all the major reef regions of the world, most of the exceptional dives of my life have been some­where on the Great Barrier Reef.
---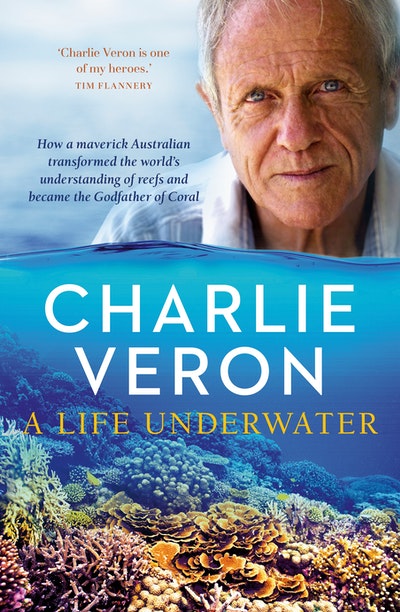 A Life Underwater is the extraordinary memoir of marine biologist Charlie Veron, a maverick Australian who transformed our understanding of coral reefs.
Buy now
Buy now
---