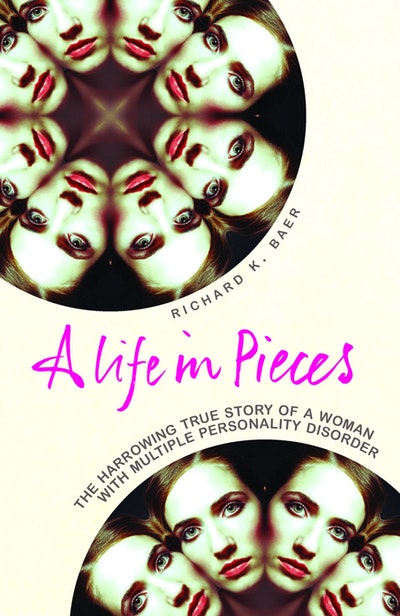 Published:

3 March 2011

ISBN:

9780091923396

Imprint:

Vermilion

Format:

Trade Paperback

Pages:

368

RRP:

$32.99
A Life in Pieces
The harrowing story of a woman with 17 personalities
---
---
---
A gripping insight into Multiple Personality Disorder
In 1989 a woman named Karen showed up at author and psychiatrist Richard Baer's practice, terribly frightened and at breaking point. She explained that her husband beat her, her mother stole from her; she was in tremendous physical pain and wanted to die. Within a few sessions she also revealed that her father and grandfather had raped and tortured her repeatedly over the course of her childhood, frequently in the company of other neighbourhood men. She was now married with two children, but often could not account for stretches of minutes, hours, sometimes even days.
As Karen's story unfolded over the following months, Baer realised that he was dealing with a severe case of Multiple Personality Disorder. Although it would take time and deep, hard-won trust before any of Karen's alternated personalities presented themselves in her psychiatrist's office, over the next five years Baer would encounter seventeen distinct personalities, all of whom had been living inside Karen since she was a young child, shielding her from an otherwise unbearable life.
In the tradition of Oliver Saks and Irvin Yalom, Baer chronicles his nine years of work with Karen and all her distinct personalities, his often futile efforts to use the tools of his trade, and his patient's ultimate invention of her own cure. An unforgettable story of unimaginable suffering and ultimate recovery, A Life In Pieces: How One Woman's Personality was Shattered by Years of Abuse is the first account of life with Multiple Personality Disorder written by the treating psychiatrist.
Published:

3 March 2011

ISBN:

9780091923396

Imprint:

Vermilion

Format:

Trade Paperback

Pages:

368

RRP:

$32.99