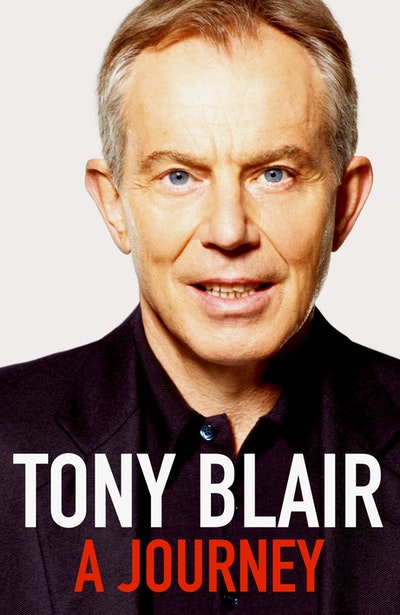 Published:

2 September 2010

ISBN:

9781409060956

Imprint:

Cornerstone Digital

Format:

EBook

Pages:

768
A Journey
---
---
---
The memoirs of Tony Blair - a worldwide publishing sensation
In 1997, Tony Blair won the biggest Labour victory in history to sweep the party to power and end eighteen years of Conservative government. He remains the only living Labour leader to have won a general election.
He has been one of the most dynamic leaders of modern times; few British prime ministers have shaped the nation's course as profoundly as Blair during his ten years in power, and his achievements and his legacy will be debated for years to come.
His memoirs reveal in intimate detail this unique political and personal journey, providing an insight into the man, the politician and the statesman, and charting successes, controversies and disappointments with an extraordinary candour.
A Journey will prove essential and compulsive reading for anyone who wants to understand the complexities of our global world. As an account of the nature and uses of power, it will also have a readership that extends well beyond politics, to all those who want to understand the challenges of leadership today.
Published:

2 September 2010

ISBN:

9781409060956

Imprint:

Cornerstone Digital

Format:

EBook

Pages:

768
As this book immodestly reveals, Tony Blair was, and remains, a remarkable influence on politics, both domestically and internationally

Menzies Campbell, Scotland on Sunday
He is by turns outspoken, provocative, unrepentant, often serious, sometimes funny

David Frost, Al Jazeera
I have read many a prime ministerial memoir and none of the other authors has been as self-deprecating, as willing to admit mistakes and to tell jokes against themselves

Mary Ann Sieghart, The Independent
It is the small revelations about the character of Blair that make this book worthwhile

Ross Clark, The Express
It's a gripping insight into the ex-PM's ten years of power . . . It will take a lot for many people to read his own take on the rise and fall of New Labour, but those that do might be reminded of the charm and vision that swept him to power

News of the World
Paints a candid picture of his friend and rival, Gordon Brown, and of their relationship

Patrick Hennessy, The Sunday Telegraph
Prime Ministerial memoirs are traditionally stuffy, formal and guarded, as though written under police caution. Tony Blair's are nothing of the sort . . . his memoirs are chummy, colloquial, impulsive and rash . . . it is this candour that makes the book so readable

Craig Brown, The Mail on Sunday
Really rather splendid

Jan Moir, The Daily Mail
The fascination of the British public with Tony Blair is almost on the scale of his fascination with his own relationship to them

Dominic Lawson, The Sunday Times
This is a more honest political memoir than most and more open in many respects than I had anticipated. He is compellingly candid about how scared he was when he first became prime minister . . . He is unusually direct about his calculations, even when they don't reflect well on him . . . He admits to stretching the truth beyond `breaking point' to secure a settlement in Northern Ireland. Even when the lies are told in a noble cause, few politicians are honest enough to admit that they sometimes feel compelled to be deceivers

Andrew Rawnsley, The Observer
This is substantial, thoughtful book and on the whole well written . . . My judgment is that he has for the most part set down honestly his version of events and attempted seriously to engage with his critics

Chris Mullin, The Times
Tony Blair's memoir is part psychodrama, part treatise on the frustrations of leadership in a modern democracy . . . The book's broader purpose is to preserve his legacy, settling scores, justifying the war against Iraq, and mounting a defiant plea to his party to keep faith with New Labour . . . Blair comes across as likable, if manipulative; capable of dissembling while wonderfully fluent; in short, a brilliant modern politician

Lionel Barber, Financial Times
What makes his memoir so absorbing as it swings from clever phrase-making and thoughtful contemporary history to wince-inducing self-analysis, is that he is the first of a generation of politicians to conduct their craft as if observing themselves from an amused an admiring distance - and then to write about it. No recent politician has examines his own motives and psychology quite so candidly

John Rentoul, The Independent
Will certainly become a bestseller

Robert McCrum, The Observer
Written in a congenial style peppered with slang and gossipy asides. At one moment he is the bloke in the pub. The next, he is Churchill

Ben MacIntyre, The Times