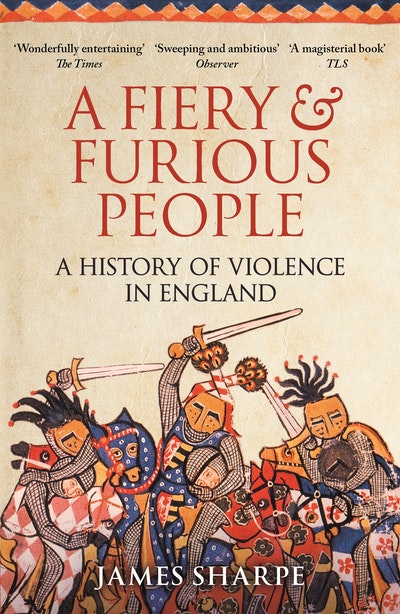 Published:

8 September 2016

ISBN:

9781446456132

Imprint:

Cornerstone Digital

Format:

EBook

Pages:

768
A Fiery & Furious People
A History of Violence in England
---
---
---
From murder to duelling, highway robbery to mugging, a compelling exploration of seven centuries of violence in England.
*Chosen as a Book of the Year by The Times, History Today and the Sunday Telegraph*
'Wonderfully entertaining, comprehensive and astute.' The Times
'Genuinely hard to put down.' BBC History Magazine

From murder to duelling, highway robbery to mugging: the darker side of English life explored.
Spanning some seven centuries, A Fiery & Furious People traces the subtle shifts that have taken place both in the nature of violence and in people's attitudes to it. How could football be regarded at one moment as a raucous pastime that should be banned, and the next as a respectable sport that should be encouraged? When did the serial killer first make an appearance? What gave rise to particular types of violent criminal - medieval outlaws, Victorian garrotters - and what made them dwindle and then vanish? Above all, Professor James Sharpe hones in on a single, fascinating question: has the country that has experienced so much turmoil naturally prone to violence or are we, in fact, becoming a gentler nation?
'Wonderful . . . A fascinating and rare example of a beautifully crafted scholarly work.' Times Higher Education
'Sweeping and ambitious . . . A humane and clear-eyed guide to a series of intractable and timely questions.' Observer
'Deeply researched, thoughtfully considered and vividly written . . . Read it.' History Today
'Magisterial . . . The outlaw's song has surely never been better rendered.' Times Literary Supplement
Published:

8 September 2016

ISBN:

9781446456132

Imprint:

Cornerstone Digital

Format:

EBook

Pages:

768
Praise for A Fiery & Furious People
A Fiery & Furious People is often a sobering read . Sharpe's empirically grounded argument is a powerful and persuasive one.

Literary Review
Wonderfully entertaining, comprehensive and astute . This book is a welcome corrective to the reductive explanations and simplistic solutions favoured by populist politicians and fearmongering journalists.

The Times
A vivid survey of our enthusiasm for violence . For a survey of violence, its pages overflowing with duelling, hooliganism, domestic abuse and even serial killing, Sharpe's book is actually quite a cheering read. . The strength of Sharpe's book lies in its anecdotes, with almost every page containing an arresting or colourful detail.

Dominic Sandbrook, Sunday Times
Sweeping and ambitious . packed with gripping anecdotes . Sharpe is a humane and clear-eyed guide to a series of intractable and timely questions.

Observer
A compelling and endlessly fascinating book examining the history of violence in England, A Fiery and Furious People is, like the best history books, one that contrasts our history to our present with startling effect - making this an immediate and gripping read.

Bookbag
Sharpe's eye for detail ensures that the shock value never dwindles

Four star review, Francis Wheen, Mail on Sunday
Examines a history of English violence from riots to highwaymen, and from executioners to serial killers. Mr Sharpe is a crime historian of many years and his book's strength lies in its scope, which allows the reader to survey the changes and customs of English society.

Economist
Brings the subject memorably to life

Book of the Week, The Week
A deeply thoughtful and thought-provoking examination of violence in England from the Middle Ages through to the present day . genuinely hard to put down.

BBC History Magazine
[An] engrossing history of violence . You'll leave battered and bruised, but with a better understanding of the darker side of our nation's history

BBC Revealed Magazine
The richness of this wonderful book is testament to nearly 50 years spent working on the history of violence . a fascinating and rare example of a beautifully crafted scholarly work.

Times Higher Education
[An] encyclopaedic history of violence in England. . . Sharpe's book will tell you much about the creativity of the human mind when it comes to conceiving of ways to mistreat others.

Paul Kingsnorth, New Statesman
[A] compendious, fine-grained . magisterial book . The outlaw's song has surely never been better rendered.

Times Literary Supplement
Offers the reader a vivid and interesting insight into the history of violence in England.

LSE Review of Books
A history of violence in England, from the Middle Ages onwards, this looks back to a time when violence was part of everyday life and asks what's changed and why.

Books of the Year, Sunday Telegraph
Entertaining and instructive.

Books of the Year, The Times
A fascinating romp through history

Your Family History
Deeply researched, thoughtfully considered and vividly written . Read it.

History Today
Satisfyingly detailed, yet with a convincing overarching thesis.

Books of the Year, History Today
Fascinating . . . James Sharpe draws on court records, verbatim accounts and bloodcurdling contemporary records to chronicle the changing aspects of brutality through the ages.

Daily Mail