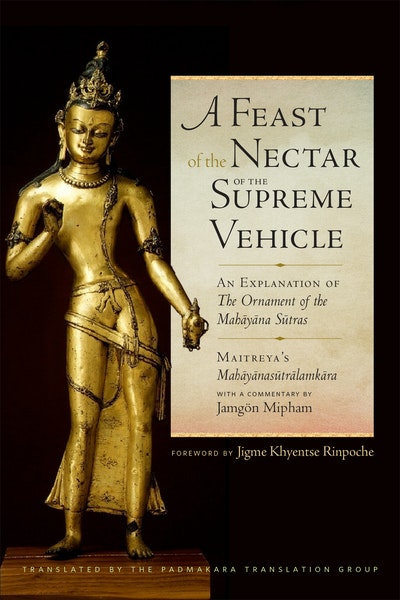 Published:

16 October 2018

ISBN:

9781611804676

Imprint:

Shambhala

Format:

Hardback

Pages:

992

RRP:

$140.00
A Feast Of The Nectar Of The Supreme Vehicle
---
---
A full translation of an important Mahayana Buddhist treatise with a commentary by the famous Tibetan luminary Jamgön Mipham.
A monumental work and Indian Buddhist classic, the Ornament of the Mahayana Sutras (Mahayanasutralamkara) is a precious resource for students wishing to study in-depth the philosophy and path of Mahayana Buddhism. This full translation and commentary outlines the importance of Mahayana, the centrality of bodhichitta or the mind of awakening, the path of becoming a bodhisattva, and how one can save beings from suffering through skillful means.
The root text, which makes up the the first part of the book, was revealed to Asanga by Maitreya in the fourth century. Asanga is considered by much of the Buddhist world to be as important to the history of Buddhism as Nagarjuna. His treatises lay the foundation for the Yogachara and Mind-Only traditions that continue to be important in both East Asia and Tibet to this day.
Jamgön Mipham, one of Tibet's greatest Buddhist masters of the nineteenth century, elucidated in detail the importance of Asanga's work. This book is yet another instant classic to be produced by the Padmakara Translation Group, whose translations are consistently lucid and reliable, thus making ancient and profound Buddhist texts accessible to the modern reader.
Published:

16 October 2018

ISBN:

9781611804676

Imprint:

Shambhala

Format:

Hardback

Pages:

992

RRP:

$140.00