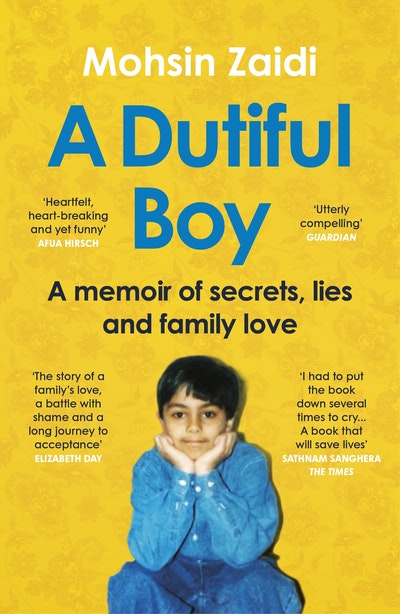 Published:

20 August 2020

ISBN:

9781473573154

Imprint:

Vintage Digital

Format:

EBook

Pages:

288
A Dutiful Boy
A memoir of a gay Muslim's journey to acceptance
---
---
---
An inspiring and hopeful coming-of-age memoir about growing up gay in a devout Muslim household.
WINNER of the Polari First Book Prize 2021
WINNER of the LAMBDA 2021 Literary Award for Best Gay Memoir/Biography
A Dutiful Boy is Mohsin's personal journey from denial to acceptance: a revelatory memoir about the power of love, belonging, and living every part of your identity.
Growing up in a devout Muslim household, it felt impossible for Mohsin to be gay. Unable to be open with his family, and with difficult conditions at school, he felt his opportunities closing around him. Despite the odds, Mohsin's perseverance led him to become the first person from his school to attend Oxford University, where new experiences and encounters helped him to discover who he truly wanted to be. Mohsin was confronted with the biggest decision he would ever make: to live the life that was expected of him or to live as his authentic self.
A Guardian, GQ, and New Statesman Book of the Year
'Genuinely inspiring... Beautifully written, dignified and ultimately redemptive, this challenging story abounds with light and love' Attitude
Published:

20 August 2020

ISBN:

9781473573154

Imprint:

Vintage Digital

Format:

EBook

Pages:

288
The moving personal story of a gay Muslim's tribulations and triumphs at the interface of family, faith and freedom, told with great candour and eloquence.

Peter Tatchell
An incredibly hopeful, urgent and well told coming of age story about religion, class, and LGBTQ+ acceptance - no doubt reading it will save someone's life.

Amelia Abraham
A beautifully written, heartrending story of a young gay man's journey, liberation and love. A real page turner that sparks with humanity and hope.

Lord Michael Cashman
His engaging memoir of his long road to happiness and acceptance by his family is moving and inspiring.

Bookseller
I can't recommend A Dutiful Boy enough, I couldn't put it down. A journey of self discovery, longing, triumph and hope. I fell in love with Mohsin, I imagine you will too.

Suzi Ruffell
A powerful read. In fact, searing in places... vivid and told me a lot about my country... ultimately uplifting.

Lionel Barber
A wonderful book. I really do think that everyone should read it.

Mark Haddon
A deeply-moving account...a must-read.

Tatler
A remarkable memoir...an incredibly moving read. I had to put the book down several times to cry...it's a book that will save lives.

Sathnam Sanghera
The best memoirs take the reader on two journeys: one journey is to a greater understanding of the author; the other is to a greater understanding of yourself and the society around you. A Dutiful Boy is one such book. It is the story of a young boy growing up in a devout Muslim family in east London who knew he was gay but who also knew such an admission was inconceivable in a religious culture where homosexuality was still taboo. This is the story of a family's love, a battle with shame and a long journey to acceptance. It is deeply moving and profoundly important and it made me cry. Mohsin is such an impressive person: the first from his comprehensive school to go to Oxbridge, he is now a highly regarded barrister but DAMMIT the man can write too. If you liked The Boy with the Topknot by Sathnam Sanghera or Educated by Tara Westover, you will also love this book. Thank you Mohsin, for having the courage to tell this story.

Elizabeth Day
An incredibly moving memoir

Elizabeth Day, Mail on Sunday
A captivating, eloquent and genuinely inspiring memoir... Beautifully written, dignified and ultimately redemptive, this challenging story abounds with light and love

attitude
Utterly compelling, I couldn't put the book down, and at times I laughed out loud. I also cried

Ashish Ghadiali, Guardian
A Dutiful Boy details in a delicate and highly engrossing fashion the battles he [Zaidi] was forced to wage every step of the way - both with those around him, and deep within himself

TalkTalk
Reading this story about family acceptance, redemption and love, written with such lucidity, had me crying with relief and filling up with hope.

Yasmin Alibhai-Brown
Heartfelt, emotional and really funny....this book is very candid and it really educated and entertained me

Russell Tovey
A powerful memoir... Zaidi's writing offers poignant reflections on racism and class... his journey to acceptance shines through in the openness and clarity of his writing.

The i
Sad, painful, warm, revelatory and utterly fascinating. I think we would live in a slightly kinder and better country if everyone read this book.

Mark Haddon, New Statesman
This is a fiercely important book with a big beating heart-Mohsin Zaidi has delivered to us a deeply personal story that is an urgent manual for our times.

Tope Folarin, Author of 'A Particular Kind of Black Man'
A Dutiful Boy is a must read that will undoubtedly move you

Gay Times
[A] powerful read

Manisha Talagala, DESIblitz
Deeply affecting and often funny, A Dutiful Boy is an honest picture of what it is like to grow up day and Muslim in twenty-first-century Britain

Sarah Jilani, Times Literary Supplement
A beautifully written book, a lovely story, life-affirming.

Jeremy Vine
One of the most eloquent and inspiring memoirs of recent years... A Dutiful Boy is real-life storytelling at its finest

Mr Porter, *Summer Reads of 2021*
Mohsin Zaidi...in a compassionate, compelling and humorous way, tells his story of seeking acceptance within the gay community, and within the Muslim community in which he grew up

Gilllian Carty, Scottish Legal News
A powerful portrayal of being able to live authentically despite all the odds

Mike Findlay, Scotsman
A beautifully written book, a lovely story, life-affirming

Jeremy Vine
This heartfelt and honest book is beautifully written and full of hope

The New Arab
Zaidi's account is raw, honest and at times quite painful to read. It's so vivid that it feels almost tangible, as though you're living the experiences of the author himself.

Vogue