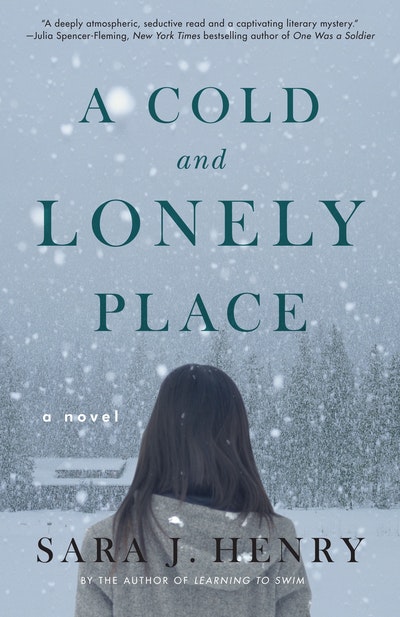 Published:

15 November 2013

ISBN:

9780307718426

Imprint:

Crown

Format:

Trade Paperback

Pages:

304

RRP:

$24.99
A Cold And Lonely Place
---
---
Troy Chance returns in another riveting novel from the author of the critically acclaimed Learning to Swim Freelance writer Troy Chance is snapping photos of the Saranac Lake Winter Carnival ice palace when the ice-cutting machine falls silent. Encased in the ice is the shadowy outline of a body--a man she knows. One of her roommates falls under suspicion, and the media descends. Troy's assigned to write an in-depth feature on the dead man, who, it turns out, was the privileged son of a wealthy Connecticut family who had been playing at a blue collar life in this Adirondack village. And the deeper Troy digs into his life and mysterious death, the murkier things become. After the victim's sister comes to town and a string of disturbing incidents unfold, it's clear someone doesn't want the investigation to continue. Troy doesn't know who to trust, and what she ultimately finds out threatens to shatter the serenity of these mountain towns. She must decide which family secrets should be exposed, what truths should remain hidden, and how far her own loyalty can reach. A Cold and Lonely Place, the sequel to Learning to Swim, follows Troy on a powerful emotional journey as she discovers the damage left by long-hidden secrets, and catches a glimpse of what might have been.
Published:

15 November 2013

ISBN:

9780307718426

Imprint:

Crown

Format:

Trade Paperback

Pages:

304

RRP:

$24.99
Praise for A Cold And Lonely Place
"There is a mystery at the cold and lonely heart of this book, but first and foremost, it's a poignant and haunting story about Troy's search for the truth behind a young man's life…This is a powerful, emotional journey for Troy, but ultimately a hopeful one, as she uncovers the stories behind one young man's traumatic childhood, stories that will finally redeem him." –BookPage

"Henry is one of my new favorite writers. Her style is crisp and fast moving. Her characters are good and the plotting is excellent." –Daily American
 
"…a chilling mystery about families and friendships…the cold atmosphere of a wintery Lake Placid fits in perfectly for a winter read." –Parkersburg News and Sentinel

"Second in a fresh series featuring freelance journalist Troy Chance, and although this book has a slower pace, the mystery was still a gripping one." –Milwaukee Journal Sentinel

"Henry follows up her award-winning debut novel, Learning to Swim, with a strong second effort also featuring freelance reporter Troy Chance....Featuring a strong cast of female characters and a measured pace, this sophomore novel also perfectly conjures the lure of living in a small and beautiful mountain town during a bitterly cold winter. Featuring an independent and immensely likable lead, riffing on the complicated nature of friendship, and boasting a solidly plotted mystery, this may well appeal to fans of Gillian Flynn." - Booklist

"At the start of Henry's haunting follow-up to her Agatha-winning debut, Learning to Swim, reporter Troy Chance stumbles onto what could be the story that changes her career - as well as several lives. . . Adding considerably to the compulsively readable mystery that unfolds…is Henry's bone-deep sense of this terribly beautiful place." - Publishers Weekly

"I loved Sara J. Henry's first novel, LEARNING TO SWIM, and A COLD AND LONELY PLACE is even better. This is a character-driven thriller set in one of the coldest and loneliest places in the United States: the Adirondack Mountains in mid-winter. When the body of a hard-drinking young playboy is discovered frozen into the ice in Saranac Lake just before the annual winter carnival, Troy Chance, the tough-minded and good-hearted young journalist from LEARNING TO SWIM, has another horrific mystery to solve.  Sara J. Henry brilliantly draws us into a terrifying but ultimately affirmative novel in which, once again, love, friendship, and the shining truth about who we really are redeems an otherwise hopeless universe." - Howard Frank Mosher, award-winning author of The Great Northern Express and Walking to Gatlinburg

"Sara J. Henry's stellar debut, Learning to Swim, collared multiple major mystery awards. Now A Cold and Lonely Place showcases Henry's powerful new voice. Set in the Adirondack winter, it is both a deeply atmospheric, seductive read and a captivating literary mystery. Put this one on your must-read list!" - Julia Spencer-Fleming, New York Times bestselling author of One Was A Soldier

"Troy Chance, the dogged and conflicted narrator of Sara J. Henry's latest must-read novel, captures eloquently the travails of a small-town newspaper reporter caught in a twisting vortex that may prove to be the biggest story of her career. A Cold and Lonely Place is spot-on in its authenticity and profundity, written by an immensely gifted author who definitely knows her stuff." - Pulitzer Prize-winning journalist David Freed, author of the Cordell Logan mystery series




From the Hardcover edition.