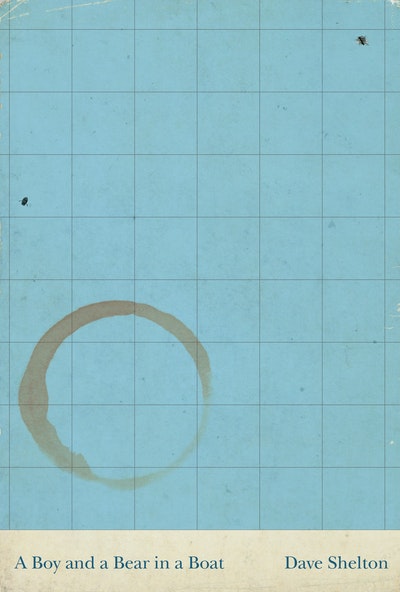 Published:

14 February 2012

ISBN:

9781409045878

Imprint:

RHCP Digital

Format:

EBook

Pages:

300
A Boy and a Bear in a Boat
---
---
---
Charming, entertaining and utterly original: this book will leave every reader with a huge grin across their face.
A boy and a bear go to sea, equipped with a suitcase, a comic book and a ukulele. They are only travelling a short distance and it really shouldn't take long. But then their boat encounters 'unforeseeable anomalies'...
Faced with turbulent stormy seas, a terrifying sea monster and the rank remains of The Very Last Sandwich, the odds soon become pitted against our unlikely heroes. Will the Harriet, their trusted vessel, withstand the violent lashings of the salty waves? And will anyone ever answer their message in a bottle?
Brilliantly funny and tender, this beautiful book maps the growth of a truly memorable friendship and tells the story of how, when all becomes lost, the most unexpected joys can be found.
Published:

14 February 2012

ISBN:

9781409045878

Imprint:

RHCP Digital

Format:

EBook

Pages:

300
Praise for A Boy and a Bear in a Boat
A Boy and a Bear in a Boat is a joy to read: slightly surreal, funny, a little bit scary. It's about friendship and trials but also simply about indulging your imagination...The illustrations are just gorgeous, also ranging from daft to dark and beyond. And the whole package has just the right amount of delightful eccentricity, replacing the bear's landless map, with fake aging and even a tea stain. I just can't imagine what more you could want.

The Bookbag
I liked it because of the excitement - I loved the way all of these exciting things just kept happening to them by accident, and it was really funny. My favourite part of the story is when their makeshift raft flies off the rock column into the sea. But the whole book is lovely, lots of fun and has lots of lovely pictures.

Mae (Year 4 ), Wilberfoss Primary School Blog
Rich in atmosphere and gently humorous, this is a delightful small-scale but epic adventure...A book to savour.

Julia Eccleshare, Love Reading 4 Kids
This title says it all... And yet somehow doesn't. This is indeed a story about a boy, and a bear, in a boat - seriously off course, and down to the Very Last Sandwich. Sometimes scary, sometimes deeply touching, and often very funny indeed. Dave Shelton's writing carries echoes of both Antoine De Saint-Exupery and John Boyne, as his characters display real emotions in a succession of increasingly surreal situations. The book ends with a new horizon; asking pupils to write the next scene would offer a great opportunity to stretch their imaginations as well as experiment with dialogue.

Helen Mulley, Teach Primary
The lovingly designed jacket and hardback cover, with its slightly mottled paper and "worn" spine, evokes memories of Mervyn Peake's Letters from a Lost Uncle or Reif Larsen's more recent The Selected Works of T.S. Spivet. But despite the fact that Shelton is currently best known as a comic book illustrator, A Boy and a Bear is less highly illustrated than either of these. We are, however, embarking on a journey with literary precedence.

Philip Ardagh, The Guardian
A Boy and a Bear in a Boat is an absolute gem of a book. It is a beautifully tender and enchanting story of a developing friendship between two most unlikely characters, in the most improbable of settings...The story broaches many themes including friendship, hope and courage to name a few, but touches on them with lightness and wonderful humour, including some particularly funny moments and splendid repartee...The book, as an object, is absolutely stunning. The cover itself is marvellous, complete with tea stain and worn edges and one must applaud the publisher for taking a possible risk by choosing style and beauty over a more "commercial" cover. The inside illustrations work in perfect unison with the tone of the text. The bear is particularly glorious; there something so kind and safe about his demeanour.

Library Mice
This is an insightful read that is both poignant and laugh out loud funny. The developing relationship between the boy and the bear is beautifully observed. It captures the everyday minutiae of situations every child experiences - boredom, questioning authority, making things worse while trying to help - and sets these in a surreal world of a boy in a boat rowed by a bear encountering adventures whilst "not lost" on the high seas.

We Love This Book
Bursting with strange and wonderful sights, full of adventure and far from realistic, this is a riveting tale that will capture both children and adults through its quirky storytelling. Shelton successfully manages to show how strangers can become friends despite everything, yet highlighting the challenges of friendship along the way!

Booktrust
A Boy and a Bear in a Boat is a very unusual book. The storytelling is calm, rich and surprising - much like the sea on which the Harriet journeys...Their story is one of hilarity, trouble and glee. ..And then there is The Very Last Sandwich to contend with.

Mr Ripley's Enchanted Books
Just occasionally, a gentle funny little book pops up in which the story, tone, illustrations and even cover are so perfectly attuned to each other, and to the children for whom it is intended, that it lifts one's spirits. This is such a book.

Sally Morris, The Daily Mail
A whimsical and old-fashioned tale with adorable illustrations, it's a heart-warming, slow-paced alternative to the norm.

Cambridge News
The illustrations have a beautiful, simple elegance, a graphic novel style that adds an air of adventure and uncertainty to the book.

Little Big Magazine
A Boy and a Bear in a boat written and illustrated by Dave Shelton (David Fickling, £10.99) is a charming journey of discovery at sea for eight year olds and above.

Lorna Bradbury, The Daily Telegraph
this is not a book that ever talks down to its audience. I would imagine there's not a small child out there who won't come away from this story with an increased vocabulary... I think it's safe to say this is one of my utterly favourite books, ever...I would urge you to seek out a Boy and a Bear in a Boat and find a child to give it to. You will both be enchanted.

Vulpes Libris
Reminds you of The Life Of Pi, with better jokes.

Kitty Empire, The Observer
Dave Shelton's debut novel, is written in a simple, direct style with affectionate drawings...a whimsical journey that is truly about life, friendship, and self-discovery

Jan Lee, Oxford Times
With wonderful illustrations this funny and charming story of a developing friendship is a heart-warming joy.

Jane E Sandell, The Scotsman
This is probably the most original cover I've seen on a children's book in recent years, and, happily enough, it's wrapped around one of the most original children's books I've ever read...a remarkably assured debut

Philip Reeve, The Solitary Bee
Featured in top six summer reads for children on IRELAND: AM's Bord Gais Energy Book Club

Kim Harte, Ireland: AM
With a bear confidently at the oars of his dinghy, a boy sets off on what he supposes will be a short ride. But as days pass at sea with no land in sight, the boy begins to wonder if they could be... lost! With adventures on the horizon, this boy and bear will have to keep their wits about them and learn to work together. This is a story that simply brims with warmth and hilarity in a perfect combination, as are this boy and bear!

Joyce Tiber, IndieBound.org
It's rare that you find a novel for younger readers that can enchant adults. A Boy and a Bear in a Boat is exquisitely restrained - a polar bear rows a boy "from the nothing-at-all that lay behind them and on towards another lot of nothing-at-all ahead of them". Though there is the occasional incident with a sea monster or ghost ship, the power of the novel lies in the relationship between the bear and the boy and the way Dave Shelton, a graphic artist, miraculously paints pictures in the reader's head, using words like brushstrokes.

Dinah Hall, The Daily Telegraph
Exquisitely restrained . . . the power of the novel lies in the relationship between the bear and the boy and the way Dave Shelton, a graphic artist, miraculously paints pictures in the reader's head, using words like brushstrokes

Sunday Telegraph
This comic skit on maritime survival stories is a book-long joke which will amuse and entertain many young readers.

Peter Hollindale, School Librarian magazine