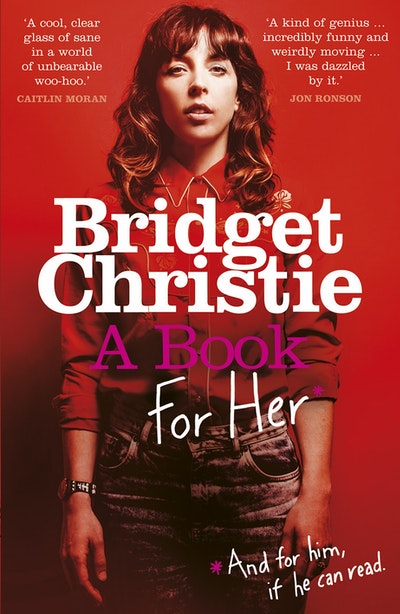 Published:

15 March 2016

ISBN:

9780099590842

Imprint:

Arrow

Format:

Paperback

Pages:

320

RRP:

$22.99
A Book for Her
---
---
---
The hilarious memoir from award winning comedian Bridget Christie.
Bridget Christie is a stand-up comedian, idiot and feminist. On the 30th of April 2012, a man farted in the Women's Studies Section of a bookshop and it changed her life forever.
A Book For Her details Christie's twelve years of anonymous toil in the bowels of stand-up comedy and the sudden epiphany that made her, unbelievably, one of the most critically acclaimed British stand-up comedians this decade, drawing together the threads that link a smelly smell in the women's studies section to the global feminist struggle.
Find out how nice Peter Stringfellow's fish tastes, how yoghurt advertising perpetuates rape myths, and how Emily Bronte used a special ladies' pen to write Wuthering Heights.
If you're interested in comedy and feminism, then this is definitely the book for you. If you hate both then I'd probably give it a miss.
"Christie is adept at turning on a sixpence between being comical, or serious, or both at once, and at pricking her own earnestness."Telegraph
'Christie piles derision and tomfoolery upon everyday sexism, while never pretending that jokes alone will solve the problem.' Guardian
Published:

15 March 2016

ISBN:

9780099590842

Imprint:

Arrow

Format:

Paperback

Pages:

320

RRP:

$22.99
Praise for A Book for Her
A cool, clear glass of sane in a world of unbearable woo-hoo.

Caitlin Moran
A great feminist stand up, who gets us feminists to laugh at ourselves, as well as at the dinosaurs.

Mary Beard
Fabulous feminist polemical memoir from one of the funniest most astringent women working the upper tier of the British comedy circuit. Scrap that, she's just one of the best in entertainment.

Grazia
Part memoir, part laughter-filled rant ... Christie is a lively narrator and provides a sharp balance of hilarity and ideology. A Book For Her is both a searingly accurate portrayal of 21-century womanhood and a proper hoot.

Independent
Charm, passion and gallons of wit. Funny books seldom come so committed, nor committed books much funnier.

Sunday Telegraph
Bloody excellent.

Sarah Millican
Vulnerable, courageous and very funny

Stylist
Rewriting the feminist agenda ... a must read.

Red Magazine
A voice so idiosyncratic that it transfers uncannily well from stage to page ... it's courageous, but more than that: it is very funny.

Guardian
Comics will find much sage advice in its pages; others simply a commonsense perspective on the world. It's a book for everyone then, not just 'for her'.

i
Must-read for any young women, or man, interested in comedy and feminism.

Hello!
A charming, eloquent, passionate and knowingly ridiculous voice, in print as she is on stage, and that's how you win people over. This is what a feminist sounds like.

Chortle
Funny, furious and staunchly feminist ... [a] brilliantly belligerent book.

S Magazine
Stand-up Bridget Christie's autobiographical call-to-arms for gender equality is as hilarious as it is committed

Telegraph Online
Very, very funny.

Radio Times
An excellent and unputdownable book…Christie combines narrative and stream-of-consciousness brilliantly

Observer
The funny woman's memoir ... hysterical.

Vogue UK
It is a fine book, somewhere between feminist treatise, autobiography and nerdy stand-up how-to guide. Most importantly for me, it was very funny, despite also being deadly serious. This of course is Christie's strength that sets her above her peers ... she uses the Trojan horse technique of concealing a powerful army of vital messages inside a giant horse-shaped laugh ... and she does it better than anyone.

Bruce Dessau, Beyond The Joke
We always need more feminist memoirs, when they're funny and insightful and clever and honest. Bridget Christie's A Book for Her is all of those things.

Stylist
[Christie] made me laugh loudly on the tube like a loud, shameless, lipstick-covered walrus…funny and passionate and inspiring, all at the same time.

Huffington Post
I think Bridget Christie has a kind of genius. It's an incredibly funny and weirdly moving memoir about a person finding her voice. I was dazzled by it.

Jon Ronson
[Christie's] humility sucks you in and makes you laugh. She is funny in all the right places.

Irish Times
It reads very much like a stand-up routine, from the running gags and callbacks. Whatever the seriousness of the subject she's discussing, however passionately she's laying into her pet hates, Christie never forgets also to make herself an object of mirth, and does so with charm and brio to spare.

Telegraph (Best Books for Christmas)
I'm halfway through the excellent A Book for Her. This book is like she's sitting next to me in all her feministy, hilarious, smart glory.

Sarah Millican, Good Housekeeping
'It's great: she has really embraced the form and constantly goes on long digressions just for the audiobook listeners.

The Sunday Telegraph
It's rare I purchase a hardback (they hurt when they drop on my face when I fall asleep reading!), but I was so desperate to read Bridget Christie's A Book For Her, I braved it. I was well rewarded. Part memoir, part rant, Christie brilliantly and hilariously points out the utter absurdity and nonsensical cruelty of sexism, it left me smiling but furious.

WH Smith blog
It's courageous, but more than that: it is very funny

The Guardian
Funniest thing I read in 2015? A serialisation of Christie's memoir. I found it so funny I went straight out and bought a copy of A Book for Her.

Scotsman
It's good isn't it? Angry and smart and funny…Bridget Christie is very funny. VERY funny.

Headstuff