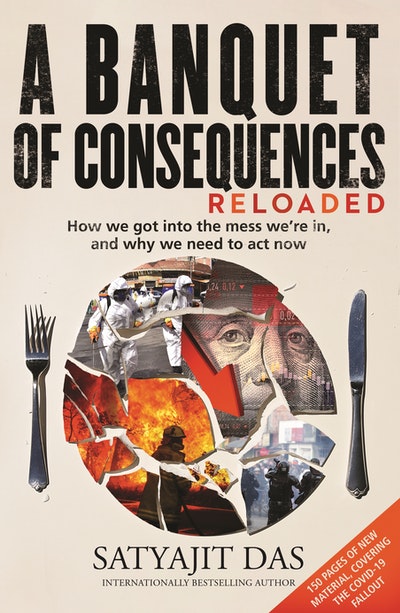 Published:

2 March 2021

ISBN:

9781761041921

Imprint:

Viking

Format:

Trade Paperback

Pages:

496

RRP:

$34.99
A Banquet of Consequences RELOADED
How we got into the mess we're in, and why we need to act now
---
---
---
'A powerful book . . . highly readable and informative . . . Demands to be read.' - Lindsay Tanner, The Monthly
Informed, impassioned, insightful and witty, Satyajit Das returns with a substantially updated edition of his 2015 classic. A Banquet of Consequences: RELOADED is the only book you need to understand how we got into our current economic, environmental and social mess – and how we might find our way out.
For ordinary individuals, the goal of a steady job, a home of one's own, a comfortable retirement and better opportunities for their children is receding. In this brilliant, clear-eyed account, updated to include over 150 pages of new insights and analysis, Satyajit Das links past, present and future to show that it's not just our unrealistic expectations but poor choices that are to blame.
The strategies after the Great Recession have failed, not least because such growth cannot continue indefinitely. The COVID-19 pandemic was merely the pin that pricked an ever-expanding bubble of fake prosperity and false hopes. It is the first trial of many to come. The solution – fundamental change – involves cost and is therefore ignored. Das explains why the ultimate adjustment, whether stretched out over time or in the form of another sudden collapse, will be life-changing.
Essential reading for anyone concerned about the dire fate of the global economy, the fallout of the COVID-19 pandemic, the deepening environmental crisis and the alarming deterioration of our social fabric, A Banquet of Consequences: RELOADED is a ground-breaking book of our times, and a cautionary window into our future.
An internationally respected commentator on financial markets, credited with predicting the Global Financial Crisis and featured in the 2010 Oscar-winning documentary Inside Job, Satyajit Das is our finest writer about the forces underlying society and the global economy.
Published:

2 March 2021

ISBN:

9781761041921

Imprint:

Viking

Format:

Trade Paperback

Pages:

496

RRP:

$34.99
Praise for A Banquet of Consequences RELOADED
A powerful book . . . highly readable and informative . . . Demands to be read.

Lindsay Tanner, The Monthly