The Music and Freedom author on the book's inspiration and creation.
What compelled you to write Music and Freedom?
I was sitting in a cafe in London doing an exercise from The Writing Book by Kate Grenville and an elderly woman called Alice Haywood walked onto the page. I knew that she was close to death, had crippled hands, had once been a pianist, and could hear mysterious music through a wall of her Oxford house, but I knew none of the reasons for these things. I started writing this book rather than the academic papers I was supposed to be writing. I had no idea what I was doing. I just kept trying to write her story, and failing. Sometimes I put the pages in a cupboard and decided that was it, but I'd always pull them out again. Alice was extremely persistent. Sometimes when I was walking around Oxford, where I was living at the time, I thought I could actually feel her presence, just around the next corner, especially after dark on the streets of Jericho where she walked herself. Although, of course, the woman never existed. I felt very strongly that her story needed to be told.
Music and Freedom covers a lot of ground – thematically, geographically and chronologically – what were some of the challenges involved with writing such an expansive novel? And how did you address these challenges?
This wasn't deliberate and I think it might have something to do with the book being written over a long time – more than ten years – during which I lived in different countries, did different jobs and research, was single, married, having children. Plus the political context changed many times. But most of all the expansiveness of the book is simply the way the story seemed to have to be told. I wrote about Alice as an old woman. I wrote about her as a young girl. I wrote about the early days of her marriage. I wrote about music, about playing a piano brilliantly, about bring crippled. I wrote about starving, about supermarket deliveries of food. I wrote about the heat of an Australian summer, the chill of an Oxford winter; driving in a dust storm; walking in a frozen park. None of this happened chronologically, but it all ended up forming a coherent whole. The only way I can say that I addressed the multiple challenges you mention was to go where the writing was taking me and to hang on, listen well, and persist. Persist, persist. 
Place plays a critical role in this book. What's involved in creating authentic settings?
The two main settings of the book – Oxford, and the fictional Currabin, which is in rural Australia – hold strong associations for me. I lived in Oxford as a student then academic and I also studied at Oxford for my Doctorate in human geography. So I have spent a lot of time reading, thinking and writing about Oxford in different ways. This includes the 'idea' of Oxford as a place, which can be powerful for many people. Currabin is based on a place where my relations have lived for generations. It was a place I went from a young age, and continued to go to, even when we moved interstate. We often spent school holidays there. Both of these places I can conjure up quickly and easily in my head – the smells, the sounds at different times of the day, even the feel of the air itself. 
'Music and Freedom' – it's a powerful statement. How did you settle on the title?
I was walking in the Fitzroy Gardens in Melbourne, up a big hill, and when I got to the top it just came to me. It's a nod to the Nobel prize-winning economist Milton Friedman's classic text 'Capitalism and Freedom'. I like to see my book as part of the rebuttal to neo-liberal thinking, suggesting a different set of values, another way to view the world and live. Originally it was called 'Some Thoughts on Music and Freedom', like an academic treatise, presenting an alternative to the many books and papers Alice's husband (a famous economist) wrote on deeply conservative economics. In an opening scene of the book Alice is burning his (and others) well-known works. But I ended up dropping the first three words because it made people think the book was non-fiction. Perhaps through this title I also wanted to invoke that feeling I get when I'm listening to music I love. That levity, that flight into beautiful feeling, of complete happiness and wellbeing, almost invincibility, right in that moment. Wouldn't it be wonderful if that feeling were extended? And finally, the book includes a complex and at times intellectual and political – as well as emotional – relationship with the art and practice of music, in its many forms. 
Music sets the framework for many scenes in this book, and is omnipresent throughout. Can you talk a little about your own experiences with, appreciation for and relationship with music?
I started the violin when I was three and the piano when I was five. Daily practice was simply a part of life. My three siblings and I would practise music before we went to school. While at school I did all sorts of music lessons and activities, and on the weekends, too. So that music is a language, a way of life, simply goes without saying. When I was an undergraduate, alongside my academic work, I studied piano at the Elder Conservatorium in Adelaide and got my Associate and Licentiate Diplomas in piano. At Oxford I performed recitals a couple of times in the Holywell Music Room, the oldest concert hall in continuous use in Europe, including a concerto. But by then I found myself questioning my relationship with classical music. I felt impatient with the repertoire. The same pieces composed by dead white men played over and over in front of a willing audience. I couldn't reconcile this with the radical intellectual and political ideas I was engaging with at the time. I tried finding new music, by new composers, but nothing really grabbed me. I remember going to a piano 'Masterclass' around this time, which is where a student performs to a visiting maestro in front of an audience, then the maestro instructs them. It seemed to me to be quite an artificial environment that day, rather than a creative one, even if it sounded nice, and it was very hierarchical, authoritarian. At the time I was also running a children's choir at a primary school in a very deprived area of Oxford and that, too, was teaching me about the impact different music can have on different people. I now see my extensive training in classical music as a gift. It has given me a beautiful way of being in the world, of expressing feelings, of relating to people, giving to others, and I think it helped me learn how to listen. It was also a daily creative outlet. Creative writing has taken that place. But my engagement with music continues.  
---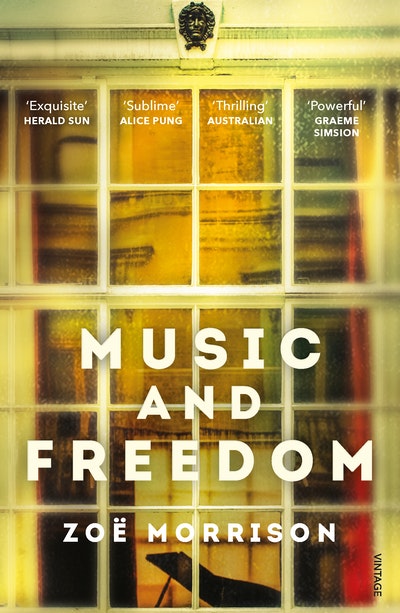 Winner of the 2016 Readings Prize for New Australian Fiction, a gripping and beautifully written novel for fans of Anne Tyler and Elizabeth Strout.
Buy now
Buy now
---