Try this free recipe from Jamie's Comfort Food by Jamie Oliver.
Frankly, this is an outrageous little recipe. I don't know why, but the somewhat confused combo of peanut butter and jelly always succeeds in putting a very large smile on people's faces, so let's embrace it. And by the way, jelly means jam in this context (that's what it's called in the US where this unlikely combo is most famous). You can use any wonderful seasonal jam you can get your hands on – raspberries, strawberries, blackcurrants or cherries when paired with chocolate, all feel good.
PEANUT BUTTER & JELLY BROWNIES
Serves 15
1 hour plus cooling
411 calories
Ingredients
Custard:
250ml semi-skimmed milk
1 vanilla pod
2 large free-range egg yolks
50g golden caster sugar
1 heaped tablespoon cornflour
20g unsalted butter (at room temperature)
2 heaped tablespoons smooth peanut butter
Brownies:
230g unsalted butter, plus extra for greasing
250g quality dark chocolate (70%)
230g golden caster sugar
4 large free-range eggs
150g plain flour
2 tablespoons raspberry jam
75g fresh raspberries
 
METHOD
To make the custard, put the milk into a pan, halve the vanilla pod lengthways and scrape out the seeds, then add both pod and seeds to the pan and lightly simmer on the hob, stirring occasionally. Meanwhile, in a bowl, use a balloon whisk to combine the egg yolks, sugar, cornflour and soft butter. Whisking constantly, gradually pour the hot milk into the bowl, until combined. Return the custard mixture to the pan, place over a low heat and stir gently for 2 to 3 minutes, or until thickened. Stir in the peanut butter, then leave the custard to cool completely.
Preheat the oven to 180°C/350°F/gas 4. For the brownies, grease and line a deep baking tray (20cm x 30cm). Melt the butter in a non-stick pan on a very low heat, then snap up and add the chocolate. Stir regularly with a spatula until melted and combined, then remove from the heat and stir in the sugar. Leave to cool slightly, then whisk in the eggs, one at a time, until silky. Sift in the flour and mix well.
Pour the chocolatey brownie mix into the prepared tray, then swirl through the chilled nutty custard (discarding the vanilla pod). Erratically distribute little spoonfuls of jam over the surface, then poke in the fresh raspberries (or any other fresh seasonal berries that correspond with the jam you're using). Bake for around 25 minutes, or until cooked on the outside but still a bit gooey in the middle. Leave to cool for 1 hour if you can bear it, then cut into portions and serve.
---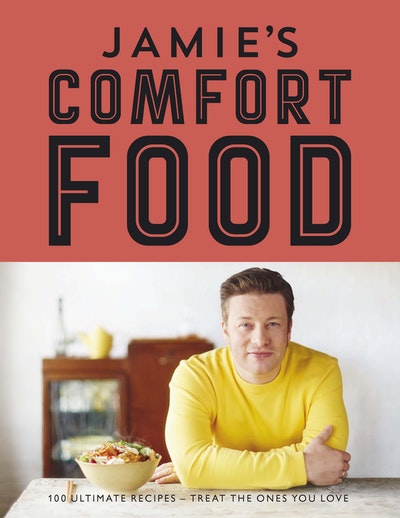 Jamie has put in that little bit of extra time, extra effort and extra love to give you a book of ultimate comfort food recipes
Buy now
Buy now
---