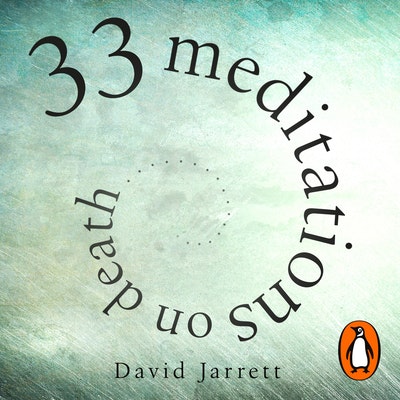 Published:

16 April 2020

ISBN:

9781473580411

Imprint:

Transworld Digital

Format:

Audio Download

Length:

7 hr 40 min

Narrator:

Simon Bubb

RRP:

$24.99
33 Meditations on Death
Notes from the Wrong End of Medicine
---
---
---
33 Meditations on Death is a collection of short, profound, personal and practical reflections on every aspect of death, challenging us to change our perspective and start talking properly about the end of life.
Brought to you by Penguin.
"Brilliant - a grimly humourous yet humane account of the realities of growing old in the modern age. Everybody over the age of 60 should read it and ponder their probable future." - Henry Marsh
What is a good death? How would you choose to live your last few months? How do we best care for the rising tide of very elderly?
This unusual and important book is a series of reflections on death in all its forms: the science of it, the medicine, the tragedy and the comedy. Dr David Jarrett draws on family stories and case histories from his thirty years of treating the old, demented and frail to try to find his own understanding of the end. And he writes about all the conversations that we, our parents, our children, the medical community, our government and society as a whole should be having.
Profound, provocative, strangely funny and astonishingly compelling, it is an impassioned plea that we start talking frankly and openly about death. And it is a call to arms for us to make radical changes to our perspective on 'the seventh age of man'.
© David Jarrett 2020 (P) Penguin Audio 2020
Published:

16 April 2020

ISBN:

9781473580411

Imprint:

Transworld Digital

Format:

Audio Download

Length:

7 hr 40 min

Narrator:

Simon Bubb

RRP:

$24.99
Praise for 33 Meditations on Death
Brilliant - a grimly humorous yet humane account of the realities of growing old in the modern age. Everybody over the age of 60 should read it and ponder their probable future.

Henry Marsh
It is striking how the candour of our public discourse fails when we get on to the subject of death, a significant and puzzling failure for it is the fate we all share. David Jarrett's 33 Meditations, the fruit of forty years of professional experience with people at the end of their lives, is not only timely and important, but hugely enjoyable. One of the most memorable books I've read recently.

The Revd Richard Coles
A remarkably likeable guide to a grisly subject ... daunting, yet ultimately life-affirming

Independent
Death doesn't only touch the dying. This wonderfully enlightening book by a doctor who cares for the dying is a plea for all of us to consider now what a good death should look like and what we'd want for ourselves. Bursting with empathy, common sense and humour, would that we could all be so fortunate as to have the author at our bedside when the time comes.

Professor Dame Sue Black, author of All That Remains
Compelling reflections on the dignity of human life, and the emotional inevitability of its end.

Professor Stephen Westaby
Editors Choice - This life-affirming book takes a multi-faceted look at the end of life. Jarrett blends memoir with science, philosophy and the odd burst of magic as he reflects on death: the tragedy, the comedy and everything in between. It's a wonderfully humane manifesto for all the frank and open conversations that we, our parents, our children, the medical community, our government and society should be having.

Caroline Sanderson, The Bookseller
An extraordinary, unflinching rumination that brings us into a more companionable relationship with death, and in doing so helps us to live. There is a deceptive lightness to David's writing which keeps us in easy company, undoes much of its mystery, and helps us in that most vital adult project: to face our mortality. This book will stay with you.

Derren Brown
Dr Jarrett is addressing such an important topic and he deals with it in such an honest, pragmatic and yet compassionate way. He is telling it how it is day in day out on the acute medical wards in general hospitals throughout the country and he is right that we must persuade people to move away form the concept that length of life trumps quality of life.

Carl Brookes, Consultant Cardiologist and Physician