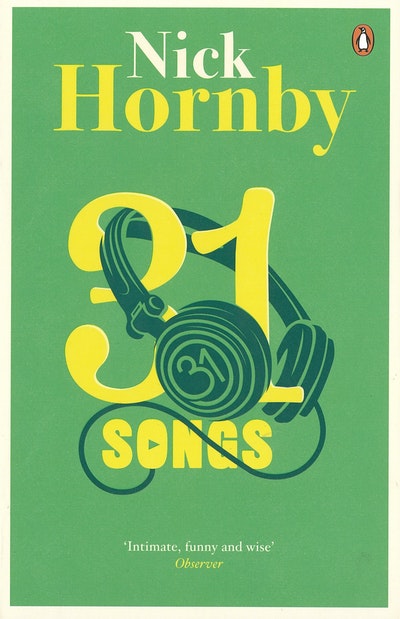 Published:

9 February 2004

ISBN:

9780141935225

Imprint:

Penguin eBooks

Format:

EBook

Pages:

256
31 Songs
---
---
---
31 Songs is best-selling author Nicky Hornby's ultimate desert island disks
Through thirty-one songs that he either loves or has loved, Nick Hornby tells us what music means to his life. These personal and passionate pieces - refreshingly free of pretension - are a celebration of the joy that certain songs have given him. Together with additional writings on music from his column in the new Yorker - seen in the UK for the first time - 31 Songs is for Hornby what many of us have always wanted: a soundtrack to accompany life.
Winner of The National Book Critics Circle award, this funny and touchingly personal book, from the author of the million-copy number one bestseller About A Boy, is a must for music fans everywhere.
'Original, well written and wholly lacking in pretension...as good a book about pop music as I have read in many years and the most accomplished of Hornby's books so far' Spectator
'Funny, provocative, immensely readable. It is not simply about music...it is about Hornby, and us, and about being alive. His enthusiasm is such that he makes me want to be a better listener - and I can offer no better compliment. A triumph' Tim Lott, Evening Standard'Refreshing, candid, very moving. Reminds you why you loved music before you knew enough to explain your love away' Uncut
Nick Hornby has captivated readers and achieved widespread critical acclaim for his brilliantly observed comic books High Fidelity, How to be Good, A Long Way Down (shortlisted for the Whitbread Award), Slam, Juliet, Naked and his autobiographical Fever Pitch (winner of the William Hill Sports Book of the Year Award). Also available from Penguin is The Complete Polysyllabic Spree, which shares his thoughts on books and writing.%%%'I decided that I wanted to write a little book of essays about songs I loved ... Songs are what I listen to, almost to the exclusion of everything else.'
In his first non-fiction work since Fever Pitch, Nick Hornby writes about 31 songs that either have some great significance in his life - or are just songs that he loves. He discusses, among other things, guitar solos and losing your virginity to a Rod Stewart song and singers whose teeth whistle and the sort of music you hear in Body Shop.
'The soundtrack to his life ... a revealing insight into one of Britain's most popular writers' Evening Standard%%%'I decided that I wanted to write a little book of essays about songs I loved ... Songs are what I listen to, almost to the exclusion of everything else.'In his first non-fiction work since Fever Pitch, Nick Hornby writes about 31 songs that either have some great significance in his life - or are just songs that he loves. He discusses, among other things, guitar solos and losing your virginity to a Rod Stewart song and singers whose teeth whistle and the sort of music you hear in Body Shop.'The soundtrack to his life ... a revealing insight into one of Britain's most popular writers' Evening Standard
Published:

9 February 2004

ISBN:

9780141935225

Imprint:

Penguin eBooks

Format:

EBook

Pages:

256