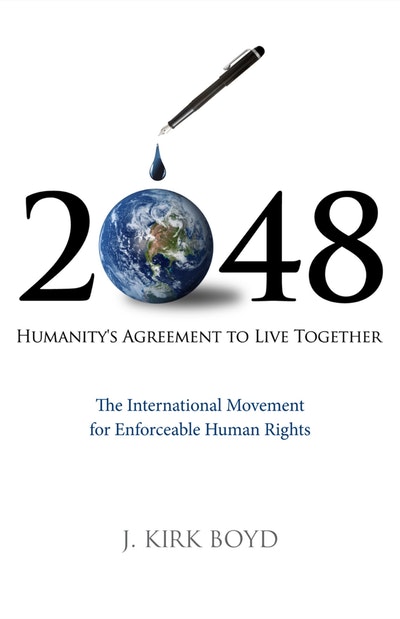 Published:

1 January 2018

ISBN:

9781605093307

Imprint:

Berrett-Koehler

Format:

Trade Paperback

Pages:

240

RRP:

$27.99
2048
---
---
---
2048 is the story of the most important international social movement in the 21st century: the drafting and implementation of an International Bill of Rights that will be enforceable in the courts of every country on Earth.
Written documents have always played a key part in the evolution of human rights—the Code of Hammurabi, the Magna Carta, the Declaration of Independence. In 1948 the United Nations adopted the Universal Declaration of Human Rights, but its provisions are not enforceable so its promise remains unfulfilled. It's time to take the next step. 2048 shows how we can create an agreement that will truly guarantee global human rights and the rule of law and have it in place by the 100th anniversary of the Universal Declaration—a visionary, audacious, but eminently achievable goal. J. Kirk Boyd outlines the freedoms this new document would protect and describes successful international agreements already in place that can serve as models.
But the 2048 Project needs you. "What you do with what you read," Boyd writes, "is as important as what this book says." He explains how people in all countries can help shape the document through the 2048 Project website (www.2048.berkeley.edu)—hosted by the University of California, Berkeley, School of Law—and offers practical advice for reaching out and building support step by step so that the International Bill of Rights will become the foundation of an irresistible grassroots movement.
Published:

1 January 2018

ISBN:

9781605093307

Imprint:

Berrett-Koehler

Format:

Trade Paperback

Pages:

240

RRP:

$27.99
"2048 raises an important question: can humanity reach a written agreement to live together? This is a question worth asking and discussing—2048 is a book worth reading." —Bertrand Ramcharan, former United Nations High Commissioner for Human Rights "It's time for a serious dialogue about an international framework for human rights and business. 0 furthers that dialogue," —Robert Haas, Chairman Emeritus, Levi Strauss & Co. "All great human achievement seems impossible until it happens; and then it was inevitable.  2048 offers us the gift of advanced hindsight.  The book provides one vision for how future generations may look back and see just how we met the great challenge of securing human rights in all nations."   —The Honorable Jeffrey L. Bleich, former Special Counsel to the President of the United States "Kirk Boyd's vision of a global, binding human rights compact underpinned by a system of courts of law, or an International Court of Human Rights, is not just one of the many possible future scenarios. It is essential if international law is to make the quantum leap from a mere system of laws to a true legal order." —Cesare Romano, Professor, Loyola Law School and Assistant Director, Project on International Courts and Tribunals "There is nothing more fundamental than for humanity to reach an agreement to live together.  The European Convention on Human Rights already works for forty-seven countries. Kirk Boyd points the way to a universal approach along similar lines." —Jurriaan Kamp, publisher, Ode "It's time for economic and social rights such as education and health care for women and men in all countries -- 2048 shows how we might achieve this goal." —Joan Blades, cofounder, MoveOn.org and MomsRising.org "2048 has a grand participatory vision, which will change not only the way we view the world but the way we interact with it and with each other. It is a project that must succeed if we are to have a more decent human future." —David Krieger, President, Nuclear Age Peace Foundation "People working for social change should read 2048.  It gives a new perspective on how some of the resources currently channeled toward solving the problems arising from our flawed existing social order might be better repurposed toward restructuring the system that is creating these problems.  2048 shows the way." —Caroline Avery, President, Durfee Foundation "Human rights are a permanent vocation. Even after the wonderful work of codification by the United Nations and of the regional human rights commissions and courts, reflection goes on, because we need better mechanisms of implementation, such as the World Court of Human Rights envisaged by Project 2048. This is a noble task that should reflect the views of all of humanity, including the approaches of the thinkers and lawyers of Central and South America." —Jose Ayala Lasso, first United Nations High Commissioner for Human Rights "It's heartening to see a global dialogue developing through 2048 that can lead humanity to an agreement to live together. With this inspiring, visionary book, Kirk Boyd not only raises awareness of the unfolding 2048 story, he provides a catalyst for people all over the world to join in the conversation themselves." —John Esterle, Executive Director, Whitman Institute "Many great, but unenforceable, legal opinions have been written by the committees within the United Nations. It's time for a project such as 2048 that will build enforceable decisions upon this foundation." —Alfred de Zayas, legal counsel for the United Nations Human Rights Committee "Harry Truman wanted there to be an International Bill of Rights, and I'm glad to see one coming into existence through the 2048 Project." —Frank Kelly, author and speechwriter for President Truman "I'm glad to be working through 2048 to equip barristers in all countries with an International Bill of Rights they can use to enforce rights in their courts of law." —James J. Brosnahan, Trial Lawyer, Morrison & Foerster "Boyd proposes an ambitious new social contract for humanity which could serve as a tipping point for enforcing human rights worldwide" --Jill Van den Brule, Communications Specialist, Education and Gender Equality, UNICEF and international child rights advocate