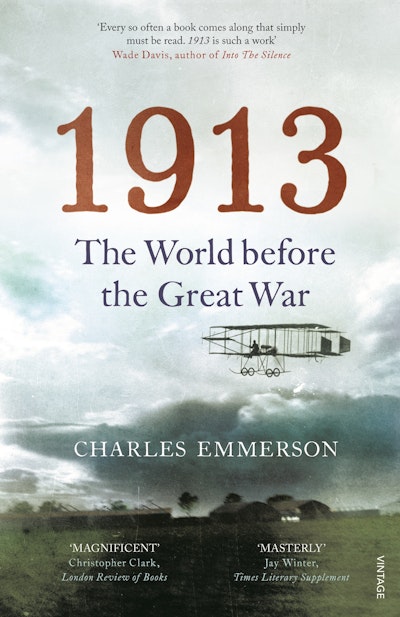 Published:

15 November 2013

ISBN:

9780099575788

Imprint:

Vintage

Format:

Paperback

Pages:

544

RRP:

$22.99
1913
The World before the Great War
---
---
---
A portrait of a world on the precipice of war - and the brink of globalisation.
'If Downton Abbey still colours your impression of what Britain was like on the cusp of the First World War, 1913 could be a useful corrective' Scotsman
2018 marks the centenary of the end of the Great War. What was the year before the war really like?
1913 is usually seen as little more than the antechamber to apocalypse. Our images of the times are too often dominated by last summers of upper-class indulgence or by a world rushing headlong into the abyss of an inevitable war.
1913: The World before the Great War proposes a strikingly different portrait: told through the stories of twenty-three cities - Europe's capitals at the height of their global reach, the emerging metropolises of America, the imperial cities of Asia and Africa, the boomtowns of Australia and the Americas - Charles Emmerson presents a panoramic view of a world crackling with possibilities, from St Petersburg to Shanghai and from Los Angeles to Jerusalem. What emerges is a rich and complex world, more familiar than we expect, connected as never before, on the threshold of events which would change the course of global history.
'A masterful, comprehensive portrait of the world at that last moment in its history.' Spectator
Published:

15 November 2013

ISBN:

9780099575788

Imprint:

Vintage

Format:

Paperback

Pages:

544

RRP:

$22.99
Majestic and cliché-defying

Sheena McDonald, Herald
Presents the true nature of the time, poised in hope

Discover Britain
Marvellous

John Lichfield, Independent on Sunday
Every so often a book comes along that simply must be read. 1913 is such a work. Luminous and majestic, rich in detail and stunning in its depth of research, 1913 is a sweeping and haunting portrait of the world on the edge of the precipice. Read this book, but be prepared to stifle at the end of every page an urge to scream out a warning to those long since dead that they must take another road

Wade Davis
Charles Emmerson explores an endlessly interesting question: How did the great glossy world of the European Empires come to grief in 1914? This is a most elegantly written book and should stand comparison with the much older classic, Barbara Tuchman's The Proud Tower

PROFESSOR NORMAN STONE, author of World War One: A Short History
A masterful, comprehensive portrait of the world at that last moment in its history.

David Crane, Spectator
If Downton Abbey still colours your impression of what Britain was like on the cusp of the First World War, 1913 could be a useful corrective

David Robinson, Scotsman
One of the great merits of Charles Emmerson's global panorama is to show events in the months leading up to the summer of 1914 as something other than a precursor to mass slaughter

Mark Damazer, New Statesman
For anybody wanting to understand this time period, including individuals with a keen interest in the events of the Great War, this is a must read book which helps portray a rather different picture to what many might suspect

The History Blog
Emmerson has done his homework. His book girdles the earth in an impressive fashion and conjures up a world we have lost

Piers Brendon, Independent
With a few deft strokes, Emmerson conjures an air of looming catastrophe

Ian Thomson, Observer
A fascinating tour that reveals a truly global society emerging for the first time in human history

Choice
The old empires were starting to implode and the centres could no longer hold. In an ambitious book, Emmerson catches their last vital sparks in the year before darkness fell

Iain Finlayson, The Times
Leaves readers with an astonishing panorama of bustling human activity in places as different and as far apart as London and Winnipeg, Tokyo and Detroit

Christopher Smith, Eastern Daily Press
Where Emmerson really scores is in the nuggets of detail

Caroline Jowett, Daily Express
An epic, sprawling panorama of a book, intended to show the moving world as it was, to bring the past to life in order to clarify the present. It's a monumentally ambitious aim. The remarkable thing is, he pulls it off

Roger Hutchinson, Scotsman
There is so much that captivates, particularly the entertaining social detail and anecdote

Richard Fitzpatrick, Sunday Business Post
An ambitious, subtle account of the way the world was going until the first world war changed everything

Kathryn Hughes, Guardian
A consistently brilliant survey. The conception of 1913 can thus be described as a smart idea. Its consummation is, frankly, astonishing. A world that was about to embrace death is brought to life with wit, sharpness and occasional delicacy

Hugh MacDonald, Herald
This ambitious panorama of a world on the brink throws up comparisons that are constantly provocative and fascinating

Christopher Hudson, Daily Mail
1913 has narrative verve and insight

Ian Thompson, Guardian Weekly
What emerges is a rich portrait and an important set of ideas

Economist
[Emmerson] takes the reader on a fascinating trip to the brash, bustling cities of North America, before heading off to places as diverse as Buenos Aires and Bombay

Good Book Guide
Magnificent

Christopher Clark, London Review of Books
[Emmerson's] entertaining tour d'horizon is both witty and charming.

Jay Winter, Times Literary Supplement
A wonderful portrayal of a world before it was cataclysmically changed, a world very different from ours but with some frightening similarities

Good Book Guide
Brings the fantasies, anxieties and passions of city-dwellers immediately prior to the First World War eloquently to life

Joanna Bourke, BBC History Magazine
Emmerson provides a real sense of 1913 by combining details of individual lives with sweeping international trends: one of the great pleasures of this book is to see parallels between then and now

Anthony Sattin, Observer
Unique... A high-definition snapshot of the world as it stood a century ago

Alastair Mabbott, Herald
A series of vivid vignettes... Offers fascinating glimpses of everyday life

Mail on Sunday
A wonderful portrayal of a world before it was cataclysmically changed by war

Good Book Guide
Fascinating and sobering

Mail on Sunday