Meet the exceptional Australian nurses who served in the Vietnam War.
From emergency to oncology, pediatric to psychiatric, theatre to neonatal and beyond – nursing offers incredibly diverse career paths to dedicated individuals. Whatever the specialty, nurses always require cool heads, steady hands and open hearts. But when working in a war zone, the challenges are multiplied. When Australia joined the Vietnam War, civilian and military nurses were there to save lives and comfort the wounded. With spirit and good humour, they worked hard and held strong, even though most of them were completely unprepared for the war before they landed in the middle of it.
In Our Vietnam Nurses, author and nurse Annabelle Brayley relates fifteen stories of Australian nurses in the Vietnam War. The compassion, courage and grace under fire exhibited will inspire and astound. 'I'm so grateful to have had the opportunity to meet these amazing people and share their stories,' Brayley writes in the book's introduction. 'They are ordinary Australians who, one way or another, answered the call to serve their country and, in doing so, achieved remarkable things.'
Here are a few snapshots of the extraordinary nurses profiled in Our Vietnam Nurses.
June Naughton (nee Miinchow) – Theatre Nurse
After some time spent in the army reserves, June Miinchow knew the army life was for her, and in 1967 signed up in the hope that she would be sent to Vietnam. 'I was just at that age when I needed and wanted to contribute something significant,' she says in Our Vietnam Nurses. Being on-call meant June sometimes worked up to 36 hours straight, dealing with a steady stream of devastatingly wounded young men. Despite the horrors, June now cites her year in Vietnam as the highlight of her professional journey.
Janice Hilton (nee Webb) – Australian Red Cross Commandant
Janice Webb grew up on a Wangaratta farm. After a year travelling through Europe with her sister, she went to work with the Red Cross in Melbourne, where she spent time at the Heidelberg Repatriation Hospital. She'd caught the travel bug, however, and, after a brief deployment in Malaysia, in 1967 she commenced a twelve-month stint with the Red Cross in Vung Tau, south Vietnam. During this time she assisted and comforted wounded soldiers, often helping them make contact with loved ones – a lifeline back home. 'Most of them were so incredibly young,' she says in Our Vietnam Nurses. 'The link to home was so important for them.'
Anne Young (nee Laurence) – Medivac Flight Nurse
When Anne Laurence first arrived at the No 4 Hospital at Butterworth in Malaysia, she was struck by the beauty of the place. With just a little experience in aeromedical nursing, Anne was enlisted to assist with medivac flights into Vung Tau, and this led to her accompanying planeloads of casualties back to Australia – a grueling and emotionally charged undertaking.  'You'd have this very intense, full-on connection with them for a few days and then never know what happened to them,' she says in Our Vietnam Nurses. 'Did they survive? Did they recover? Did they find a way to fit back in to their communities?'

Get the full stories of these incredible nurses and many more in Our Vietnam Nurses by Annabelle Brayley.
---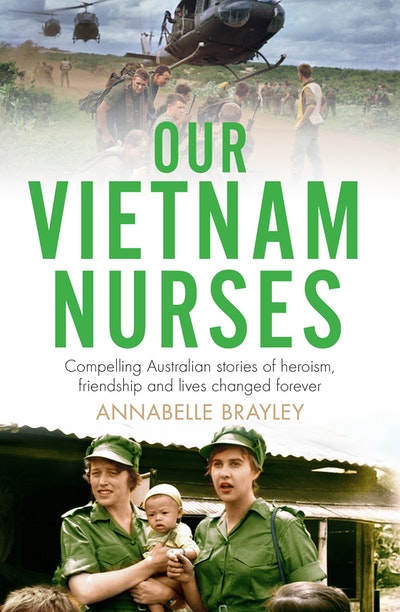 From flying with critically wounded Australian soldiers out of turbulent war zones, to being held at gunpoint, the compassion, courage and grace under fire in Our Vietnam Nurses will inspire and astound.
Buy now
Buy now
---