The Desert Flame author answers our burning questions.
Tell us about your book, Desert Flame?
Well, initially I thought Desert Flame was simply a romantic suspense set against the backdrop of Australian opal mining. And it is that, but when I finished it, I realised it was also about being true to yourself, coming to terms with the past and building a future quite different from the one you might have envisaged. At the centre is Eliza Mayberry, whose privileged world comes crashing down around her ears when her father dies. On the verge of losing the business that has been in her family for generations, she has no option but to take over the last remaining case, which means tracking down the elusive – and very sexy – Fingal McLeod in the harsh Australian outback and bringing him back to Sydney. Fin, however, has other priorities – finding a valuable black opal that will mean redemption for his family. Eliza and Fin couldn't be more different but – without giving too much away – both are trying to come to terms with their past and find their place in the world. And neither can resist the (very hot!) flame that burns between them.
What or who inspired it?
Funnily enough, the initial kernel of inspiration came when I was contacted out of the blue by a company of UK investigators, which had been hired to track down relatives of an elderly woman who had died without leaving a will. I had no idea that these kinds of businesses existed to locate heirs to estates but it struck me that it would be a very interesting line of work. Of course, if my inheritance had been millions, I might have simply abandoned writing to lie on a beach somewhere and this book might never have eventuated. But it wasn't, so here I am.
What was the biggest challenge, writing it?
My biggest challenge with this book was the same as with every other book I've written – ignoring the clamouring of other stories and characters in my head in order to get it finished! Here, I do have to thank Penguin's Carol George, who politely but persistently kept asking me how it was going. In the end I worked right through Christmas to finish the manuscript so I could deliver it before the end of the year as I'd promised.
What did you want to achieve with this book?
For me the most important thing is to give the reader the same thing that I want from any book – a bloody good read. I love books that sweep me away into the middle of a captivating place or situation or relationship so I hope that Desert Flame does that for readers. As it's a romance at its heart, I also hope that readers fall in love with the characters and want them to work out a way to be together despite their differences.
Are there any parts of it that have special personal significance to you?
Until I'd finished the first draft, I didn't really appreciate how much the conflict between the heroine and hero was echoed by the conflict between being true to ourselves and others' expectations of us. It was never intended, and I hope it's subtle rather than overpowering. The way in which Eliza's eyes are opened to Australia also resonates with me. Having moved to Australia from England in my twenties, I found Australia outside the cities truly strange and wonderful.
What do you see as the major themes in Desert Flame?
The importance of reconciliation with the past while forging your own destiny is something of a recurring theme in the book. It wasn't planned, but maybe it's an unconscious response to the people who think we must always be looking ahead. We can learn a lot from reflecting on what's gone before. In terms of the love story at its heart, the confidence to trust your instincts, even when you've had your fingers burnt, is another theme.
To whom have you dedicated the book and why?
She doesn't know it, but I've dedicated the book to my Aunty Pat, whose bookshelves were always packed with stacks of romances. When I was in my teens, I started reading them too, and then started writing my own, long-hand initially. So it really started from there.
Who do you think will enjoy your book?
Desert Flame will appeal to those who enjoy a scorching romantic suspense set in the harsh Australian outback.
Describe yourself in three words?
Introverted, stubborn, passionate.
What three things do you dislike?
Reality TV, injustice, arrogance – oh, and broad beans (am I allowed four?).
What three things do you like?
Stories, hazelnut gelato, rugby union.
What would you like to think people can get from reading your book?
I hope everyone falls in love with the characters and enjoys sharing their journey. And if the book encourages people to explore the wilder, more remote places of Australia so much the better.
What do you think your life will be like 20 years from now?
I don't know and I'm happy for it to be that way! As far as possible, I like things to just happen. I've never been strategic about my life and career. However, I assume I will still be writing as my passion for it has only become stronger over the years. Being able to spend more time in the UK and Europe where my roots are would be great. I am fascinated by the Ancient Britons and Celts and would like to try my hand at writing romance with historical elements. It might be good if I had a dog in my life at some point in the future.
What would you say is your interesting writing quirk?
Probably a lot of writers would say the same, but I'm a 'pantser' – I fly by the seat of my pants when I write. I have tried to work to a written structure and key plot points. It works for a while and I always end up taking a detour or a different fork in the road. Sometimes your instincts know better than your brain which path the story or character should take.
Where do you get your information or ideas for your books?
The ideas just tend to come from life or newspaper stories. I write the story and then I research online to ensure they are reasonably authentic. But I try not to let facts get in the way of a good story!
What do you like to do when you're not writing?
I'm lucky enough to live near Sydney harbour so I spend a lot of time wandering around the foreshore and lying in parks listening to the lap of water and the shrieking of cockatoos, thinking about stories and characters. Otherwise, I enjoy reading (of course!) on my sun deck, going to the movies and watching rugby union.
What do you think makes a good story?
I love a story hook or intro that grabs me by the neck and takes me under. After that, it's really about conflict – internal or external or both – the collision between two opposing forces. Who will win and how? If you have memorable characters and settings, even better!
As a child, what did you want to do when you grew up?
I was writing short stories from a young age for my own enjoyment so I was probably already preparing for a career as a writer. I probably told people I wanted to be an astronaut, though, because being a real writer would have seemed so far out of reach.
What is your life motto?
Trust your instincts.
What is your most memorable moment?
Gosh, there have been a few. Certainly getting my first print books published would be right up there. Getting my Australian residency was a big moment too. New Year's Eve 1999 also stands out as a magical night with friends on Sydney harbour watching the fireworks. And falling in love…
---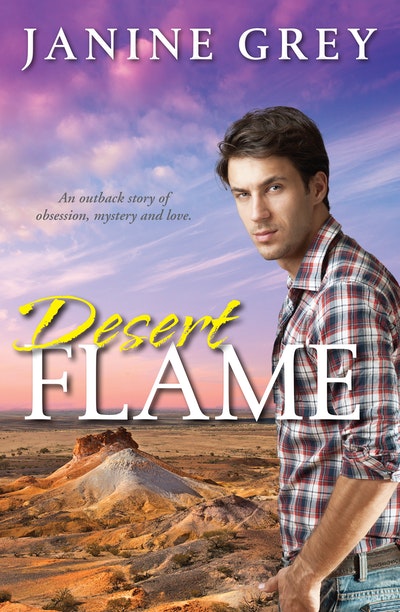 A sweeping Australian love story from the author of Southern Star.
Buy now
Buy now
---