Explore themes of motherhood, secrets and family lore with your book club.
Described by Rosalie Ham as '[e]lusive, unsettling and absolutely compelling', Cassandra Austin's Like Mother is the perfect choice for your next reading group meet up.
Meet Louise, exhausted by baby Dolores, with a mother who won't leave her alone. As the day unravels, Louise will unearth secrets her mother – and perhaps her own mind – have worked hard to keep buried. But what piece of family lore is so terrible that it has been kept hidden all this time? 
Discussion points and questions:
Domestic noir, particularly mummy noir appears to be a growing genre. Why do you think stories of women in domestic situations are being written and read more? Is this where you would place Like Mother? How would you describe it?
What do you think are the main drivers of mothering – love, protection, fear…? Are fathers held to the same parenting standard as mothers? Is sacrifice a necessary ingredient for parenting?
Man has arrived at the moon but Louise can't get out her front door. Do these parallel situations involved in the novel work for you? How does mankind's journey to the moon mirror Louise's attempt to get at the truth?
How hard is Louise searching to understand her relationship with her mother? Does she prefer not to know the truth? Or is it just that Gladys controls all the information?
Domestic appliances – fridges, washing machines – form a background to the narrative. Has the advance and variety of whitegoods and appliances improved the lives of adults and allowed them to be more engaged parents?
Amongst other questions, Like Mother explores post-partum depression. Has it been around as long as mothering, or do you believe it is a modern condition?
By the end of the novel Steven is helping with child rearing: does this mean Gladys has succeeded in helping Louise cope after all?
Louise loves birds and they appear to her at pivotal points of the novel, but by the end of the novel, there is no mention of them – why do you think that is?
The author wrote a number of different endings for Like Mother. How do you feel about the one she settled on?
---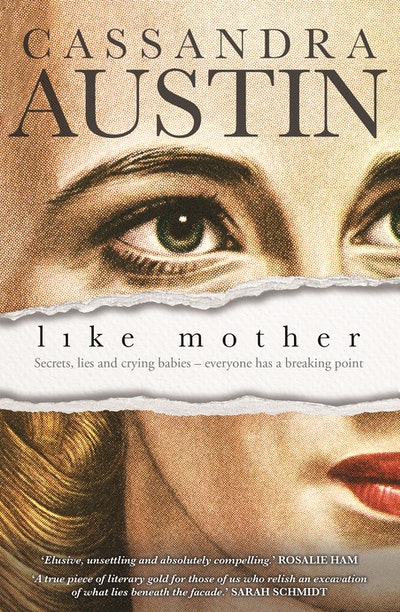 Secrets, lies and crying babies, everyone has a breaking point.
Buy now
Buy now
---