Inspire your book club with the story of one woman's journey to happiness.
Ever feel like you've got most of the ingredients for a full and happy life, but there's just something missing? At 38 years old, Paris native Camille felt exactly that. But then she met a routinologist and her path to fulfilment became clear. Full of revelations, escapades and meaningful life lessons, bring a little happiness to your book club with Raphaelle Giordano's Your Second Life Begins When You Realize You Only Have One. Here are some questions to get the conversation started.

Discussion points and questions:
 
Why do you think Camille feels as if her life is missing something at the beginning of the novel? Do you relate to her character? Why or why not?
Why does Camille decide to go with Claude's unorthodox therapy? Would you have called him? Why or why not?
Have you ever had a case of 'routinitis'? What helped you to climb out of your rut? What strategies from the novel would you try in your own life?
On page 11, Claude says, 'The capacity for being happy has to be worked on, built up day by day.' Do you agree with him? How do you think you could start building this capacity in your own life?
Claude teaches Camille the 'theory of small steps (page 29), asking her to start by listing out everything she'd like to change in her life. What are the top three things you want to change in your own life?
Claude reminds Camille that 'many people know what they're supposed to do to lead a happy life but never really put it into practice' (page 70). Do you think that's true? What do you think might be holding people back?
What would you say are your top three successes in your life? Why do you think these three achievements mean so much to you? What could you do to create similar success in the next year of your life?
What do you think about Claude's 'elastic band' theory? Have you seen this play out in your life?
Do you have a role model? If so, who is it? What is it you admire about them? What is one thing you could do tomorrow to emulate these qualities?
Think back on the past few days in your life. What things would you list in your Positive Notebook?
Claude teaches Camille to 'anchor' herself in a positive memory. Have you ever tried this exercise before? How do you think it might change your perspective? What anchor would you choose for yourself?
What surprised you about the novel's ending?
---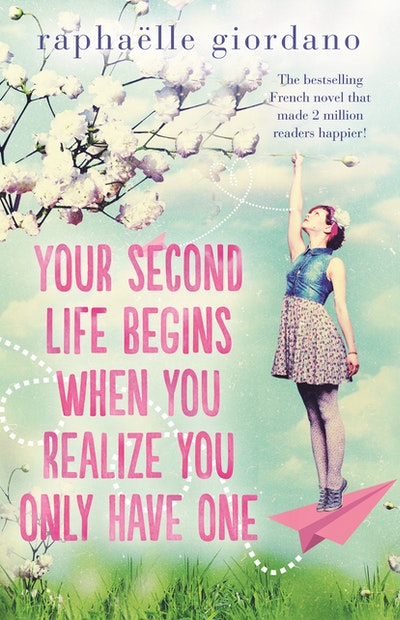 The novel that has made 2 million readers happier! The story of one woman's inspirational journey from boredom and dissatisfaction to happiness and fulfilment!
Buy now
Buy now
---