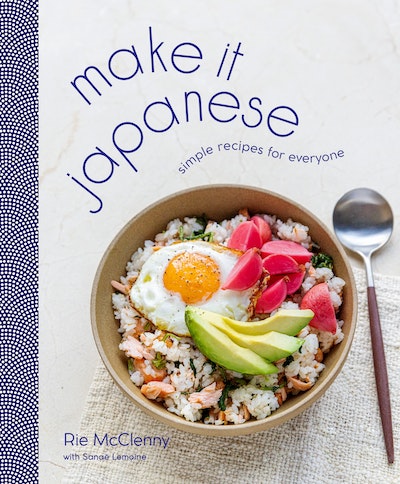 Make It Japanese
Make It Japanese reflects Rie McClenny's journey from her birthplace of Japan to the United States and how she learned to cook heartfelt recipes from scratch, often using only ingredients from her local supermarket. Throughout her culinary career, from home cook to star of BuzzFeed Tasty's "Make It Fancy" video series, she has drawn inspiration from the nourishing food her mother cooked throughout her childhood and her extensive knowledge of Japanese cuisine and ingredients that she brought to life in an American kitchen.
In her debut cookbook, Rie shares just how approachable Japanese home cooking can be, no matter where you are. She presents a collection of comforting, homestyle recipes that use just a handful of easy-to-find Japanese ingredients, such as soy sauce, mirin, and sake, and simple, essential cooking techniques, like making rice bowls (donburi), frying the perfect home-style tempura, and gently simmering vegetables and proteins to delicious effect.
Each accompanied by bright, beautiful photography, these delectable recipes include:
Traditional dishes with a twist: Loaded Vegetable Miso Soup with kale and sweet potatoes, Roasted Cauliflower Goma-ae coated in toasted sesame dressing, umami-packed Easy Soy Sauce Ramen, and Mini Okonomiyaki pancakes
Can't-miss classics: delectable pork Tonkatsu, ginger-spiked Chicken-Tofu Tsukune, and Oyako Don, rice bowls topped with tender chicken thighs and egg
Interactive, hands-on recipes for festive gatherings: Chicken Hot Pot with Ponzu perfect for a winter's night, can't stop Gyoza with Crispy Wings, and make-your-own hand rolls for a Temaki Party
And of course, dessert: the iconic Simple Strawberry Shortcake, irresistible Matcha Snacking Cake, and delightful Citrus Mochi Doughnuts
Whether making dinner on a busy weeknight or hosting a multi-course banquet,
Make It Japanese
is the ideal resource and perfect introduction to the world of Japanese cuisine, ingredients, and cooking techniques.
Read more