All about To Your Eternity, the manga series that has taken the world by storm.
If you're a manga fan, you might be familiar with the series To Your Eternity.
Written and illustrated by Yoshitoki Ōima, the emotional drama spans time and space, following the main character, Fushi, as he takes on multiple forms throughout the series.
The series has received much praise both in Japan and internationally, ranking on the weekly Oricon manga charts, and securing features in Otaku USA, a magazine featuring otaku (anime, manga, video games, and computers) elements from an American point-of-view. Both the plotline and the art have been applauded for their ability to capture real human emotion – the same thing that Fushi learns about throughout the books.
Sound interesting? Read on to learn more. 
Why is it called To Your Eternity?
It's difficult to give an exact English translation for the manga title but at its core, it refers to the immortality of the main character, Fushi.
According to TV Tropes, the original Japanese title Fumetsu no Anata e translates literally to 'To the Undying You'. As with many translated works, the direct translation was then adjusted to reflect nuances of language that are often missed in direct translations. Fans have suggested that the literal translation was adjusted to reflect the philosophical viewpoint of the manga series.
How sad is To Your Eternity?
To Your Eternity touches on some heavy subjects, so be prepared for tear-jerking moments while reading. However, that's not to say it's all doom and gloom. Throughout the series, Fushi learns how to become more human – a process that comes with many bittersweet emotions and all the feels.  
Despite the melancholy tone of much of the plotline, beautifully inspiring moments are sprinkled throughout the series.
What is the story?
The story of To Your Eternity is quite esoteric, as it centres around an immortal being who is sent to Earth without its own identity or personality. Once on Earth, the being takes on the shape of the things around it, starting off as a rock before eventually taking the shape of an abandoned boy.
Throughout the series, the being goes on a journey (as the boy) to seek out life experiences.
Who created it?
 To Your Eternity was created by Yoshitoki Ōima, an award-winning Japanese manga artist. In addition to To Your Eternity, Ōima wrote A Silent Voice series, and worked on several well-known mangas including Attack on Titan, and Ore no 100-wame!!.
She has won several awards for her illustrations and writing, including the award for Best New Series at the 2018 Japan Expo for To Your Eternity.
---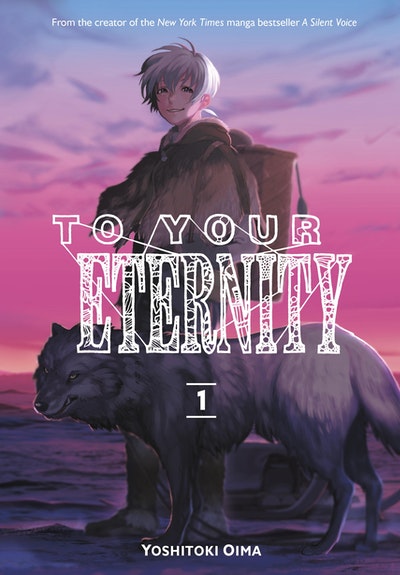 A new manga from the creator of the acclaimed A Silent Voice, featuring intimate, emotional drama and an epic story spanning time and space…
Buy now
Buy now
---