This November we revisited Louisa May Alcott's towering work of American fiction.
In 1868, when the world was introduced to Louisa May Alcott's March sisters via the first print run of Little Women, no one could have known the impact this at-the-time tiny print run would have on American literature. Needless to say, volume one (of the soon-to-be two parts of the story) was a runaway hit – selling out in two weeks. This reception spurred the publisher, Thomas Niles, and Alcott into action, reprinting the existing volume and writing the second part respectively. And since these relatively inauspicious (or, at least, unexpected) beginnings, Little Women has never been out of print.
It's impossible to separate the success of Little Women from the endearing – and enduring – qualities of the four March sisters Alcott created. Characters based loosely on herself (Jo March) and the members of her own family. Meg is the eldest and on the brink of love. Then there's outspoken Jo who longs to be a writer. Sweet-natured Beth always puts others first. And finally there's Amy, the youngest and most precocious. It's a veritable honey pot of charms and characteristics for readers to be drawn to. But then, there is also the very concept of the story: a 'girls' own' adventure, to rival popular stories 'for boys'. This genius construct, devised by publisher Niles, stood Little Women in a league of its own. And his instinct that the young Alcott was the writer to pull off such a daring plan was on the money.
Fast forward to today, and the book is still read widely in schools, it has been translated into more than 50 languages and is beloved by several generations of young people the world over. There have been multiple film adaptations, plays, radio dramatisations – even an anime series in Japan. The book is the subject of academic theses, journalistic dissections. It has drawn the praise (and ire) of feminist thinkers and writers. It's a book both of its time and place yet also timeless. It's a celebration of childhood yet also of the transition to adulthood. It's many, many things to many, many millions of people worldwide.
To celebrate Louisa May Alcott's birthday (November 29), we thought we'd revisit the 150-odd year text for our November Classic of the Month. Here we offer up eight of our favourite quotes by or about our favourite character (admit it, she's yours too): the bookish, headstrong and infinitely wise Jo March.
1. 'Can't keep still all day, and, not being a pussy cat, I don't like to doze by the fire. I like adventures, and I'm going to find some.'
2. 'I don't believe I shall ever marry. I'm happy as I am, and love my liberty too well to be in a hurry to give it up for any mortal man.'
3. 'I've got the key to my castle in the air, but whether I can unlock the door remains to be seen.'
4. 'Don't mind me. I'm as happy as a cricket here.'
5. 'I want to do something splendid before I go into my castle, something heroic or wonderful that won't be forgotten after I'm dead. I don't know what, but I'm on the watch for it, and mean to astonish you all some day.'
6. 'You are the gull, Jo, strong and wild, fond of the storm and the wind, flying far out to sea, and happy all alone.' – Beth March
7. 'Jo had learned that hearts, like flowers, cannot be rudely handled, but must open naturally.'
8. 'Oh dear, we are growing up with a vengeance. Here's Meg married and a mamma, Amy flourishing away at Paris, and Beth in love. I'm the only one that has sense enough to keep out of mischief.'
---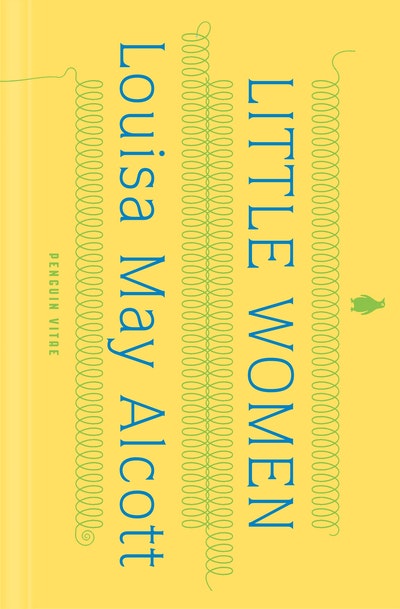 Louisa May Alcott's beloved novel, with a foreword by National Book Award-winning author and musician Patti Smith, now part of the Penguin Vitae series.
Buy now
Buy now
---