The story goes that monks at the Benedictine monastery in Catania invented this cake – while we'll never know for sure, they certainly had a reputation as true food connoisseurs.
What an ingenious idea it was from the Sicilians to throw whole citrus fruits into this cake. After all, why bother peeling an orange when it's the skin that has most of the flavour? This cake can also be made with lemons, mandarins, or clementines. And instead of butter, which was not as widely available in Sicily in the past, you can substitute olive oil.
Serves 8–10
Prep 1 hr 10 mins
For the cake
1 small organic orange (around 120g / 41/ 1/ 1 4oz)
3 medium eggs
seeds from 1 1/2 vanilla pod
80g (23/ 3/ 3 4oz) demerara sugar
50g (13/ 3/ 3 4oz) caster sugar
1 generous tbsp almond or orange liqueur
100g (31/ 1/ 1 2oz) unsalted butter, melted and cooled, plus extra for greasing
fine durum wheat semolina flour, for the tin
100g (31/ 1/ 1 2oz) "00" pasta flour
50g (13/ 3/ 3 4oz) ground almonds
1 tsp baking powder
pinch of fine sea salt
For the icing and decoration
2 tsp orange juice or liqueur
100g (31/ 1/ 1 2oz) icing sugar, plus extra to dust (optional)
finely grated zest of 1 organic orange
candied orange slices
(optional)
Wash the orange in hot water and chop into pieces, but do not peel! Remove any pips. Purée the orange in a food processor.
Use an electric whisk or free-standing mixer to beat the eggs with the vanilla, both types of sugar, and the almond or orange liqueur for about 5 minutes until the mixture is pale and creamy.
Preheat the oven to 180°C (350°F/ Gas 4). Grease a large loaf tin (800– 900ml / 1¼–1½ pints in volume) and dust with semolina flour.
Gradually stir the orange purée and butter into the egg mixture. Mix the flour with the ground almonds, baking powder, and salt. Fold the dry ingredients in batches into the egg mixture. Spoon into the tin and bake in the bottom of the oven for 45–50 minutes, until a skewer inserted into the centre emerges clean. Leave to cool, then turn out of the tin.
To make the icing, gradually stir drops of juice or liqueur into the icing sugar until you have a viscous glaze. Pour this over the cooled cake. (If you like, you can dust the cake with icing sugar beforehand.) Sprinkle with orange zest and decorate with candied orange slices, if you like.
 
For lemon and olive oil cake (pan di limone):
Replace the butter with 80ml (2¾fl oz) olive oil, use lemon instead of orange, and limoncello or amaretto instead of orange liqueur.
---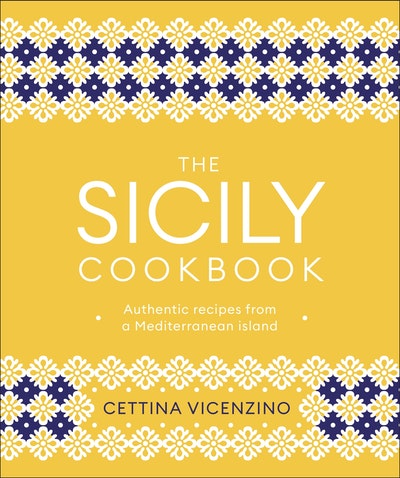 More than 70 authentic Sicilian recipes, all accompanied by evocative food photography from the island and profiles of local food heroes
Buy now
Buy now
---