May is the last month of autumn, with sunny days, cool nights and less humidity. Learn what you can do in and around the garden this month.        
Revamp the veg plot
The earlier any digging of beds is done the better, as this will allow rain and frost to break down the clods of soil, improving soil structure and making it much easier to cultivate. One major project is to convert your vegetable area to the deep bed system. This is a way of growing vegetables that acknowledges the 'no-dig' approach to gardening, popular with many organic gardeners. This involves building up deep layers of organic material capped with soil. After a crop has finished, rather than dig the bed, you simply add more layers of organic material and plant the next crop. The high organic content encourages soil organisms that recycle organic matter into nutritious plant food. So there's no need for digging and turning to interfere with the soil's structure and, because beds are made small, there's never a need to tread on the soil and compact it.
You'll have to sacrifice some of the area to create more paths from which you can work and weed, but on the other hand, you'll find that with this system you can plant much more closely, so it shouldn't affect yields. You can make beds long and narrow, or create a checkerboard effect with small, square beds intersected by paths – a design that lends itself to the attractive style of a kitchen garden, which shows off the ornamental potential of many crops.
Routine tasks
Tidying beds by clearing away old stems and dead foliage and lightly forking over the ground around plants will transform the appearance of the garden, making it neat for the coming winter. Leave a few plants like Sedum spectabile and ornamental grasses such as Carex pendula and miscanthus uncut, as frost on these plants looks terrific. During all this clearing up you will inevitably generate a lot of material, most of which can be composted, but some of the woody and semi-woody material will take a long time to rot down. The usual way to get rid of this woody material is to put it in the recycling bin, or possibly burn it, if allowed, but it's a terrible waste of material that you can recycle in the garden.
Therefore, if you can, invest in a garden shredder. There are many different makes available, powered by petrol or electricity. These machines will shred up all woody material into fine pieces which can then be used as a mulch – or, they can be mixed with other composted material to make the best compost you'll ever have. And, of course, these machines can also be hired if you don't want to buy one.
Stars among the sleepers
This is the month when some plants become dormant and others, as far as plant growth goes, slow down for the winter; but there are some plants that begin to flower around now and carry their blooms throughout the winter months. Plants such as Viburnum x bodnantense will produce exquisite pink flowers from as early as April right through the season. The flowers borne by this shrub are also powerfully and sweetly scented. Camellias are the favourite plants, producing their exquisite flowers from autumn into the spring. The winter-flowering autumn cherry, Prunus x subhirtella 'Autumnalis', produces its white blossom intermittently throughout the winter. And of course, many Australian native shrubs are star bloomers, much to the delight of honeyeaters.
---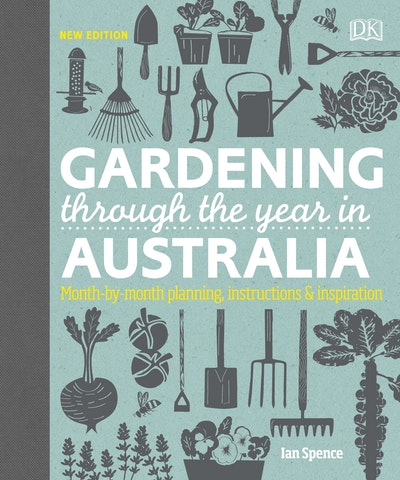 Packed with essential gardening advice, keep your garden in great condition all year round with the newly updated Australian edition of this bestselling guide.
Buy now
Buy now
---