Here are our five favourite ways to stay inspired no matter where you are...
There are ways to remain inspired, whether you're surfing the internet on your phone, lounging at home, or sipping coffee at your local cafe. Being an armchair traveller is all about learning about and reflecting, and ultimately engaging with far-flung places without ever needing to leave home.
Do your research
Even if it's just a theoretical (or dream) vacation, you can still plan out your trip. Two weeks in New Zealand? Pick your favorite spots, find some incredible activities, and plan out your ultimate route. If you are able to execute the vacation at some point, you'll already have an impressive plan ready to go. And if not, you'll still enjoy the pleasure of imagining and firing up your creative travel juices. After all, planning is half the fun of a trip. 

Map it out
Grab a map — whether it's a neighborhood snippet or a full-sized city map from one of our DK Eyewitness travel guides — and really get to know it. Circle places you'd like to visit, jot down reminder notes, star restaurants that sound interesting; make this map your own record of what your trip could be.

Try Google Earth

Google Earth is a powerful tool that makes it easy to explore destinations from different vantage points. Soar over the luscious greenery in Bali, experience a birds-eye view of the Eiffel Tower, or zoom all the way down to street level to see that cute bistro a friend recommended. Google Earth makes it possible to witness the world from the comfort of your couch. Take advantage of this incredible technology.

Reflect on past trips



Remember that incredible vacation you took last year? You took hundreds — if not thousands — of gorgeous pictures... along with a few much-needed selfies. Our guess is that you've never had time to really sift through those shots, remembering that epic sunset or perfected mixed cocktail. Want a physical reminder of your trip? Now's a perfect time to create a scrapbook to immortalize your favorite vacation memories. 

Build your bucket list



The best time to start a bucket list is right now. Include everything and everywhere you've wanted to go, from finding the best slice of pizza in your hometown, to finally getting that water bungalow in the Maldives. Bucket lists can — and should — be a mix of the seemingly impossible and those neighborhood spots you somehow keep forgetting to try. Just because you might not be able to fulfill these plans immediately doesn't mean you can't get excited to flesh them out.
Grab a copy of Where to Go When to keep dreaming, stay inspired, and be the ultimate armchair traveller.
---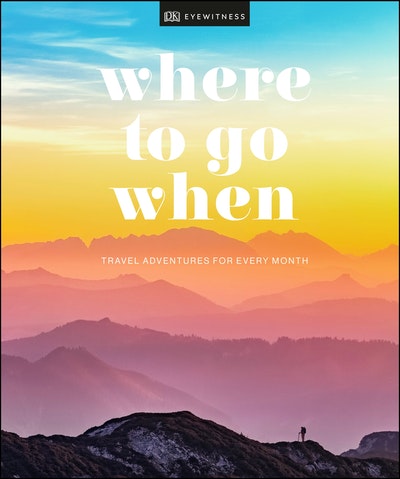 A practically beautiful gift for the traveller who wants to explore the world in person - or from their armchair
Buy now
Buy now
---