All hands hoay with these creative writing tips!
For parents and teachers: This is a fun unit of work for years 3-6 that will boost creative thinking and expression, explore language, improve vocabulary, and examine the importance of character and setting in imaginative texts. It is appropriate for independent learning and can be done in 1 to 1.5 hours or broken up into shorter segments.
For students: Follow the steps below and by the end of it, you'll have written an adventure story about pirates!
1. Read an extract from Atticus Van Tasticus
2. On the sheet below, circle the character you liked most and write underneath why you liked them. If you can't print off the page, write your answer on a blank piece of paper.
3. Make up a name for a character you'd have in a story about pirates. Write a sentence that describes what is special about this character.
4. Find the words in the word search below.
5. Some of the words in the word search were a bit odd, weren't they? You probably wouldn't use them in everyday language. Answer the below to work out what type of words they are. Some questions might have more than one answer, but you don't have to list all the answers:
What is a sound a pirate might make?
Find a person's name:
What is something you might find on a pirate ship?
CHALLENGE: What does the word doubloon mean? Is it:
a) A pirate's hat
b) A piece of silver
c) A cloak that doubles as a blanket
d) A Spanish gold coin
6. Look at the picture below. It's missing a bit in the middle. Perhaps it's a sea monster, or an alien or another pirate ship, or something else entirely. What would you put here? Let your imagination go wild. Draw what you picture in your mind. It doesn't matter if you're not good at drawing, put in some details to make it interesting. As long as you can see it in your imagination, that is the main thing.
7. Now you're ready to write a short story about a pirate! Include the following in your story to help you on your way:
The character you created in step 3)
Some of the words you found in step 4)
The scene in step 6)
The main thing is to have fun with your story. When you have finished writing it, read it aloud to hear how it sounds. If some bits don't make sense, have a go at re-writing that sentence or paragraph so that it sounds better. This step is called editing.
When you have edited your story, there's only one more thing you need to do... 
8. Give your story a heading! You can make your heading fun, or exciting or mysterious – it's up to you. Underneath your heading, write who the story is by, it's by you!
Well done, that's the end of the lesson. If you would like to read more pirating adventures, you can buy the Atticus Van Tasticus books from all good bookstores.
See: https://www.penguin.com.au/books/atticus-van-tasticus-9780143796541
Teachers and parents, further resources around this book can be found here:
https://www.penguin.com.au/content/resources/TR_AtticusVanTasticusUpdatedFinal.pdf
---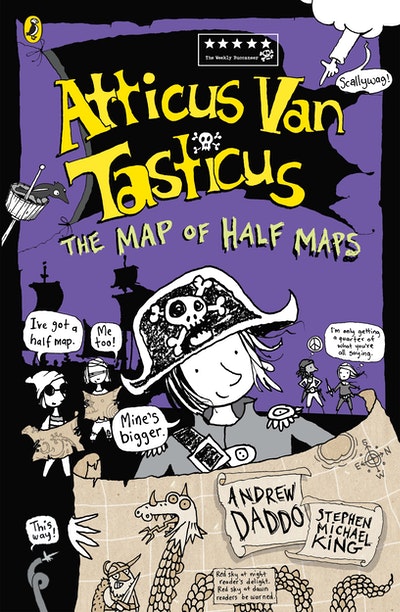 The second book in the Atticus Van Tasticus pirate series from the hilariously funny team of Andrew Daddo and Stephen Michael King.
Buy now
Buy now
---