Hazel Edwards remembers 40 years with her Hippo.
The hippocampus is part of the brain where memory and imagination live and mine is almost full after 40 years of creating stories. The cake-eating hippo is a character for whom readers have the greatest affection so let me share just a few of memories from the past 40 years:
A knock at my front door reveals a small child: 'Excuse me, is this the house where the hippo lives on the roof?'
 
A letter from Mary, Crown Princess of Denmark thanking me for the autographed copy of Hippo which she received as an official gift from the Australian Government on the birth of her first daughter.
 
'That was my favourite book when I was a child.' Announced by a tattooed, bearded bikie as he passed a bookshop signing. Pre-schoolers listened wide-eyed.
 
The brave mother of a prep-student who announced (in front of other parents) that she could not read but wanted 'another easy book like Hippo which I'm learning to read with my 5-year-old'.
 
The principal (an ex-rugby player) who was challenged to eat cake on the school roof in a hippo costume and read the book aloud if his students surpassed their reading quotas. They did. And despite being scared of heights, he kept his promise.
 
Hippo is the most 'nicked' library book. Compliment?
 
The Hippopotamuseum, which was created by a gifted educator to demonstrate physics principles e.g. falling.
 
Parent's letter from a children's hospital thanking me for the reassurance found after reading Hippo on the Hospital Roof in both the waiting room and the ambulance.
 
Hippo's fan mail always peaks around Book Week. 'I haven't got a friend, will you come and sit on my roof?' was the most poignant.
 
As Library staff are forbidden to climb above their own height without a ladder climbing competency certificate, we forged one for hippo so the local newspaper could capture the hippo climbing the ladder onto the mobile library roof.
So …. How old is the hippo?
The age of the reader.
Edited extract adapted from Hazel Edwards' memoir 'Not Just a Piece of Cake; Being an Author' (Brolga). The full extract can be found here.
Without original publisher Margaret Hamilton, none of this 40 year legacy would have happened.
---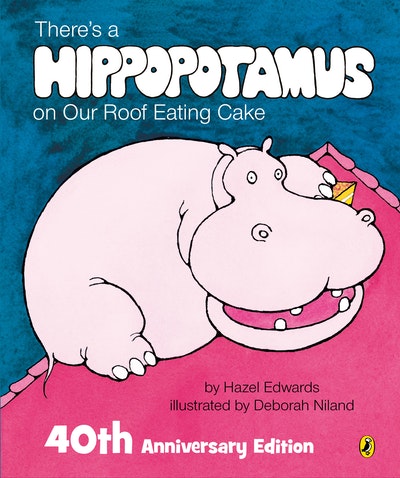 A special edition of the bestselling Australian classic picture book that every bookshelf should have.
Buy now
Buy now
---